Ten years ago, I left the U.S. in search of a new adventure with my husband, Al—a decision that led us to the city of David in the province of Chiriquí, Panama.
Al and I have spent time in Mexico, Guatemala, Costa Rica, Belize, Nicaragua, El Salvador, and Honduras since leaving the U.S. but, for many reasons, Panama won out as our retirement destination.
Chiriquí Province is beautiful. It's the country's farming province, all rolling hills lined with fields where you'll find pineapples, papaya, rice, coffee plantations, and orange groves.
Alongside the produce you'll see dairy cows, cattle ranches, and horse stables. Rivers and winding streams crisscross a landscape overlooked by Barú Volcano and the Continental Divide.
Panama also has some of the best infrastructure in Latin America, high employment rates (higher than the U.S.), and a stable political environment.
But one of the biggest benefits for retirees is how affordable it is to live here.
I'm not the only one who thinks so. Just the other day, as my friends and I were chatting, the subject of the jubilado (meaning "retired person") discount came up.
If you haven't heard of it, the jubilado is a government-mandated program that senior citizens and residents are entitled to here in Panama. Women over age 55 and men over age 60 qualify automatically; you don't have to apply or fill out any forms. Usually you have to show your identification to confirm your age and residence, and that's it.
Even if you're not yet a "senior citizen," you can take advantage. One of the most popular visa options here in Panama is the Pensionado Visa, and with it you're eligible for all of those price reductions. A pensionado is simply someone who receives a pension; that is, a guaranteed monthly income from a government or private source. There is no age requirement, so anyone who meets the income and other requirements can qualify. So, for example, if you're age 50 and receive military retirement pay or a company pension you can still receive the discounts.
For me and my friends here in Chiriquí Province, the biggest benefit of either the jubilado or pensionado discount, is the 20% discount on medications that comes with each. We each save anywhere from $10 to $100 per month with that discount. And at the doctor's office, clinic, and hospital, we've all used it to save 15%.
It's not just health care that's reduced. Most of us travel to the U.S. or Canada at least once a year and we get 25% off airfares from or throughout Panama. That means a difference of $50 for domestic flights and as much as $200 on international travel. For one friend who goes to see her grandkids twice or three times a year, that's a sweet deal!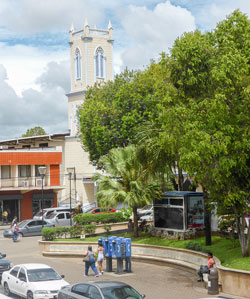 Hotel rooms are also covered. During the week the discount is a whopping 50%, and it's 30% on weekends. I'm staying in Panama City next week in one of the nicest areas of the city, and paying $38.50 for my room, thanks to the discount. When I go out to dinner at my favorite Greek restaurant I'll get 25% off the cost of my meal…
And, because retirees get 50% off entertainment, we can get out and enjoy ourselves. In David, where I live, we have two multi-screen cinemas that show first-run movies. Tickets are inexpensive to begin with at only $4.40. But when was the last time you went to the movies for less than $3 a ticket? That's with the retiree discount.
For those of us on a fixed income, when you add up how much we save, these discounts can really make a difference. It goes past the fun stuff, too. One friend who lives in the highlands says her electric bill is reduced from $35 to $26 per month, and the electric company calculates it automatically. You can also save 25% off your monthly water bill and home phone bill.
The cost of living here is already more affordable than many places; with the pensionado discount, you can really stretch your monthly income.
Get Your Free Panama Report Here:
Learn more about Panama and other countries in our daily postcard e-letter. Simply enter your email address below and we'll send you a FREE REPORT — Panama: First World Convenience at Third World Prices. 
This special guide covers insider advice on real estate, retirement and more in Panama. It's yours free when you sign up for our IL postcards below.
Get Your Free Report Here