My husband Gary and I love to travel. Happily, since we retired to Panama, it's easy and convenient to do. The proximity of Costa Rica, Colombia, Nicaragua, Brazil, Peru, and numerous additional Latin American countries, as well as many exotic Caribbean islands, gives us the opportunity to visit them all. Being retired we have the time…and, since our life in Panama is so economical, we can afford it.
Virtually everything necessary for a good life is inexpensive in Panama.
The cost of healthcare is reasonable, as are groceries, services, and pharmaceuticals. Add in the pensionado program—the best retiree discount program of its kind in the world—which offers up to 25% discounts on most goods and services, and it gets even more affordable.
And, the longer we reside here, the more we discover ways to embrace this travel-happy lifestyle without spending a great deal of money.
The Personal Touch
One of our favorite finds is a kind, soft-spoken gentleman who speaks some English. He is the pastor of a church in Panama City and has started a sort of taxi/tourist guide service in order to supplement the meager finances of his parish.
Recently, Pastor Edwin picked us up from the Tocumen Airport in Panama City upon our return from Canada—we travel back there for a few months each year for personal reasons. He drove us to our hotel (which was a considerable distance from both the airport and city center), returned for us the following morning, and drove us to the tribunal office in downtown Panama City, where he waited for over two hours, guarding our luggage, while we attended to the final paperwork for our cedulas (identity cards). Then we were off to the smaller domestic airport for our return to David, the closest airport to our home in the Chiriqui province.
Cost of the entire service: $120. The interesting information about the Canal Zone and countless other noteworthy facts about the city were free.
On the more day-to-day side of things, especially here in Chiriqui province where we live, reasonable prices are standard—even when it comes to what you might consider luxuries back home.
Domestic staff, gardeners, and maintenance people will do an excellent job for you for $15 to $30 per day, depending on their duties and hours worked.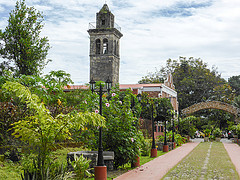 Speaking of gardening, the most exotic flowers, shrubs, and trees can be purchased from the local nurseries very affordably—like $5 for a one-foot high, healthy hibiscus, bougainvillea, or plumeria bush that will grow to be a huge, vibrant, healthy addition to your garden for years to come.
If you'd rather not deal with laundry, at one of the local lavamaticos (laundromats), you can drop off a huge overflowing bag, return an hour or two later, and pick up washed, dried, and folded laundry for just $5.
Grooming is low cost. Haircuts range from $6 to $10, including styling, and massages, manicures and pedicures, and facials are a mere fraction of what they cost back home.
30 Cents Beer and $10 All-You-Can-Eat Pasta
Restaurant dining here is varied and inexpensive, too. Just one example is a restaurant in David where we often go for a nice lunch. They offer a drink (wine, beer, or a soft drink), homemade soup, a visit to the salad bar, an entrée, and dessert for between $7 and $8 per person.
A local hotel restaurant offers an all-you-can-eat pasta dinner one night each week, as well as a glass of sangria, for just under $10 per person.
For those who prefer the local Panamanian cafés or fondas, a plate of deliciously prepared beef, chicken, or pork and vegetable rice can be enjoyed for under $5 per plate. Cold local beer is anywhere from 30 cents to 75 cents per bottle.
You'll never be stuck for something fun to do either. The public beaches have free access and most have small, locally owned eateries where food and cold drinks are available and inexpensive. One resort provides use of their two swimming pools, cabanas on the beach, a ping pong table, exercise room, and swim-up bar for an entire day for $15 per day during high season.
Some of the best things to do are free. We love to go to local parades and festivals, set out for a day of bird watching, cool off in the rivers and waterfalls, or to observe the popular horse cabalgatas (cavalcades, which serve free rum, beer, and non-alcoholic drinks along their parade route).
Sports fans will have a lot to choose from, too: Panamanians love their sports. Being a spectator at futbol (soccer) and baseball games, as well as boxing matches, is a lot of fun as the crowds are so enthusiastic. Admission to these activities is low-cost.
Take it from us, Panama is a fun, vibrant, place in which to enjoy life to the fullest…and it allows people like us who are on a fixed income to travel to neighboring countries.
But while we love to travel to those diverse countries, I must admit: we will always and unfailingly return home to Panama.
Get Your Free Panama Report Here:
Learn more about Panama and other countries in our daily postcard e-letter. Simply enter your email address below and we'll send you a FREE REPORT — Panama: First World Convenience at Third World Prices.
This special guide covers insider advice on real estate, retirement and more in Panama. It's yours free when you sign up for our IL postcards below.
Get Your Free Report Here