If you wanted to visit all of France's most fascinating cities, one right after another, it would take you a couple of months to do so. But if you wanted to explore France's most intriguing rural villages and towns, you'd need a couple of years—at least.
France has thousands of rural towns and villages. While I can't say that every single one will blow you away with charm, it seems that the country hosts an exceptionally high number of rural beauties. Here are three great rural towns to add to your must-see list:
Vézelay. Set atop a steep hill in the midst of Burgundy's wine country, Vézelay is officially one of "France's Most Beautiful Villages." This exquisite little town of 430 souls is not on the beaten path of the average tourist, but it's has had more than its fair share of visitors over the centuries.
Vézelay is home to the Basilique Sainte-Marie-Madeleine, an impressive, light-filled 12th-century basilica that has, since the Middle Ages, marked the starting point of the famed "St. James Way" pilgrimage route, which stretched from central France to Santiago de Compestela in northwest Spain.
The vast Romanesque-style basilica and the "eternal hill" on which it sits justly attract the lion's share of visitor attention. But I find the town's little side streets and local architecture equally charming. Everywhere you look is centuries-old exposed stone houses with beautifully intricate wrought-iron gates and window shutters painted in a pleasing grey-blue known throughout the region as "Vézelay grey."
Two things not to miss: After a visit to the basilica, head to the leafy park just behind it. There you'll find a wide stone terrace that offers phenomenal views of the cascading hills and rich colors of the Burgundy countryside.
Next, once you've come down the hill, pay a visit to one of the local wineries to taste some of Vézelay's finest. Domaine Camu, for example, offers a range of Vézelay wines, from Pinot Noir to Chardonnay for $8 to $13 a bottle.
Camembert. Yes, that Camembert – namesake of France's most emblematic cheese. Those who delight in this soft-ripened pungent cheese shouldn't hesitate to make a pilgrimage to this picturesque agricultural commune in Normandy, a little over two hours from Paris.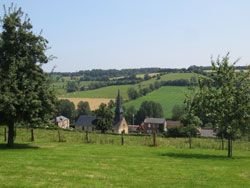 Surrounded by idyllic green slopes and apple-filled orchards, Camembert's heart only consists of a handful of buildings: a few 18th-century stone-and-brick houses, a 14th-century stone church with a weathered old graveyard, and le Manoir de Beaumoncel, the mossy-roofed, half-timbered 16th century farmhouse where the farmer Marie Harel created the celebrated raw milk cow's cheese in 1791.
Despite its tiny size, Camembert manages to play host to a sizeable museum, split in two. First there's the Ferme Président (entrance: $6). Set in a pretty half-timbered 18th-century farmhouse, this museum, among other things, retraces the legendary history of the cheese, which was purportedly born when a priest from Brie, fleeing the French Revolution, shared with Marie Harel the recipe for Brie, which she modified to create the Camembert we know today.
The second part of the museum is the Maison du Camembert, which is amusingly set in a round, white building that resembles a half-opened box of Camembert. It's here where you can have tastings of Camembert at its various stages of maturity and buy cheese rounds and other Norman produce to take home—or even better, to feast upon with a baguette and bottle of apple cider in one of the nearby meadows.
Druyes-les-Belles-Fontaines. If you want authentic rural beauty, you've got it in this jewel of a village. One of my favorite spots in northern Burgundy, it's the sort of place you are surprised and delighted to stumbled upon at random—being there feels as if you've uncovered a lovely secret.
Settled in the 6th century by Saint Romain, Druyes-les-Belles-Fontaines (Druyes, the beautiful fountains) was named for the marvelously clear spring that runs through the village to this day.
With its classic houses of local stone and the swans drifting in the spring's basin, Druyes is pretty enough to enchant visitors with no further attractions. But on a limestone ridge above the village sits the remains of a 12th-century stone fortress, Château Druyes. Now little more than massive ramparts and towers, the château was once a key stronghold in the region.
Walk the steep slope—or drive—to the fortress from the lower village. Exploring its old stones and twisting staircases wonderfully incites the imagination about the castle's glory days. Equally appealing, the château towers yield spectacular views of the slopes of the Burgundian landscape, as well as a 19th-century arched stone aqueduct (now popular among the French bungee-jumping set) that spans it. It's well worth the $10 entrance fee.
©iStock.com/Yves Grau
Get Your Free France Report Here:
Learn more about France and other countries in our daily postcard e-letter. Simply enter your email address below and we'll send you a FREE REPORT: A Taste of France: All the Ingredients for the Good Life.
This special guide covers real estate, retirement and more in France and is yours free when you sign up for our free daily IL postcards below.
Get Your Free Report Here