Why Consider Living, Buying, or Investing in Panama?
Panama is one of the world's top offshore havens and it is continuing to emerge as one of the world's greatest retirement destinations. Panama offers certain advantages over every other Central and South American destination. Tax advantages. Privacy advantages. Plus, you'll find some of the world's most beautiful mountain, beachfront, and island property in Panama. Add to all of this what we consider the world's best incentive program for retirees.
The Los Angeles Times noted that many recent retirees "have been drawn to Panama by its low taxes, affordable housing, tropical climate, and contemporary, bilingual entertainment."
Panamanian life is truly affordable. (A full-time, live-in maid costs $150 a month…first-run movies cost $3.75.) It's the safest place in Central or South America.
Panama has a stable government and a stable currency (pegged to the U.S. dollar since 1904). In other words, this country is the exception to the rule in Central America. As The Economist reported, in Central America, "Panama has stood apart, sustained by its canal, banks, and free-trade zone."
Panama is starting to get noticed by America's mainstream press: "Panama is the most beautiful retreat in the world and almost undiscovered," claimed Harper's Bazaar.
"Known mostly for its canal, Panama is, in fact, an undiscovered tourist paradise," stated a travel article in The Boston Globe.
Even The Wall Street Journal is talking about the "new breed of intrepid retirees [that are] branching out" to Panama.
Not only is Panama starting to receive more tourists, but it is also becoming one of the focal points of a trend that is taking shape in the United States. Living and retiring overseas—something that was once reserved for a few adventurers—is now an idea catching on in mainstream America.
As Time magazine reported: "Many of the 76 million American boomers are more likely than their parents to consider retiring to a foreign land, because they have traveled more, have higher hopes for retirement, and tend to be more active and adventuresome."
According to a recent survey conducted by the firm MarketFacts, 7% of those baby boomers will actually retire outside of America. That translates to 5.3 million Americans who have already made the definitive decision to retire abroad. And Panama is going to be at the top of their list, along with other foreigners looking for warm, inexpensive, and adventurous places to live and retire. In fact, it already is.
Four Reasons to Visit Panama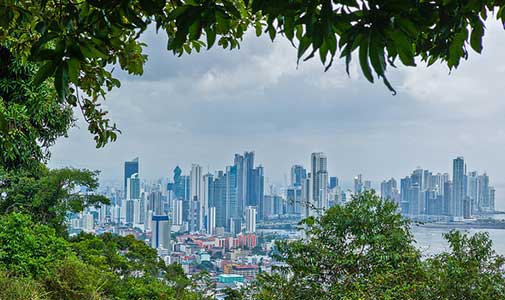 What are your reasons for visiting Panama? Ask any tourist that question and you'll get a different answer. Some come for the beaches and the sun, others to explore the jungles or cloudforests. There's a lot to see, and if you've read anything about Panama, it's likely you've felt tempted to hop on a plane. To help tantalize you just a bit more, here are my top four reasons to visit Panama.
1. The National Parks
Panama has more preserved rainforest than nearly any other country in Latin America. There are autonomously ruled indigenous lands, national parks, and even marine reserves. The La Amistad Biosphere is unique in that it stretches across the Panama-Costa Rica border, making it a binational park. Here you can spot some of the planet's rarest birds, such as the colorful Resplendent Quetzal. Prefer scuba diving? Try Coiba National Park. For sport fishing enthusiasts, the Darien National Park is a mecca. There's sure to be something for you, regardless of your reasons for visiting Panama, be it hiking, surfing, archeology, or pretty much anything else (except, of course, snow skiing!).
2. The People
Ask anyone who's visited and you'll get the same response: the people of Panama are the best thing about it. Panamanians are accustomed to international residents and travelers. They're fairly wealthy compared to other Central American countries and they have many opportunities to improve their lot in life. This helps make Panama a safe and friendly place to visit. If you're interested in Panama's ancient cultures, then spend some time with the local tribes. A stay with the Guna tribespeople may be up your alley. Getting to their reserve, Guna Yala (also referred to as San Blas), is easy and inexpensive. You can drive to mainland areas or take a boat or 15-minute flight to the islands of the reserve's archipelago. The beaches are pure white sand, many of them inhabited only by the likes of palm trees and birds. The waters are as clear and bright as the finest of aquamarine gems.
3. Ease of Travel
Traveling somewhere with excellent direct flights and connections, like Panama, can help you truly enjoy a stress-free vacation. Not to mention, Panama's currency is the U.S. dollar…it's easy for Americans (and if you're from Canada, the exchange rate is much easier to work with than Costa Rican colones or Nicaraguan cordobas). Many Panamanians speak English, so if you struggle with Spanish, you're likely to get by fairly easily. And the tiny country has an excellent, inexpensive bus service, making it easy to explore. (And there are domestic flights that can help save you time if you only have a short period of time in Panama).
4. The Culture and Handicrafts
Panama's cultures are fascinating…from the African and Caribbean descendents who came here during the years of the conquistadores and the Panama Canal construction to the interior folk who still remember the many traditions of grand old Spain. You can see cultural expressions everywhere…in the many theaters and art galleries in Panama City…in madcap Carnivals, religious processions, and colorful festivals…and in the local handicrafts.
In every region you'll find masters of trade quietly selling their wares in shops and even on roadsides. You'll find Pre-Columbian style pottery and jewelry…the textile arts of the Guna tribes and the national dress known as the pollera (with roots in 16th century Spain)…wood and leatherwork that is beautiful and inexpensive, and much more. Buy household items, gifts for friends, or unique items to sell back home. Even the coffee (among the best in the world) is worth visiting for!