"You live in France? Oh, you're so lucky. I wish I could live in France."
Ever since I moved to Paris over 14 years ago, I've heard variations of these three phrases hundreds of times. Often the phrases are said lightly and I know the speaker has no strong desire or intention to move to France; it's simply another way of saying that they really like France.
But sometimes I hear a real wistfulness and longing in the speakers' voices. They go on tell me how much they adore France's beauty and laid-back lifestyle; how much they appreciate the French's healthy attitude toward food and mealtimes; how they spent a month, six months, a year in Provence, the Alsace, Normandy, and treasured the high quality of life.
To those people, those who feel that deep tug, I say: why not do it? Retire in France.
Despite France's reputation for glamour and glitz, many regions, town and cities are actually quite affordable. Take the south of France's Languedoc-Roussillon region, for example. Much of this sprawling, scenic region hugs the country's Mediterranean coast, has an average of 300 days of sun, is close to both mountains and the sea, and features some of the most beautiful villages and towns in the country. It's only three to four hours from Paris by high-speed train and has at least two international airports. And yet, a retired couple can live in this magnificent and highly livable area for $3,000 month or less.
As almost everywhere, the largest cost is housing. Depending on where you choose to live in the Languedoc –city vs. suburb vs. countryside – it's not difficult to rent a one-bedroom apartment or a house with a small garden for $800 to $1,400 per month… sometimes significantly less, if you're renting directly from the owner or getting an unfurnished place.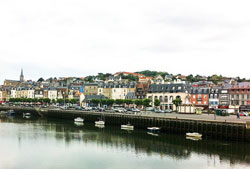 If you'd rather buy, this area features plenty of homes for $130,000 or less. At that time of this writing, there's an utterly charming two-bedroom 19th-century apartment on the market in the heart of the gorgeous medieval town of Pézenas for $128,000. In the bustling city of Perpignan, close to the Spanish border, I found a large modern two-bedroom apartment with uninterrupted views of the city and the distant countryside for the same price.
Once you cross the housing hurdle, the next biggest cost on your list will likely be food. Naturally, this cost varies depending on how your appetite, but you might be surprised at how well you'll eat and how far your dollars will stretch when it comes to food in France, particularly if you adopt local habits of eating. In France, one eats at mealtimes – no in-between snacking. And here, with the abundance of flavorful, fresh foods, even the least expensive meals, say, of quiche, salad, cheese and wine, can feel like fine dining. A retired couple may look to spend between $400 to 450 per month on food and wine.
Other costs include residence taxes, private health insurance costs (required for anyone who lives legally in France), transportation and car insurance, utilities, phone, internet and entertainment. Again, depending where you live and your lifestyle, these monthly costs can comfortably total under $1,000.
I've mentioned the Languedoc-Roussillon area here, because, it's my personal favorite and I love the region's varied attractions, but there are countless other area in France that offer this affordable life as well, from Normandy to the Midi-Pyrenees to Brittany.
So, if you have dreams of retiring in France, don't hesitate to investigate how to make it a reality. An affordable, enjoyable life awaits you.
©iStock/rzdeb
Get Your Free France Report Here:
Learn more about France and other countries in our daily postcard e-letter. Simply enter your email address below and we'll send you a FREE REPORT: A Taste of France: All the Ingredients for the Good Life.
This special guide covers real estate, retirement and more in France and is yours free when you sign up for our free daily IL postcards below.

Get Your Free Report Here