Few places in the world offer the cultural bounty that France does. The country offers excellent and diverse cuisine, jaw-dropping works of art, fascinating historical relics and so much more. Culture can be found in virtually every corner of France, but here is my take on the top three French cultural retirement havens…
1. Paris: A New Cultural Experience Every Day
If you're aching to retire to a French city where each day offers a new cultural experience and boredom almost never comes into play, then there's no question that you'll adore Paris. With concerts, theater, ballet, jazz, festivals, art galleries, avant-garde operas and plays, English-language book readings…you name it, Paris has it.
The City of Light is well known for its host of legendary museums, attractions, and even neighborhoods, such as Montmartre. But when you live here, you understand that it offers so much more than what's seen on the surface. Hundreds of cultural events take place every single day in Paris. One day you might attend a small film festival exclusively featuring foreign directors; another day, you might dance the tango under the stars in the Jardin Tino Rossi, as so many do every summer. You might stumble upon a free wine tasting or get swept up in a colorful, jubilant parade.
Although Paris is generally an expensive city, enjoying the cultural scene isn't. Paris's gardens and parks, so rich in history and beauty, are free. Many festivals are free, including the Nuit Blanche, during which almost every artistic establishment, from museums to concert halls, opens its doors to the public from dusk 'till dawn for one night each October. And each Sunday of every month, all the museums in Paris are free. And that's just the tip of the iceberg.
2. Lyon: A Haven for Foodies
There's only one French city that comes close—extremely close—to matching Paris's cultural offerings, and that's Lyon. Situated in the Rhone-Alps region in east-central France, beautiful Lyon has a faintly Mediterranean air, despite being three hours away from the sea.
Lyon is awhirl with activities, hosting a mind-boggling 21,000 events every year. From art exhibitions in small galleries to film, music, and dance festivals that draw millions from around the world, Lyon has just about every kind of cultural offering you could want. Among the most popular is the Fête des Lumières (Festival of Lights), a tradition that began as an impromptu citywide candlelight tribute to the Virgin Mary in 1852. Today, the early December festival is a three-day celebration where international visual artists transform the entire city, from buildings to rivers, into extraordinary works of shimmering light.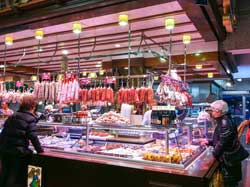 Museum enthusiasts will be more than satisfied in Lyon. The city is home to over 25 museums, including the Museum of Fine Arts, whose 70 rooms hold some of the finest paintings, sculptures, and art objects in France. In contrast, there's also the light-hearted but fascinating, Museum of Cinema and Miniatures, which houses original movie props and miniature scene sets from a variety of well-known films. (Film-themed events are popular here, as Lyon was the home of the Lumière brothers, the world's first filmmakers.)
Then, of course, there's the food. Heaven for foodies, Lyon has more than 1,500 restaurants, the vast majority taking fierce pride in producing the excellent-quality dishes the city is renowned for. The gastronomy ranges from the itty-bitty, delectable mouthfuls of nouveau cuisine, to the traditional, robust Lyonnais fare that Lyon's 18th century silk workers needed to get through the day.
There's far more to the cultural scene of Lyon than I've written about here. But despite all these wonderful offerings, the cost of living in Lyon is a fraction of that of Paris. For example, to rent an unfurnished one-bedroom apartment with character in Lyon's center would cost around €800 ($909) per month. The same kind of Parisian apartment in a similar location would cost upwards of €1,800 ($2,044) per month.
3. Montpellier: City Living Close to the Sea
Montpellier is the perfect place for the retiree who seeks to relax in the sun near the sea, yet still experience the vibrancy of city living and all the cultural offerings that come with it. Surrounded by history, this charming university town is situated on France's southern coast, a stone's throw (almost literally) from the Mediterranean Sea.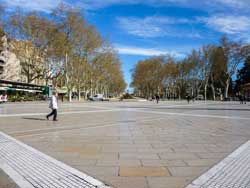 Montpellier offers a bounty of festivals and events, mainly centered on music, art, and dance. The Festival Radio France of Montpellier is one of the most widely known and popular. This celebration takes place for two weeks every July, featuring hundreds of concerts, including operas, symphonies, jazz, and electro music. About 90% of the concerts are free and take place all over the city and region.
Some locals look forward to Montpellier's annual "Estivales" even more than the music festival. Every Friday evening during July and August, the leafy Esplanade Charles de Gaulle in central Montpellier turns into a huge wine tasting event, with more than 160 local vintners (who have some of the best value wines in the county) showing off their favorite vintages. Local musicians and bands play as people wander about, sipping their wine and checking out the food and goods that local exhibitors display.
Montpellier doesn't have a huge selection of museums, but it is home to the Fabre Museum, which features excellent European artwork from the 15th century through to the 20th century. There's also the newly reopened Museum of Anatomy, the oldest and largest anatomy museum in France. While the museum is said to be interesting, it's not for those with a weak stomach.
Rental costs in Montpellier are slightly less than in Lyon, with unfurnished, one-bedroom apartments available in the medieval city center starting from €750 per month ($842). Add to this 300 days of sun, plenty of activities, lovely mountains, and beaches within an hour of the city, and you've got yourself a pretty sweet deal.
Main image: ©iStock.com/encrier
Get Your Free France Report Here:
Learn more about France and other countries in our daily postcard e-letter. Simply enter your email address below and we'll send you a FREE REPORT: A Taste of France: All the Ingredients for the Good Life.
This special guide covers real estate, retirement and more in France and is yours free when you sign up for our free daily IL postcards below.
Get Your Free Report Here