I'm sipping a golden ale nano-brew and looking out over the peaks of Panama's Coclé Province. It's a broad vista. Beyond the bright, grassy shades of mango and banana trees are mountains, richly carpeted in a deep, velvety green. The sun is setting and thin wisps of mist begin to form. Soon it looks like there are hills floating on clouds.
As the sky darkens and the mountains fade from view, I turn my attention to the big backyard, complete with a party-ready gazebo. Michael and Deborah Lunsford have the kind of garden I would kill for. Take a little tour and you'll see everything from gardenias and heliconias to mango trees and rosemary. Deborah, 60, has a green thumb to be sure. She adores gardening…and it doesn't hurt that her new home is in the crater town of El Valle, known for its fertile soil.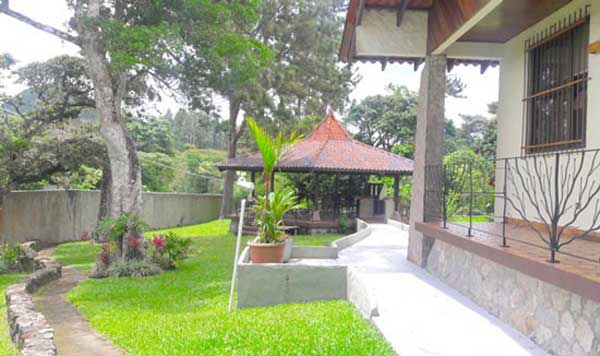 Michael, 59, enjoys brewing his own beer (lucky me). Though he and Deborah are living what seems like the perfect retiree lifestyle, Michael found that he wasn't quite ready to give up work. With good WiFi now available in El Valle, he's able to do a bit of work remotely for a U.S. company.
Just two hours by car from Panama's capital city, El Valle isn't the most popular expat destination in Panama. That distinction typically goes to Boquete, which boasts a large North American population and a dizzying roster of weekly activities. But for Michael and Deborah, El Valle has turned out to be "perfecto."
"We visited a lot of places in Panama, including Cerro Azul and Sora," says Michael. Those mountain towns are similarly close to beaches and Panama City's many amenities, but not very active. El Valle, on the other hand, gets a small but steady stream of tourists and weekenders—both local and foreign. There are cute little inns, several good restaurants, and a small (but very warm and welcoming) expat community. A new, affordable clinic in the beach town of Coronado, just a 40-minute drive away, helped sell the couple on El Valle. But that's not their sole reason for staying here…
"We'll have been in this house for three years this October. It's an amazing place, this crater," says Michael. "There are days when you don't notice what time it is…life turns into vacation mode. These days I don't wear a watch and I barely look at my cell phone." Life in rural Panama is slow paced. It can take some adjusting to, "but you learn to go with the flow," says Michael. "A slower pace means a lot less stress," he adds.
A software and electronic engineer, Michael started his own company and developed his own software back in the States. He was successful, but not living the way he wanted to. "I wanted to get out of the toxic corporate environment," he says. "It was a lot of hard work. I often had to stay late or even stay up all night. I had a 100-mile commute and with the snow in Colorado, it sometimes took two to three hours."
Eventually, Michael began working from home, and he soon realized that he could work from anywhere with a good connection. Now he services software he created from his mountain chalet in El Valle. Daytime temperatures are typically 78-85 F and evenings are about 10 degrees cooler. Mornings are often sunny, with afternoon showers common during the wet season from May through November. But you never need to wear a coat, and you never have to worry about extreme weather.
"There are plenty of cultural activities in the city," says Deborah. "We can drive in to go to movies then come back to El Valle. This place ticks all the boxes for me. Plus our friends love to come visit us. It's not too far away to be affordable for visitors from the States." From Panama City it's just a three-hour flight from Miami, and flights to Newark are just over five hours long.
Another big plus, both Michael and Deborah say they are healthier than before. "My body has changed a lot," says Deborah. "I lost weight doing my gardening, and Mike is healthier too."
They're both spending more time outdoors and eating less processed and restaurant food, as it's less available. Fresh fish and shellfish are readily available and affordable. "Chicken and pork tastes better here too," says Michael. "It's not full of preservatives and it's cheaper than back in Colorado."
A former sales and marketing professional, Deborah uses her expertise to help organize community activities. As the sun sets and the air grows cooler, locals and expats come together for food and drinks. Newcomers are welcomed and connections are quickly formed…it's easy to meet people and make friends. "I'm busier than I ever was before," says Deborah of her life and social circle in El Valle…"Good busy."
Get Your Free Fund Your Life Overseas Report Here:
Sign up for IL's Fund Your Life Overseas e-letter today and we'll also send you a FREE report about ways to earn money abroad. Simply enter your email in the box below and we'll send you this free report: Fund Your New Life Overseas With These 6 Portable Careers.
Get Your Free Report Here