By Lynn Roulo
If you are considering a move to Greece, you'll want to carefully research your options for visas and residency permits. There are many ways to move abroad, and you want to find the option that best fits your situation.
Citizens From Other European Union Countries
If you are already a citizen of one of the 27 European Union (E.U.) member countries, you can legally live and work in Greece based on your existing EU citizenship. In 2020, the U.K. withdrew from the E.U. and is now considered a non-EU country.
Citizens From Non-European Union Countries (Including the U.S., Australia, and the U.K)
Short Term Residency in Greece
As of 2020 and barring the COVID-19 travel restrictions, if you are a U.S., U.K., or Australian citizen, you can come to Greece for 90 days without a special visa. Some, but not all, other non-E.U. countries share this status. You can check here to see if your country is on this list. If so, you are allowed to be in Greece for 90 out of every 180 consecutive days. You must then leave Greece and the Schengen Zone for 90 days before returning.
The Schengen Zone is essentially a network of European countries that allow passport-free travel. Greek visa-free rules require you to leave the whole Schengen Zone for the period you must be outside of Greece. For example, you can't live in Athens for 90 days, go to Paris for 90 days, and then return to Athens. You can, however, live in Athens for 90 days, go to London for 90 days, and then return to Athens. Why? Because France is part of the Schengen Zone, but the U.K. is not. If you are looking for slightly nomadic, visa-free options, you should become familiar with the Schengen Zone countries.
Long Term Residency in Greece
If you are from a country outside the E.U. and seek long-term residency, you need a resident permit to live in Greece. It is important to note that "non-E.U. citizenship" is a category in the permitting process, and nationality is not relevant.  For example, citizens from the U.S., Nigeria, Canada, Malaysia, Egypt, and Afghanistan are all in the same grouping.
Options to legally move to Greece include: buying real estate in the country, qualifying for an independent financial means visa, qualifying for a student visa, proving you have Greek ancestry, marriage to a Greek citizen or an E.U. citizen living in Greece, starting a company in Greece, and being sponsored for a job in Greece.
Almost all visa options require items like an FBI background check, proof of health insurance that will cover you in Greece, and proof that you don't have pre-existing transmissible medical diseases. For example, I was tested for tuberculosis and had to provide an x-ray of my lungs as part of my visa/resident permit process.
The Golden Visa for Real Estate Purchases
Since 2013, Greece has offered a "golden visa" for foreigners who purchase real estate with a value of over €250,000 (approximately $300,000). If your Greek real estate purchase qualifies, you are eligible for a five-year, renewable resident permit to live in Greece. This does not grant you Greek citizenship, but it does give you the right to live in the country.  Other countries including Portugal and Spain offer "golden visas," but their capital requirements are €500,000 making Greece an attractive option. Be forewarned the government are discussing raising the Greek golden visa threshold to €500,000. The process has many administrative/legal steps beyond a regular non-golden visa purchase so be sure to get professional guidance from a lawyer or agent.
Independent Financial Means (National D Visa)
For retirees or remote workers wishing to live in Greece, the National D independent financial means visa is a popular option. To qualify for this visa, you need to prove to have enough money to live in Greece without working in Greece.
The general financial requirements are that you must show you have a minimum of €24,000 (or equivalent) in a bank account, and you must show that you earn a minimum of €2,000 each month from non-Greek income sources. In most cases, after you arrive in Greece, and before renewing your resident permit, you are also required to open a Greek bank account. While these are the technical requirements, each case is reviewed individually. The stronger the application the better, so while these are the minimum requirements, the more funds you have in your bank account, and the more robust and stable your income sources, the better chance you will have for approval.
While anyone is eligible to apply for this visa, it is scrutinized more for people who are not retirees. You may still be eligible for the visa if you are under 65, but you may be asked more questions and be required to show more paperwork explaining why you want to live in Greece and how you will be able to afford living there on a long term basis.
Student/Trainee Visa
You may be able to live in Greece for the duration of your education by being accepted by a Greek university and applying for a student visa. This process typically involves first applying for and being approved for attendance by a Greek university and then using the acceptance letter to apply for a student visa. Also in this category is a trainee visa which is similar to a student visa but for education lower than a four-year university. You can check with the Greek consulate or embassy in the city you currently live in to see if this is an option and what specific steps must be followed.
Marriage to a Greek or E.U. Citizen Living in Greece
If you are married to a Greek citizen, you are eligible to live in Greece. Greece also offers a civil union option for same-sex couples. If you are married to an E.U. citizen living in Greece, this too gives you resident permit options.
Greek or E.U. Ancestry
Different from a residence permit, you may be eligible for Greek citizenship through ancestry. If your mother, father, grandmother, or grandfather is or was a legally registered Greek citizen, you may be able to claim Greek ancestry and may qualify for Greek citizenship. If you become a Greek citizen, you can legally live and work in Greece.
If your mother, father, grandmother, or grandfather is or was a legally registered citizen of another E.U. country, you may be able to get citizenship for that country which will allow you to legally live and work in Greece. Each situation is different so you will need to carefully research yours. If you were born in an E.U. country, that may or may not be helpful. For example, I was born in Germany and moved to the U.S. when I was three years old. I had dual citizenship until I was 18 but then it defaulted to U.S. citizenship, and my German birth status did not help me move to Greece. Being born in the E.U. does not necessarily qualify you to live in the E.U.
Other Options
There are other options including starting a business in Greece or being sponsored by a Greek employer. These are less popular and more difficult options. To start a business/invest in Greece, the minimum capital requirement is €300,000 and there are many other criteria to meet, hurdles to clear, and items to prove. Regarding employment, most Greek employers aren't interested in sponsoring non-E.U. employees as unemployment is high, and companies have plenty of local employment options. However, there are occasions in which the Greek state opens up various jobs and invites foreigners to apply.
Visa Versus Residence Permit
It is important to understand there are two parts to the process: the first is getting a visa to come to Greece for an extended period of time, and the second is getting a resident permit to live in Greece. They are different.
In my case, I got a National D visa valid for one year and then secured a renewable resident permit which allows me to continue living here. When I asked how to renew my National D visa, I was met with confusion by the Greek permitting agencies. This is because you don't renew a visa. You get a visa once to enter for an extended period of time and then you get a renewable resident permit.
One of the big hurdles in Greece is the bureaucracy. It is slow-moving, inconsistent, and often contradictory. I've been legal my whole time in Greece but not without significant challenges. My first renewal took six months to complete so by the time I had my new resident permit, it was almost time to apply again. I've had applications rejected for reasons that made no sense only to have them rubber-stamped with almost no scrutiny when I went back to reapply. Often, it is an approving officer who is having a bad day that will send your application into the rejection pile. This leads me to my next point: it is in your interest to have a good Greek immigration lawyer. The Greek rules for residency are a kaleidoscope of ever-changing factors and having a qualified, Greek-speaking advocate is priceless.
In Summary
It might seem daunting to move to Greece, but if you research and follow the rules and requirements, you will likely have some good options.
And as a side note, when planning your move, don't think you need to leave your pets behind. I moved to Greece with my dog and two cats. It is easy to get a "pet passport," there is no quarantine on pets in Greece, and the move with pets was easier than you might imagine.
Καλή τύχη!/Good luck!
You Could Get a 50% Tax Break for Living in Europe…
By Jeff D. Opdyke, The Savvy Retiree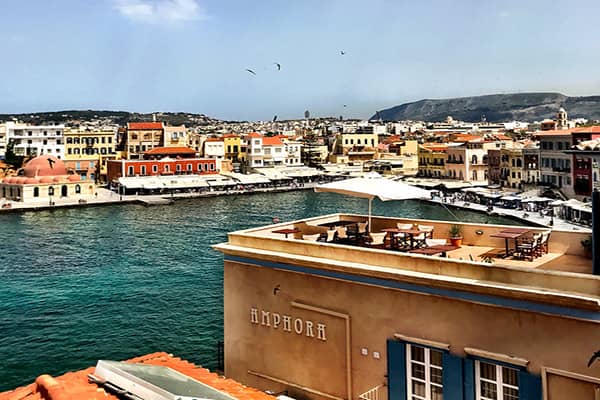 Finally—a remote-worker incentive plan that actually makes a lot of sense.
Greece!
I'm sure you've seen in recent months all the Caribbean locations that are offering special visas to Americans (and others) who want to live and work from the beach as digital nomads. That's all well and good, and the Caribbean is certainly a beautiful place to wake up every morning and face another "day at the office." But from the perspective of a remote worker who has actually gone through the visa process and spends his days researching freelance and residence visas around the world, I can tell you that these Caribbean programs are not terribly appealing. But I'll come back to that in a moment.
However, the new plan that Greece is now in the process of assembling…it looks to be one of the smartest remote-worker visas I've come across, assuming it all comes together. That's because under the Greek plan as currently envisioned, a "digital migrant," as the Greeks call us, will be eligible for a 50% exemption on earned income for the first seven years. In essence, you owe local taxes on only half your income.
For someone who's still in the workforce and looking to maximize their savings opportunities as they approach retirement, sharply reducing your tax burden for seven years represents an intriguing opportunity to squirrel away more money.
And then there's the cost of living that can also help you save even more.
I'm going to use Chania, Greece, for this example. It's an ancient, Venetian harbor town that's been around for 5,000 years. It sits on the northwest coast of Crete, the largest of the Greek isles, and is a beach town—though, to be totally fair, it's not a Caribbean-style beach town by any stretch. I was there last year for interviews and to gather research. As I wrote in a piece for International Living, the city's quaint port looks like something Disney's Imagineers would have built for a movie set. You'll find nice, one-bedroom apartments there in the town center for less than $550 a month. Apartments overlooking the harbor and the Sea of Crete are less than $900. Utilities are vaguely $150 a month, and food costs are relatively modest.
Overall, Chania lands at a 60.5 on the cost-of-living index put together by Numbeo.com, a crowd-sourced cost-comparison site. (New York sets the standard at 100.) But how does Chania compare to the Caribbean?
Hamilton, Bermuda (one of the Caribbean islands offering a digital nomad visa) is the costliest city in the world according to Numbeo's cost-of-living index. In practical terms, that means the $3,100 you need to live a middle-class life in Chania would cost you $9,500 a month in Hamilton.
But's let not use Chania and the most expensive city in the world, since that seems like cherry-picking. Let's look at Greece overall, relative to Caribbean islands that are offering remote-worker visas. Greece is about 27% cheaper than Barbados, about 30% cheaper than Aruba, nearly 60% cheaper than the Cayman Islands, and basically the same price as Jamaica.
And then there's this: The Caribbean visas are good for six months to two years. Just as you're really getting settled into your new life…poof! You have to vanish.
Though Greece hasn't finalized details of its plan yet, the Greek approach looks to allow for longer living arrangements, given the seven years of tax breaks. And it just so happens that "long-term migrants," which is what you'd be as a digital worker, are eligible for Greek citizenship after seven years. Which means you could apply for a Greek passport…which is an EU passport…which would give you unfettered access to live and work across the rest of the European Union, no different than if you were moving from Tampa to Tucson.
Moreover, in several of these Caribbean countries, you have to pay thousands of dollars to apply for the visa, well in excess of what a typical visa costs. That tells me that certain Caribbean states see remote workers as little more than a money machine to tap into during a pandemic-induced trend toward digital nomadism. Greece, on the other hand, appears to see remote workers as a chance to help rejuvenate the Greek economy by drawing new talent to the country. As such, they're willing to offer a meaningful enticement to lure those workers. It's a "worker first" mentality.
All of that, to me, makes this Greek proposal intriguing.
There's just one catch: This looks to be a one-time program available only to applicants in 2021. So, if you've ever had thoughts of living and working abroad, and Greece appeals to you, then keep this on your radar. The country aims to have all the rules in place before the end of the year. As I find out more about the plan and whatever requirements emerge, I'll keep you updated.