Just walking down Málaga's Calle Larios can lift the spirits. This pedestrian-only street at the heart of Málaga's historic center is lined with shops and cafés that draw the eye. Overhead, several stories up, canopies strung across the street shade you from the bright Mediterranean sun.
A performance artist, draped in black robes, sits pensively in mid-air. For the life of me, I can't figure out how he stays aloft, and neither can the locals and tourists around me. They slow down to puzzle over him before heading off to window-shop in the many side streets, where kicky Spanish fashion vies with ice-cream parlors and traditional, decades-old restaurants.
A five-minute walk from here is the Alcazaba, Málaga's medieval Moorish quarter, and the remains of its Roman amphitheater. Mere steps away are art museums like the Museo Picasso Málaga (he hailed from here). Walk 10 minutes in the opposite direction and you reach the Mediterranean.
There's been a port here since about 1,000 BC (Málaga is one of the world's oldest cities), and it's still one of Spain's busiest. But no signs of creaky old age here: A sleek boardwalk—or paseo marítimo—runs for miles along the shoreline. Green park spaces with benches, kiddie playgrounds, and plenty of shops and restaurants make this area a hopping location.
Málaga proper has just under 600,000 inhabitants, and a metropolitan area of about one million. So it has all the goodies you'd expect from a metropolis—good hospitals and public transportation, a major international airport, great restaurants, as well as those shops and museums. Yet it's laid-back and remarkably affordable.
Even in the historic center, within walking distance of shops and the sea, you can get casual lunches starting at about $8 and proper sit-down meals for $15 to $20. Apartments for sale start at under $200,000.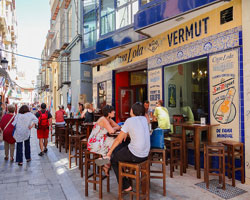 Go just a couple of miles from the historic center (and still along the paseo marítimo), and you reach pleasant middle-class neighborhoods where small one- and two-bedroom apartments start at $130,000 or less. Long-term rents in these areas start at about $625 a month.
Málaga sits about midway along the Costa del Sol. Sixty years or so ago, this long stretch of Mediterranean coastline was home only to fishing villages. Today it's one of the most popular beach destinations in Europe, and the quaint villages have become resorts of varying degrees of sophistication.
A suburban train line links Málaga to several beach towns west of it, including Torremolinos and Benalmádena. Not surprisingly, these towns are very built up and short on local charm, but they offer plenty of shops, condos for rent short- and long-term (you can get a comfortable two- to three-bedroom, near the beach, from about $800 a month), and lots of English speakers. This area is not all tourists—I know Spaniards who live here—and Málaga is only 20 to 30 minutes away by train.
Farther west are chic Puerto Banús and Marbella, which have long attracted the jet-set crowd. They're past the suburban train line, but there is frequent bus service. Luxurious Puerto Banús has a huge marina, surrounded by shopping malls, restaurants, and more. Between Puerto Banús and Marbella stretches The Golden Mile (actually, four miles), lined with luxury residences. Marbella offers museums, performances spaces, and a historic center, as well as newer neighborhoods. You'll find properties at all price ranges here, depending on how far you want to be from the water.
Free Spain Report
Learn more about Spain and other countries in our free daily postcard e-letter. Simply enter your email address below and we'll also send you a FREE REPORT — Live the Good Life in Sunny, Affordable Spain.
This special guide covers real estate, retirement and more in Spain and is yours free when you sign up for our IL postcards below.
Get Your Free Report Here