The southern French city of Montpellier might be one of France's largest, but that does not mean that it feels hurried—or even soulless.
Situated about eight miles from the Mediterranean Sea and sandy beaches, Montpellier is characterized by its pleasant climate, elegant stone buildings, multicultural communities, and a joie de vivre. It's a place where locals pause to play a game of pétanque under a centuries-old aqueduct, read a book in a park, or chat with friends in a sun-drenched café.
Montpellier has a long history with origins dating back to the 10th century. A few centuries later, one of Europe's oldest medical schools was founded in the city. It welcomed individuals from all backgrounds and religions to come teach at the school.
As time went on, Montpellier became a wealthy port city, thanks to the region's tradition of wine production. Today, the city is home to several universities, which lend Montpellier a youthful energy.
There are many things to do in Montpellier. From strolls in the city's eclectic historic district, to an afternoon spent in Montpellier's botanical gardens, here are five experiences worth considering.
1. Stroll through the Place Royale du Peyrou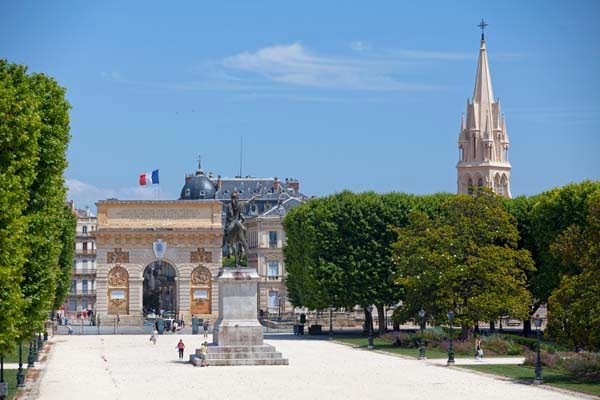 Montpellier's Place Royale du Peyrou features an esplanade lined with trees, an attractive water tower, and monuments dedicated to Louis XIV, France's "Sun King." This regal square is also a favorite spot among Montpellier's locals, who flock here to walk their dogs or read a book.
A statue of Louis XIV on horseback dominates the center of the Place du Peyrou's esplanade. From the horse's teeth to the king's garments, this bronze work of art features a great amount of detail. Nearby is the golden Arc de Triomphe, which was also dedicated to Louis XIV. This triumphal arch was built in the 17th century.
The views from the Place du Peyrou are blissfully unobstructed by neighboring buildings, thanks to restrictions put into place in the 1770s by Louis XVI. This forward-thinking ordinance protects the park's beautiful panoramas to this day.
On the western end of the Place du Peyrou is an ornate water tower called the Château d'Eau. Water from the nearby Saint-Clément Aqueduct once flowed here. If you peek over the park's outer walls, you can see this two-tiered aqueduct. It towers over Montpellier's Arceaux neighborhood and was built in the 18th century. At nighttime, the aqueduct is dramatically illuminated by blue spotlights.
Before we got to the Place du Peyrou, my husband, Shawn, and I purchased a baguette, some chèvre (goat's cheese), and fruit. While we savored our picnic inside the park, we did a bit of people-watching. We spotted sunseekers, fellow picnickers—even a father teaching his son how to ride a bike. That relaxed hour or two ended up being one of our Montpellier highlights.
There is no cost to enter the Place Royale du Peyrou.
2. Explore the Écusson, Montpellier's historic center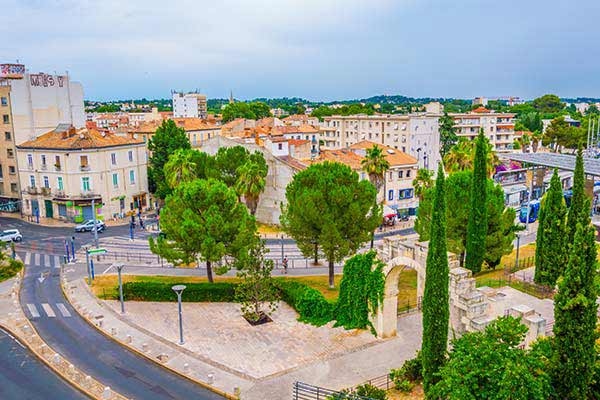 Montpellier's historic center is called the Écusson. Narrow streets, cozy squares, and weathered fountains characterize this atmospheric part of town. Since this area is largely-pedestrianized, it is a relaxing place to explore on foot.
You'll find cafés, restaurants, boutiques, and 17th to 19th century mansions called hôtels particuliers. If you'd like to visit the interior of these grand structures, contact the tourist office, which organizes guided tours.
Some of the Écusson has yet to be restored, which adds to the area's charm. As a result, you'll see shutters awaiting a fresh coat of paint, as well as bricked-in windows, with only their tracery still visible.
3. Discover incredible greenery at the Jardin des Plantes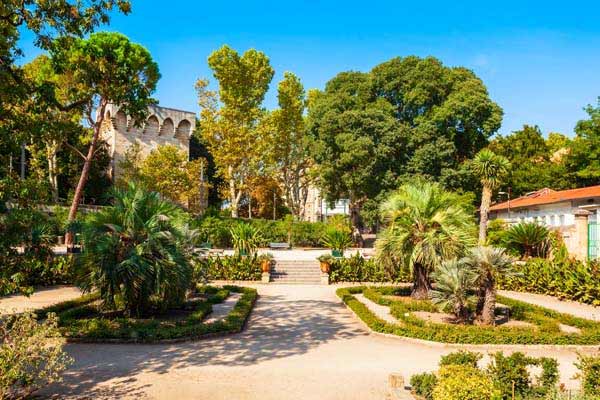 The Jardin des Plantes is France's oldest botanical garden and is also a tranquil place to while away a few hours. Founded in 1593, the garden was created to further the study of medicinal plants. For a time, it served as a model for other botanical gardens throughout France.
Managed by the University of Montpellier, the botanical gardens feature more than 2,500 plant species. You'll see a great variety of palms, terraced gardens studded with flowers, medicinal plants, and even a bamboo forest. There is also a magnificent greenhouse filled with cactus plants from around the world. All shapes and sizes of this prickly plant are represented, with some bearing pink, yellow, and red blooms.
Elsewhere in the botanical gardens you'll find a pond filled with fish, frogs, and water lotus plants—delighting visitors of all ages. Fluffy cats lounge nearby, soaking up the sunshine. These feral cats live in on-site shelters and have been sterilized. After the procedure, they are returned to the park in order to help deter rodents.
Inside the Jardin des Plantes, you're bound to catch glimpses of people relaxing on stone benches, having a picnic, or simply taking a moment to ponder life under the shade of a mature tree. Many of the plants and trees are labeled with the species' name and place of origin, making a visit to the botanical gardens both relaxing and educational.
There is no fee to enter the Jardin des Plantes.
4. Visit Montpellier's markets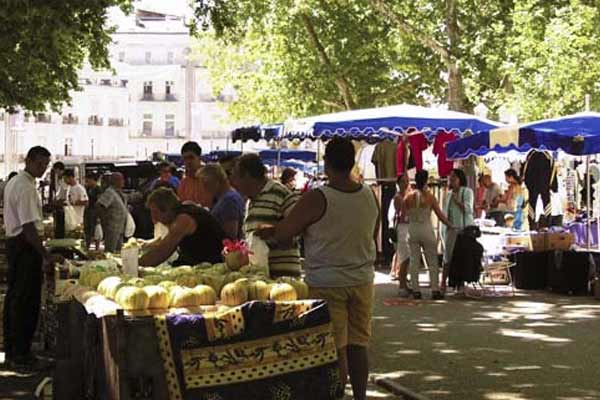 If you are a fan of markets, you'll be delighted to learn that Montpellier has a great variety. Some of these markets are housed in dedicated market halls while others take place outside. In addition, there are themed markets devoted to everything from antiques and books to plants and flowers.
Montpellier's historic center has two covered market buildings—the Halles Laissac and the Halles Castellane. The Halles Laissac is housed in a modern building that was opened in 2018. Underneath the red, yellow, and green dome, you'll find stands brimming with fresh seafood, colorful produce, olives, and a superb variety of cheese. It is even possible to purchase items and have them prepared on-site so that you can enjoy them there.
The city's markets take place on different days of the week, so consult the schedules at the tourist office.
5. Soak up culture and history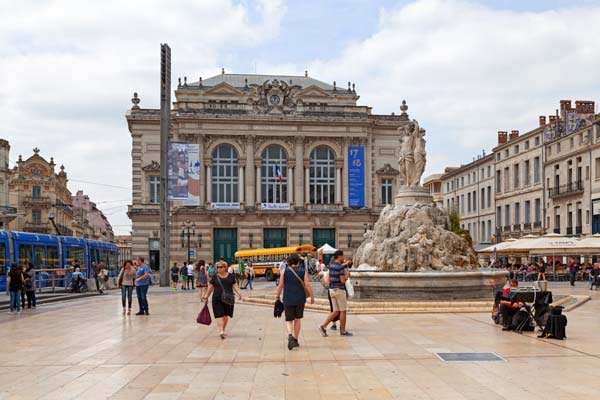 Established more than 1,000 years ago, Montpellier is brimming with culture and history.
The Fabre Museum (Musée Fabre) is one of Montpellier's most-esteemed attractions. Home to one of the country's best fine art collections, the museum houses paintings, sculptures, and drawings from the 14th to 21st centuries. Monet, Rubens, Degas, and Brueghel are represented in the collection, and there are also pieces created by accomplished artists from around the region. Tickets cost around $9  Euros.
Montpellier's most well-known church is the Cathédrale Saint-Pierre. The Gothic building's exterior columns are massive in scale and look as though they belong on a fortress. This structure was originally a 14th-century church that was part of a monastery. A few centuries later, it was transformed into a cathedral. Saint-Pierre was damaged during the Wars of Religion, which led to parts of the structure being rebuilt. It is free to enter.
Located next to the cathedral is Montpellier's Faculty of Medicine. Inside is the Anatomy Conservatory, which houses more than 5,000 anatomical parts and models. The conservatory was created for teaching purposes and is open upon request.
Montpellier has two opera houses—the more contemporary Berlioz (which was built in 1990), and the Opéra Comédie. The 19th-century Opéra Comédie features a magnificent interior that's rich with gilding and red accents. Both venues host regular musical performances.
The city has several annual cultural events, including the International Guitar Festival, Festival de Radio France et Montpellier (which features opera, classical music, and jazz), and Cinémed, the International Mediterranean Film Festival.
Related Articles
An Overview of Traditions and Culture in France
Moving to France Will Be the Best Move You've Ever Made