I'd like to let you in on one of Spain's best-kept secrets: Logrono. This small but bustling city in the heart of Spanish wine country is the perfect place to while away mornings sipping coffee and people-watching, and spend your afternoons with delicious wine from a nearby bodega.
At the heart of the Ebro Valley, and with a population of around 150,000, Logrono is surrounded by mountains but still well connected. It's just two hours from San Sebastian's clamshell shore, three hours from the center of historic Madrid, and four from lively Barcelona. It's better known as the capital of La Rioja, Spain's smallest region, which produces some of the country's finest wines.
I was one of the city's unwitting victims. I moved to Logrono, a place that seemingly no one had ever heard of, on an assignment to teach English. When I arrived at 3 p.m. on a Wednesday back in 2015, I thought I'd found myself in a ghost town. In the middle of siesta, steel grates shielded the doors of shops along the street. The city's main arteries were emptied of cars. And I felt like the sound of my suitcase wheels, dragging thunderously along the tiled sidewalks, was the only noise in the entire city.
But then Logrono surprised me. It swarmed to life as dusk approached. Cafes filled. Residents streamed across sidewalks. People swung in and out of storefronts along the Gran Via. As the lampposts flickered on, the side streets of Laurel and San Juan overflowed with late-night diners. In northern Spain, tapas are known as pinchos. And Logrono's pincho streets in the casco antiguo (old town) are widely known as the best places to sample them.
Served up with world-famous Rioja wine and freshly poured cañas (small glasses of draft beer), a night out at the most popular pincho bars will only set you back about $11.
At first I was astounded by how far €5 (around $5.50) would stretch at the supermarket. But now I think it's normal to be able to pick up the essentials—a loaf of bread, cereal, milk, and some fruit—and still have change left over. A wonderful reality of living in La Rioja is how much further your money stretches. For around $3 you can buy a nice bottle of wine. For $450, you can rent a furnished, three-bedroom apartment. That means you have enough space for you and your spouse to spread out—with a spare room for guests.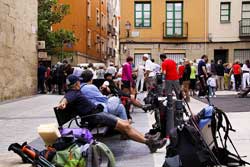 A $2 bus fare will get you to the pueblos (villages) with the best bodegas, where you can spend an entire afternoon touring, tasting, and talking to the bodega owners. Franco-Espanola, for instance, is just across the Ebro River. In operation for more than 125 years, the bodega is famed for its semi-sweet white wine Diamante and its red Rioja reserva Bordon.
La Rioja is surrounded by scenic green mountains, picturesque vineyards, and Old-World monasteries. If your hobby is hiking, there are many trails to follow, including the renowned Camino de Santiago, which curves through Logrono's backyard. Still undiscovered by tourists who favor the Costa del Sol and Barcelona, La Rioja's capital city is a place where you really can live the European lifestyle—the cafe culture, the fine wines, and famed gastronomy—without breaking the bank. Just don't tell anyone who told you.
©iStock.com/JackF
Get Your Free Spain Report Here:
Learn more about Spain and other countries in our free daily postcard e-letter. Simply enter your email address below and we'll also send you a FREE REPORT — Live the Good Life in Sunny, Affordable Spain.
This special guide covers real estate, retirement and more in Spain and is yours free when you sign up for our IL postcards below.
Get Your Free Report Here