It's a day for dreaming of Andalucia. So I'm letting Spanish composer Manuel de Falla's Nights in the Gardens of Spain take me on a musical journey back to Granada—back to the lament of flamenco guitars, orange trees, and jasmine-scented patios with pattering fountains.
On my last visit to Spain, I added a Granada side trip. Sheer indulgence as I'd been before, but it's a city made for indulgence.
De Falla's old garden, just above the Realejo neighborhood, is laden with roses. Gardens have a long history in Spain. For the Moors, a garden symbolized an inner paradise and a reflection of heaven.
Now a small museum, de Falla's whitewashed house is steeped in memories and photographs of another time. From his brimmed straw hats to the vast amount of medications, it's an intimate glimpse into the life of the composer whose passion for flamenco developed during his years in the city.
Fearing the same murderous fate as his friend, the poet Lorca, de Falla fled from Spain's civil war in 1939. His exile in Argentina lasted a lifetime. During his years in Granada, the Generalife Gardens were almost on his doorstep. This enclosed paradise of scented oleanders and murmuring waters is somewhere I could revisit time and again.
But the palace of Alhambra is such a draw you never get its Generalife Gardens to yourself. Covering over 15 acres, more like the park of a stately home, the nearby Carmen de los Martires is equally romantic for garden lovers—yet it has an almost forgotten air.
As Carmen de los Martires gets bypassed by most visitors, little disturbs its wandering peacocks or your daydreaming pleasure. Along with a different take on the Alhambra view, there's a magnificent panorama over the city to the Sierra Nevada mountains. The villa in the grounds is only used for weddings, but entrance to the garden is free.
Under Granada's Nasrid rulers, the Realejo was the judería, or Jewish quarter. Jewish people had been in Granada since before the Moorish conquest, and the city's original name was Garnata-al-Yehud—Granada of the Jews. Their settlement is long vanished. After the reconquest of the city by the Christians in 1492, much of the quarter was razed and transformed into the "royal" Barrio Realejo.
Before the Reconquista, Moorish artisans and merchants lived in the Albaicin, a maze of steep streets and tiny plazas. Its sparkling white houses and flowery balconies are undeniably picturesque, but parts of the Albaicin Granada now seem like a pseudo-Moroccan souk to me. As I'm allergic to souvenir shops and noisy tourist crowds, I prefer the Realejo.
Sprawled at the foot of the Alhambra's rocky hill, it has a pleasingly boho vibe, but maintains its traditional neighborhood feel.
Little has changed, though alternative health outlets and hip café bars have now appeared, and the street art is even more colorful.
Most murals are the work of a local graffiti artist called Raúl Ruiz, nicknamed El Niño de las Pinturas (The Child of the Paintings) whose creativity gets featured in art magazines.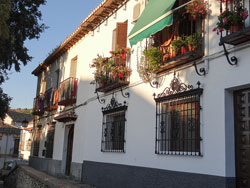 On Calle Molinos, you'll find a fruit shop where you can buy cherries, apricots, and nectarines…and a bakery, along with the luthier who makes guitars and other stringed musical instruments. Few are left now, but in de Falla's day, Barrio Realejo was noted for its guitar-makers workshops.
At night, Campo del Principe is a great hangout. A large square, it's lined on one side with terrace bars and restaurants. (Granada's bars maintain the custom of giving a free tapa, or bar snack, with the first drink.) My favorite is Los Altramuces. For a couple sharing a selection of tapas, half raciones (portions), and a bottle of Rioja, the bill comes in at around $45. I don't fancy sampling snails—the house specialty and popular with locals—but the deep-fried eggplant, shrimp, and baby squid were as delicious as when I last ate here.
Properties are affordable, too. In Granada's historic quarters, $420 a month rents a furnished 645-square-foot apartment in the Albaicin with two bedrooms, a living-room, kitchen, bathroom, and patio. Properties for sale include a 559-square-foot apartment in Barrio Realejo for $136,500.
Get Your Free Spain Report Here:
Learn more about Spain and other countries in our free daily postcard e-letter. Simply enter your email address below and we'll also send you a FREE REPORT — Live the Good Life in Sunny, Affordable Spain.
This special guide covers real estate, retirement and more in Spain and is yours free when you sign up for our IL postcards below.
Get Your Free Report Here