An argument with a girlfriend was how I ended up in Spain. Having set sail on a cruise ship from Genoa, Italy, and following a tour of the Canary Islands, we were on our way home, and docked in Spain's southern port city of Malaga. In a moment of stubbornness, and after being told there was no other berth for me to move in to, I packed up all my worldly belongings and walked off the boat. My Spanish life had begun…and it was probably the best decision of my life.
Originally from Canada, I spent much of my early career working around the world…Hong Kong, all over Asia, and Australia, where self-imposed, 80-hour weeks were the norm. It wasn't a life I wanted to go back to. So when I walked off that cruise ship, I decided to live in Spain for a month or two…that was 12 years ago.
Today, I live in the popular tourist beach town of Marbella with my wife and two children. Although our neighborhood is mostly residential, we're just a 15-minute walk to the sun-drenched beach…perfect for strolling the long promenade on a sunny afternoon or watching the kids splash about in the warm waters. For all the "big-city" amenities, the center of Marbella has big-name grocery stores, a glut of restaurants and cafes, clothing stores from upscale Gucci to mainstream Zara, and a hospital.
The area around Marbella caters to every budget. Yes, you can drop $20,000 on a bottle of champagne while rubbing shoulders with the jet set crowd…but you'll also find Spanish tapas bars that offer a small beer and a tasty tapa of salted cod or stuffed olives for $1.10. Everyday food items are also cheap…I pay $3 for a carton of fresh, in-season blueberries and 85 cents for a freshly baked, still-warm baguette. A trip to the movies on a rare rainy day will set you back $9. We rent a three-bedroom house, with a garden that gives the kids plenty of room to run around, for just $870 a month—a great deal for this kind of place.
The healthcare in Spain is phenomenal…for both the quality of care and the cost. Doctor's appointments can be made online and often within a day or two. As we contribute to the social security system here in Spain, our healthcare is free but before we had the children, my wife and I paid $98 a month for private insurance for the two of us.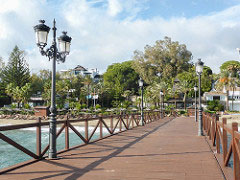 One of my favorite things about living in Spain, and the reason I'm still here, is the superb quality of life. I adore my home town of Montreal, and still believe that it's one of the best places on earth to be…from June to September, before the cold, dark winter months set in. Here in southern Spain, snow is a distant memory. Even in winter we can be outdoors at the beach or in one of the many perfectly-maintained parks without worrying about the cold. The difference that having year-round sun makes to a person's overall contentment in life cannot be disputed…and I wouldn't trade sunny Spain for anything.
In fact, not long ago, when the European lottery was approaching an insane jackpot, a friend asked me, "Eric, if you won the lottery, what would you change about your life?" I thought long and hard, and my response was, "Nothing really." Sure, a bigger house, a faster car, more vacations…but ultimately, my life in Spain is exactly how I like it.
Get Your Free Spain Report Here:
Learn more about Spain and other countries in our free daily postcard e-letter. Simply enter your email address below and we'll also send you a FREE REPORT — Live the Good Life in Sunny, Affordable Spain.
This special guide covers real estate, retirement and more in Spain and is yours free when you sign up for our IL postcards below.

Get Your Free Report Here