"You should come to visit this paradise. I have found curious romances and tales." The invitation is now over 90 years old, but it was as if it had been written for me. Trailing in the footsteps of tragic poets is one of my favorite pastimes. So after reading the words of a letter sent by Spain's best-known poet, Federico Garcia Lorca, I had to visit Lanjarón. Lorca and a host of writers, musicians, and intellectuals spent the summers of the 1920s in this Andalusian spa town.
A gleaming white town of around 4,000 inhabitants, Lanjarón offers a different—very authentic—take on Andalucia. Each year, the cities of Seville, Cordoba, and Granada draw thousands of tourists to southern Spain. From down-market Torremolinos to upmarket Marbella, the Costa del Sol's beaches draw even more. Relatively few visitors ever look beyond these obvious attractions.
Around 40 minutes south of Granada, on the edge of Spain's Sierra Nevada mountains and an hour from the coast, Lanjarón's long main street is a sun-splashed jumble of florists, tapas bars, and old-fashioned stores stocked with locally produced hams and honey. All so pretty and genteel. There are no touristy flamenco shows, tacky souvenirs, or timeshare touts. Almost everywhere closes for the afternoon siesta.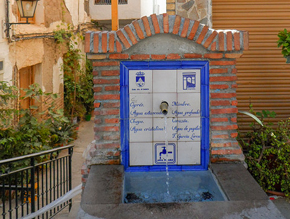 The inhabitants are among the longest-lived folks in all of Spain. Exercise undoubtedly plays a part—the paseo, or evening stroll through the town, is enjoyed by all age groups. So does the warm climate and a diet with plenty of affordable fruit and vegetables (many of which cost just €1 a kilo, that's about 50 cents a pound).
Lanjarón is also the kind of place where you can purchase a 1,400-square-foot house for $43,816. Three-bedroom apartments from 970 to 1,300 square feet rent for about $335 to $390 per month. A four-bedroom detached house on the edge of town will also be around $390 per month. In the countryside surrounding Lanjarón, a four-bedroom house of 2,150 square feet, with a swimming pool, is on offer for $785 per month.
I thought the town was an absolute delight. Almost every few yards there's a fountain, now decorated with tiles carrying Lorca's poetic verses. The deliciously cool water is safe to drink and Lanjarón water is bottled and sold all over Spain. But many locals fill up their own bottles from the fountains for free.
Lorca and his companions usually spent the mornings at Lanjarón's mineral baths (think medicinal baths rather than a spa for overpriced pampering) and the afternoons rambling in the surrounding countryside. Along with the composer Manuel de Falla who shared a passion for collecting old folk songs, he sometimes made longer excursions. The town is a gateway to the lovely little villages and walking trails of the Alpujarras—the foothills of the Sierra Nevada mountains. Its off-the-beaten-path beauty draws hikers, bird-watchers, and those in search of the tranquil, rustic Spain.
Get Your Free Spain Report Now
Learn more about Spain and other countries in our free daily postcard e-letter. Simply enter your email address below and we'll also send you a FREE REPORT – Live the Good Life in Sunny, Affordable Spain.
This special guide covers real estate, retirement and more in Spain and is yours free when you sign up for our IL postcards below.

Get Your Free Report Here