Residents of Madrid call themselves "gatos," Spanish for "cats," perhaps because they nap in the afternoon and prowl the streets at night. Dinner is never served before 9 p.m. and is often enjoyed at midnight. Conversation, drinking, and dancing continue into the wee hours. If you're early to bed, you will miss the vibrant spirit of this sophisticated city.
Here are my top 10 places to visit in Madrid:
1. City Center – Madrid's historic heart stretches from the sun-shaped plaza Puerta del Sol, through stately Plaza Mayor, to the ornate Royal Palace. For an enjoyable orientation, grab a free walking tour from umbrella-toting guides who are easy to spot in Puerta del Sol and Plaza Mayor. The tours aren't really free because the guides work for tips, but because they want those tips, they work hard at being entertaining and informative. Two to three-hour tours, available in English and other languages, depart frequently throughout the day.
Check https://www.freetour.com/madrid for times, languages, and starting points. Online booking is available.
2. Mercado San Miguel – Imagine a Spanish gastronomy wonderland where you could sample small servings of signature dishes from different regions of Spain. That's Mercado San Miguel. Built in 1916, the old fruit and vegetable market had fallen into disrepair when it was purchased by private investors in 2003. They renovated the elegant iron and glass Beaux-Arts building and reopened it in 2009 as an upscale gourmet food court which attracts locals and tourists alike. Open every day from 10 a.m. to midnight (1 a.m. on Friday, Saturday, and holidays), it's always packed with people and bubbling with conviviality. http://www.mercadodesanmiguel.es/en/
3. Museo Nacional del Prado – El Prado is considered one of the great art museums in the world. First opened in 1819, the awesome building and the extensive collection of paintings and sculpture have expanded many times since. It's vast, and you could spend days trying to see everything. Be sure to see Las Meninas by Diego Velazquez, which inspired homage from Picasso. Don't miss the paintings of El Greco, Franciso de Goya (including the dark, disturbing "Goya Negras," which he painted on the walls of his home), and the astounding Hieronymous Bosch. The museum opens from 10 a.m. to 8 p.m. Monday through Saturday, and 10 a.m. to 7 p.m. on Sunday. It's free the last two hours of each day. https://www.museodelprado.es/visita-el-museo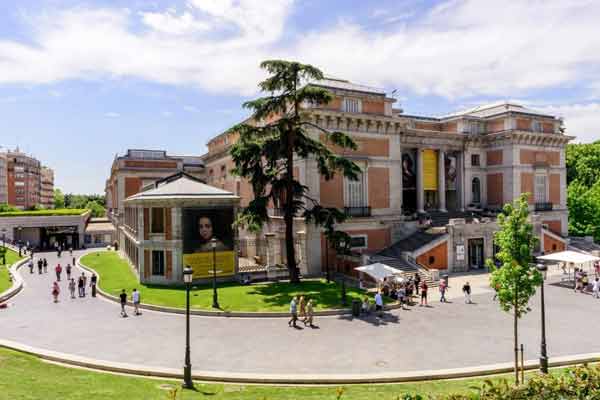 4. Chocolateria San Gines – In Spain, hot chocolate is high art. In Madrid, its ultimate expression is found at the grande dame of chocolaterias, San Gines. Established in 1894, it's open 24 hours a day, 365 days a year. Order hot chocolate and churros. The chocolate is dark, thick, rich, and not too sweet, nothing like the instant-powder-mixed-with-milk that you drank as a child. Think warm, dark chocolate pudding of drinkable consistency, although you may want to eat it with a spoon. Better yet, dip the end of a churro, that delightfully crispy strip of deep-fried dough, into your cup. Yum! https://chocolateriasangines.com
5. Museo Nacional Centro de Arte Reina Sofía – Reina Sofia is Spain's contemporary art museum. Opened in 1990, the main building is a renovated 18th-century hospital updated with three striking steel and glass elevator towers. The centerpiece is Picasso's 1937 masterpiece Guernica, but the extensive collection includes other works by Picasso, Salvador Dali, Joan Miro, and a mix of international artists. The exhibits also include film. You can watch the famous Un Chien Andalou by Dali and Luis Bunel, as well as Bunel's controversial documentary Tierra Sin Pan. It opens from 10 a.m. to 9 p.m. Wednesday to Saturday and Monday (free from 7 p.m. to 9 p.m.). But it's closed Tuesday and hours vary on Sunday. http://www.museoreinasofia.es/en/visit
6. Flamenco – Although this quintessentially Spanish music and dance comes from Andalusia in southern Spain, it is enthusiastically appreciated in the capital. Performances range from spectacular tourist shows to improvisations in small bars. Casa Patas is a respected performance venue (tablao), restaurant, bar, and flamenco school. It offers shows every day for $45 (including a drink). http://casapatas.com/shows/
Also check online for showtimes and prices at Cardamomo, Las Carboneras, and Villa Rosa. Cafetin La Quimera is a more intimate tablao where $24 covers the show and a drink. http://www.tablaolaquimera.com/en/la-quimera/
7. Lavapies – An international collage of colors, music, aromas, and people fill the steep, narrow streets of Madrid's most multi-cultural neighborhood. Literally translated, Lavapies means "wash feet" which implies that the area was originally a Jewish and/or Moslem community where ritual purifications were common practice. Today Lavapies is Madrid's most diverse barrio with residents from Africa, India, China, and other distant lands. Ethnic restaurants and a 24/7 party vibe attracts hipsters and tourists. Sidewalk café sitting is a popular pastime. Enjoy tasty, affordable Indian food from one of the many south Asian restaurants that line Calle de Lavapies. You can get here using the metro stops Lavapies and Anton Martin.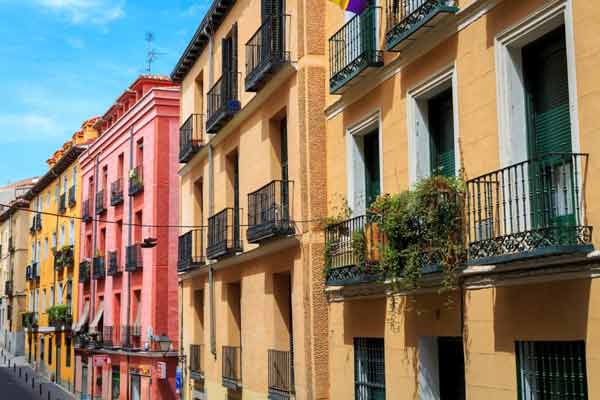 8. Retiro Park – For relief from Madrid's urban intensity, escape into Parque del Buen Retiro, literally the "Park of Pleasant Retreat." Relax in the shade of 15,000 trees on 350 green acres. You can enjoy wine, beer, lemonade, paella, and ice cream in open-air cafés with a view of the lake, where you can rent a rowboat for $7 to $9. Stroll the wide avenues lined with statuary. Listen to the pleasant sound of splashing fountains. Or simply watch the bicyclists, roller-skaters, and families pushing strollers. Visit on the weekend for prime people-watching in a festive atmosphere. The metro stops at Retiro or Ibiza.
9. La Latina – Madrid's oldest neighborhood is also one of its most lively. Named for Beatriz Gallindo, a resident who was one of the most educated women of the Renaissance, La Latina's narrow streets wind around the old Islamic citadel. Today those streets host myriad bars and cafés between the historic churches and hidden plazas. On Sunday mornings, the streets transform into El Rastro, a bustling flea market. But to feel the vivid pulse of Madrid's nightlife, visit La Latina after dark. Crowds pack the bars and spill out into the streets. Joie de vivre is palpable. Stroll Cava Baja and Cava Alta. The metro shuts down at 1:30 a.m. After that, take a taxi back to your hotel.
10. Hammam Al Andalus – Indulge in a sensuous soak and massage at this Arabian-style bathhouse in downtown Madrid. Three turquoise pools shimmer in candlelit darkness, highlighted by star-shaped beams from tiny skylights in the vaulted brick ceiling. It's cool and quiet except for hushed voices and soothing Middle-Eastern music. The pools are three different temperatures: cold, hot, and tepid. Treat yourself to the exotic ritual bath. Choose a fragrant oil for your massage. Prices start at about $40. Reservations are necessary. Book online or by phone with English-speaking customer service. http://madrid.hammamalandalus.com/en/
Related Articles
Madrid: 5 Reasons Why Now is The Time to Go
7 of the Best Cities in Spain for Your Retirement