In the heart of Spain, nestled between mountains, sunburnt hills, and row after row of thriving olive trees, sits Madrid. Despite being the third largest city by population in the European Union, Madrid maintains the feeling of tranquility and neighborliness that is so often replaced by the rushed and stressed life of other big cities.
That's precisely why I, a fast-walking, fast-talking girl from New York, stepped off the plane and into the blaring July sun of Madrid, took a look around, and traded it all in for a slowed-down, low-stress life in Spain's metropolis.
People often ask me why I left New York. Sure, it's not as big. There's only a handful of skyscrapers. And there's no fresh bagels in Madrid. But ultimately, it came down to the fact that Madrid has an absolutely unbeatable standard of living.
My modern two-bedroom, two-bathroom, fully-furnished apartment is just a 10-minute ride on the metro to the heart of the city, a 15-minute walk to the famous Retiro park, and sits just opposite an amazing indoor market, where the freshest seafood from Valencia and locally grown olives pull up in big trucks every morning. My rent? Just $625 a month. Try finding that standard of living in New York at that price…Furgeddaboudit.
But it's not just the inexpensive lifestyle that draws in expats. There's a very special air about Madrid. One of the first things many visitors to Madrid notice is how there is something distinctly non-European about the Spanish capital. Founded by the Moorish emir Muhammad near the end of the 9th century, Madrid, like many cities in Spain, tells a unique, non-Roman story of a time when Spain was flourishing under the Moors and was a cultural and economic power in Europe.
But Madrid also boasts a culture of triumphant Spanish-ness, which can be seen on a long walk through the faded and cobblestoned Plaza Mayor or ancient La Latina district peaks. This background has truly shaped Madrid into the extraordinary, one-of-a-kind city that it is today.
If Madrid is unique, daily life here can be even more so. Nowhere is that more true than in my favorite trendy neighborhood of Malasana, where traditional Spanish life meets the openness and transgressions of the 21st century. The heart of an artistic and cultural scene, Malasana is the place to be, day or night.
Down Malasana's twisting, narrow roads, it's nice to stop for a quick $1.50 cup of coffee, or soak in the endless sun with friends on a bar terrace with some $2 beers and a two-course daily lunch menu full of classic Spanish dishes for under $11.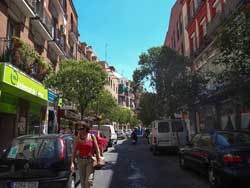 La Musa, a longtime local favorite, serves up traditional Spanish dishes with a modern twist, while the new Stuyck Co. is the place to be for craft-beer lovers, starting at just $4 per drink.
What is arguably the best part of life in Madrid, apart from its small-town vibe and slow, stress-free city life, is the fantastic public transportation. Whether it's a day trip to Toledo or Segovia, a weekend in seaside Barcelona, or even just jaunting around the city itself, Madrid has one of the best transportation networks in the world.
Whether taking a high-speed AVE train from Atocha station, catching a train at a well-lit and immaculately clean subway station, or reaching a far-flung pueblo by bus, Madrid's transportation system is so admirable that even New York's MTA has looked to Madrid for advice.
Why did I stay in Madrid? Five years after my move, I never question my decision. Maybe it's the slowed-down pace of a one-of-a-kind city. Maybe it's the low-cost of a good life. Perhaps it's the friendly, smiling abuelos and fresh outdoor markets. Or the year-round sunshine. Whatever it is, I don't plan on leaving.
Get Your Free Spain Report Here:
Learn more about Spain and other countries in our free daily postcard e-letter. Simply enter your email address below and we'll also send you a FREE REPORT – Live the Good Life in Sunny, Affordable Spain.
This special guide covers real estate, retirement and more in Spain and is yours free when you sign up for our IL postcards below.
Get Your Free Report Here