Uruguay is a nation of immigrants—which means that if you're looking to retire overseas, you'll fit right in. This unique country's citizens are descended from all corners of the world; about 90% of Uruguayans have ancestors from Western European, with the highest percentages from Spain, Italy, and France. And, because most Uruguayans are descendants of immigrants (and many know and can tell you their family's relocation story) newcomers are generally treated warmly.
While long stretches of beautiful sand beaches line much of Uruguay's coastline, the interior of the country has some of the world's best agricultural land. The top industries are tourism and food exports.
Uruguay has a hospitable natural environment free of earthquakes, hurricanes, tropical diseases, and volcanoes. And, located in the Southern Hemisphere, it enjoys four distinct seasons that are opposite of North America. The average summer high (in January) is 82 F, cooling down to an average low of 63 F at night. Average winter temperatures (in August) range from a high of 57 F to a night-time low of 43 F.
It's convenient and comfortable, too. Uruguay leads the way in a lot of areas. It has the best overall road system, the most reliable electrical grid, and the fastest Internet in Latin America.
Transparency International ranks Uruguay as the least corrupt country in all of Latin America, too.
In Uruguay, you never have to worry about boredom. Sports like golf, tennis, bicycling, stand-up paddle boarding, and beach volleyball are popular here. There are lots of good gyms and sports clubs. And on Saturday nights in Montevideo, Uruguay's capital, there are dozens of live stage performances to choose from.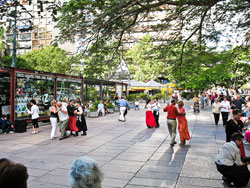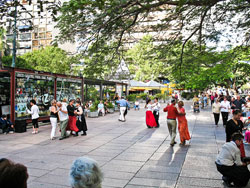 While Uruguay isn't the cheapest country in Latin America, there are many ways to live on less. For example, in Montevideo, as well as many other areas of Uruguay, it's easy to get by without owning a car. That's because many communities have a variety of neighborhood businesses like small markets, cafés, and pharmacies within an easy walking distance. Besides that, many businesses are glad to make deliveries. There is also frequent and well-routed bus service; and, in Montevideo, taxis are plentiful.
Every neighborhood in Montevideo and every town in Uruguay has a regular farmer's market that sells locally grown produce, as well as cheese, eggs, and other foods. It's where you find the best quality at the lowest price.
Health care can also be great value in Uruguay. While there is U.S.-type health insurance and a public health care system in Uruguay, most retired expats opt to become members of a private hospital plan, such as a mutualista. With a mutualista, you receive all your health care needs, from regular checkups to major surgery, with the private hospital where you are a member.
The cost of a mutualista is around $100 per month, plus a small co-payment when the hospital provides a service. The Spanish Hospital, La Asociación Española, is the mutualista with the largest membership, the most modern equipment, and 20 satellite clinics. Once accepted as a member by a mutualista, you can forget about big deductibles, complicated terms, and lifetime caps—and instead turn that attention to enjoy all that unique, comfortable, and beautiful Uruguay has to offer you.
Free Uruguay Report:
Learn more about Uruguay and other countries in our free daily postcard e-letter. Simply enter your email address below and we'll also send you a FREE REPORT – Live in First World Comfort in Uruguay.
This special guide covers real estate, retirement and more in Uruguay and is yours free when you sign up for our IL postcards below.
Get Your Free Report Here