From 2003 to 2008 I spent over a quarter of a million frequent flyer miles on visits to Costa Rica. I felt right at home in Quepos. The beach was rarely crowded, or even busy, yet it had a view of the jungle that ran all the way down to the shore, offering glimpses of white-faced monkeys and sloths. The excellent fishing also had a lot to do with it!
The last two times I visited I found it difficult to go back to my home in Florida. That's when I knew this was where I wanted to be for retirement. I have never regretted that decision.
On a whim I decided to try it here without a car. "Just for a few months," I told myself. 10 years later, I still don't own a car and haven't missed it once. If I do want to explore other parts of the country, I can easily rent using my Costa Rican and Florida driver's licenses. But mostly, I walk to do my errands (which keeps my doctor happy). For longer hauls I simply take the bus or taxi. Local buses are free to those age 65 and over, and long trips are discounted by 25%. A trip to San José, about 100 miles by air-conditioned bus, is just $6.
What I love most about living in Quepos is the small-town, laid back, friendly atmosphere. I can't walk three blocks in Quepos without running into a Tico (Costa Rican) or another expat and exchanging pleasantries. Friendliness is a well-known characteristic of Costa Ricans, and the Quepoans excel at it.
People ask me, "What do you do all day in such a laid-back place?" Fortunately, there is an unending variety of things to do, from going to the beach (15 minutes by bus), parasailing, snorkeling, scuba diving, whitewater rafting, hiking mountain trails, visiting National Parks and Reserves (like Manuel Antonio, Costa Rica's most famous park), and many tours to waterfalls or organic farms (where things like vanilla, spices, and chocolate are grown). The country accounts for only 0.03% of the Earth's surface yet contains nearly 6% of the world's biodiversity. From exotic birds and insects to monkeys and even wild cats, there's no shortage of wildlife to see.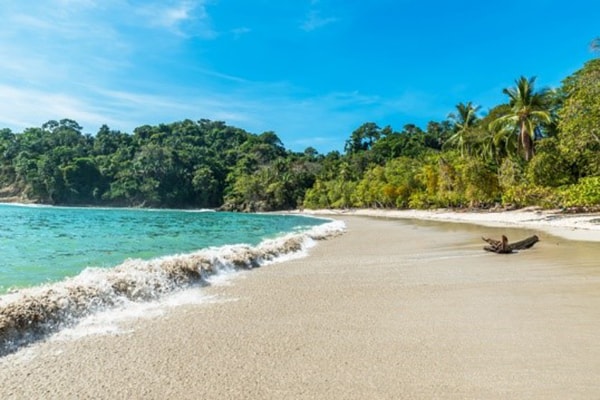 Costa Rica has also brought out the writer in me. I wrote my first book about business in 2006 and followed it with two more about Costa Rica and its legends from 2013 to 2016. I'm currently working on a third book about Costa Rica, a tale of Pre-Columbian native life here and the mysterious stone spheres that are peculiar to the southern region.
I also write a monthly newsletter about living here called the Golden Gringo Chronicles ("golden" because of my age and because I was lucky enough to find this place). I'm in the middle of the 132nd GGC edition as I write this. Add to this the fact that I chair a local writer's group that has monthly meetings in Manuel Antonio, and you can believe I have plenty to keep me busy.
I couldn't have chosen a better location for my retirement. I'm endlessly grateful that I can enjoy it in such a beautiful part of the world.
Get Your Free Your Overseas Dream Home Report Now

Sign up for the FREE Your Overseas Dream Home e-letter and get a valuable report (free for a limited time) on the The Global Real Estate Boom of 2021: 15 Places Where You Can Profit.
Related Articles
Finding The Perfect Climate In Atenas, Costa Rica
Enjoying An Active Life In Costa Rica
Finding Your Costa Rica Base Camp