Nestled on the Southern Pacific coast of Costa Rica exists an idyllic slice of paradise called the Costa Ballena. Consisting of a 22-mile stretch of coastline, this part of the country is made up of three major towns: Dominical to the north, Ojochal to the south, and Uvita in the middle.
Uvita—considered the hub of Costa Ballena—is punctuated by a long sand bar that connects the mainland to a spectacular coral reef formation, known as "The Whale's Tail" at the northern end of Marino Ballena National Park. When the tide is low, views from above look exactly like its name infers, a giant whale's tail emerging from the sea as each swell crashes over it.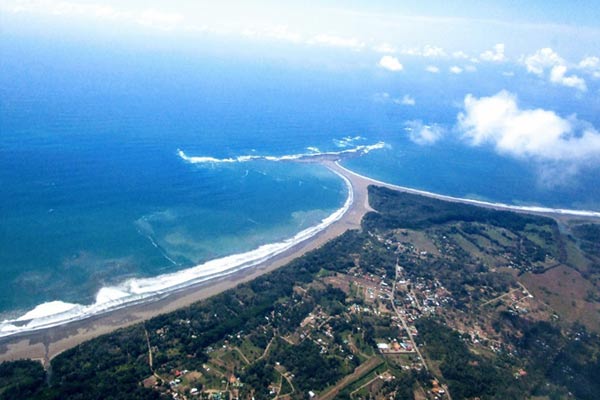 In fact, there are so many humpback whales around Uvita, it is the chosen location for the Annual Whale and Dolphin Festival, and it's one of the most popular places to see whales "breach" during their annual migration.
If you talk to the local expats of Uvita, you find they are enamored with their adopted home for a number of reasons: the rugged landscape, quiet beaches, jungles and waterfalls, and ultimately because it has not given way to large development. Those seeking a tranquil, tropical life can still feel directly connected with nature here.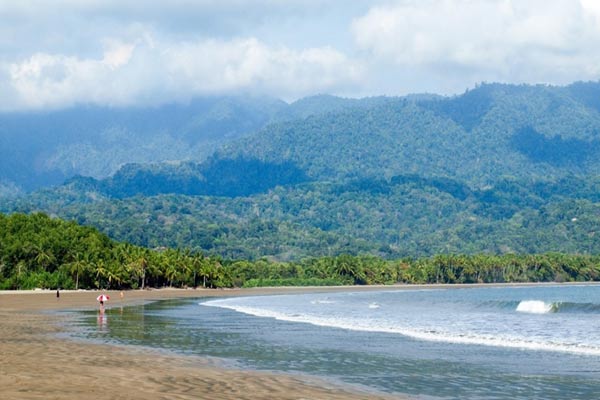 Can you still find affordable deals in Costa Rica?
Michelle and her partner, Fabiana, moved to Uvita in 2016 from Toronto, Canada. They had visited Costa Rica before and fell in love with the country. To be sure that they wanted to settle in the Southern Zone, they toured much of coastal Costa Rica looking to buy land to build cabinas and run a small B&B. "We looked north first and we felt it was too touristy and dry." Michelle remarks. "We agreed on the Southern Zone but felt that Dominical was a bit younger and more 'surf culture'. Uvita offered an older, laid-back vibe and the lush, green, jungle backdrop we wanted for our property. There are newly paved roads to get here and plenty of stores and restaurants—yet, it does not feel overdeveloped."
They found a perfect lot of 10 acres, just over a mile from town for $142,000. "We found the property in June, closed in September and began our dream project. The permits took longer than we had expected but once we broke ground, we were able to get our cabinas built in less than a year, due in part to the fact that Fabiana speaks Spanish and I had 18 years of experience as a project manager." In late 2017 Nature's Edge Cabinas opened for business. "The expat community has been very supportive here and we are seeing record numbers of visitors."
If you conduct a real estate search online, you can still find homes in the Uvita area for near or under $200,000. Here are a few hidden gems sure to get you dreaming:
$117,000—a brand new one-bedroom, one-bathroom home walkable to the beach. It's small home but set on a larger property with room to grow.
$144,000—a 10-bedroom income generating property. Income potential is immediate with this property where you can live/manage onsite.
$235,500—a two-bedroom, two-and-a-half-bathroom home with pool in the center of town. If you are willing to pay a little more, you exponentially improve location and amenities.
If you are seriously searching for real estate, Michelle offers this advice, "Move here and rent several places for at least six months. Be sure to look closely at how things are built. Oh, and pack less than you think you need."
Get Your Free Your Overseas Dream Home Report Now

Sign up for the FREE Your Overseas Dream Home e-letter and get a valuable report (free for a limited time) on the The Global Real Estate Boom of 2021: 15 Places Where You Can Profit.
Related Articles
In Photos: The Top 5 Beaches in Costa Rica
Where to Find A Dream Home For Under $200,000 in Costa Rica