My wife Gloria and I have lived in the university town of San Ramon in Costa Rica's Central Valley for over six years. The climate here is so ideal that we don't need heat or air conditioning (saving on utility bills). It's close to the beach (about an hour) and just over 30 minutes to the capital San Jose and all its amenities, including the country's best hospitals and medical care. San Jose is the country's shopping Mecca, too, so we have access to everything from international big-box stores to upscale department stores.
As regular speakers at International Living conferences we're often asked by IL readers how much it costs us to live here. Admittedly, Costa Rica isn't the cheapest country in Central America, but our cost of living is usually under $2,000 per month.
But like living anywhere, how much we spend each month can vary. Let me show you.
Here's a picture of our May 2015 spending: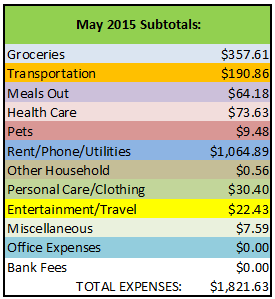 And, here is our February 2015 cost of living: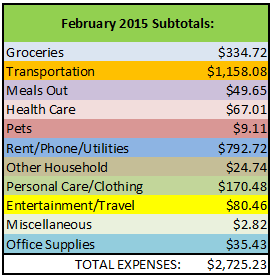 As you can see, February is quite a bit higher. What happened? A clutch is what happened. We had to buy a new one for our 1996 Toyota 4-Runner. But these things happen. Even with that expense, our monthly average for the first five months of 2015 is $2,082.96.
I want to point out that Gloria and I are not minimalists…we have a car, a nice, furnished house in San Ramon with a good, working kitchen and a washer and dryer. We eat well and do most of the things we want to do. Yes, we learned to simplify some aspects of our life but we haven't reduced our standard of living from when we lived in the U.S.
Living in Costa Rica means that we pay 30% less to live here than we did in the States.
But it's the quality of our lives that has really changed. Life here is so much better. We have more friends, plenty of activities to keep us busy…and we have more time to do it all.
We've really gotten to know much of Costa Rica, especially the Central Valley and Lake Arenal area, we've improved our Spanish, integrated into the community, stayed busy, and generally created a happier life for ourselves.
Related Articles
The Truth About the Cost of Living in the Orosi Valley, Costa Rica
3 Unique Towns for Beachside Living on Costa Rica's Pacific Coast
Keeping Fit and Making Friends in Costa Rica's Southern Zone