From our small house up in the cool, quiet hills about 15 minutes from the beach town of Nosara, we're close enough to head to our second house, a condo on the beach.
We like having both, and Costa Rica is a place you can have the best of both worlds. We'd always harbored a hope that we might spend some part of our lives outside the United States and on our first trip to Costa Rica, we loved it at once. The beach community of Nosara, on the Pacific Coast, really peaked our interest so this is where we decided to retire to.
Located on the Nicoya Peninsula, Nosara's trio of beautiful beaches—Playa Pelada, Playa Guiones, and Playa Nosara—are the main attraction of this area. But so too is the laidback vibe of the town which attracts visitors who come to surf, do yoga, and enjoy the stunning natural landscape and wildlife.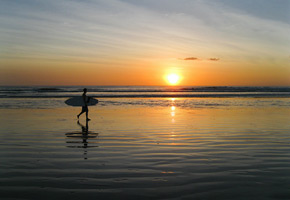 There are howler monkeys and Olive Ridley turtles that lay eggs on the beach and gorgeous birds everywhere. We've become avid birders and enjoy all the wildlife that entertains us from the jungle that surrounds us.
We've just finished building our new hilltop house. We've spent over $300,000 on it (complete with solar panels). But back in the States we'd never have been able to afford this type of home as well as a beach house.
We have a wonderful circle of friends here in Nosara, and we enjoy our social life more than ever before. We started playing bridge the first year of our marriage but neglected it when we lived in New York. Now that we're here full time and don't have to report to work every day, we play as often as we can. And Mike teaches beginners how to play, offering weekly half-day classes year round, and during high season we run a weekly duplicate game.
We also like to spend evenings with friends and eating out. We went for dinner last week at a new restaurant here known for excellent Costa Rican food. I had a delicious chicken kabob that came with coleslaw and French fries and Mike had a steaming chicken and vegetable stew. The bill for our food along with a couple of beers and glasses of wine, including tax and a tip, was just $38. At our favorite, special-occasion restaurants here (like the Italian or steakhouse) we'd pay about twice that.
Like many retirees who worked as professionals back in the States, living in Costa Rica means we now have time to really enjoy life.
Related Articles
Best Places to Live in Costa Rica: Five Top Expat Havens