A forgiving climate works wonders for your health and complexion. But what's too hot or cold for one person can be just right for another. In looking for the countries with the best climate for our 2017 Global Retirement Index, we assessed not only the hard data, temperatures, rainfall and humidity, but we also assessed the comfort level of each destination's climate by talking to the expats and our own correspondents on the ground in each country.
From sunny beaches to humid rainforests, we've looked at every type of region that each country has to offer, to better inform you whether you should pack your shorts or snow boots when retiring overseas.
Have a look below to see which five countries came out on top of this year's Climate category in the Annual Global Retirement Index:
1. Ecuador: Spring-Like Weather on the Equator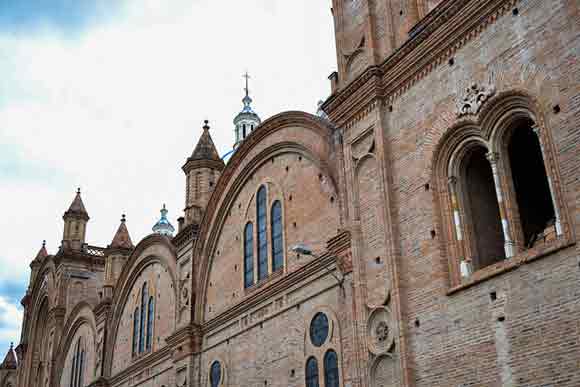 Ecuador's rating of 100 in the Climate category of this year's Global Retirement Index is no mistake. It's one of the country's qualities that has kept it at or near the top of every recent Index.
Ecuador sits directly on the earth's equator…12 hours of light, 12 hours of dark, every day of the year, with no major seasonal changes such as those experienced in the northern and southern latitudes.
Ecuador is also a country of mountains flanked on one side by a sea coast and on the other the upland rainforests of the Amazon basin.
Put the two together, and it means that you can get almost any climate you desire, simply by going up or down in altitude. And the weather at the altitude you choose will remain virtually constant all year-round.
Example: In Cuenca, one of the most popular Ecuadorian cities for expats, temperatures average at a high of 70 F during the day to 50 F at night. That daytime temperature can change pretty quickly depending on cloud cover, so going out with a jacket or sweater is common practice.
Drop down from Cuenca's 8,400-foot elevation to Vilcabamba at 5,000 feet, and the weather is still mild but warmer, with highs in the upper 70s F and lows of about 60 F at night.
Along Ecuador's Pacific coast, the town of Canoa has high temperatures close to 80 F. The coastal weather can vary depending on the angle of the coast, the offshore currents, and the prevailing winds, but in general Ecuador's tropical coast is everything a tropical coast should be.
And on the other side of the Andes Mountains, over in the Amazonian basin, the high humidity of the rainforest makes the average highs in the 60s and 70s feel warm and cozy.
And in all these places, with the exception of periods of more or less rain, the weather you find when you get there is the same weather you'll have a month, three months, six months, or a year later. – Dan Prescher
2. Colombia: A Diverse Blend of Perfect Weather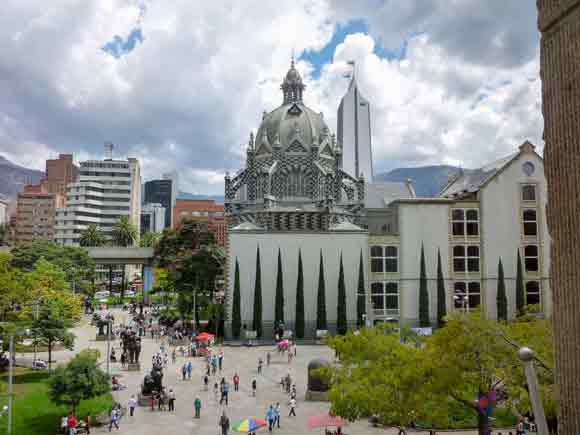 Colombia is the second most biodiverse country in world, meaning you can find whatever climate you desire—there is something for everyone.
Colombia sits at 4 degrees north latitude, practically on the equator. As a result, there are rarely any hurricanes. Warm, tropical weather in the Caribbean coastal cities of Cartagena, Barranquilla, and Santa Marta offers average daytime highs touching 90 F and evening temps in the upper 70s F. Although it can be humid, afternoon and evening sea breezes make being out and about quite delightful. But, the hot, direct sun during the day can take its toll. Wearing sunscreen, a hat, and finding shade wherever possible help you to enjoy the sun and ocean-based lifestyle. Living here means your entire wardrobe will consist of shorts, a bathing suit, t-shirts, and sandals.
With the three ranges of the Andes Mountains running down its spine, Colombia also has areas with a much more temperate climate. Medellín, Colombia's second largest city, is perched at 5,000 feet above sea level. The climate at this altitude gives Medellín the nickname "City of Eternal Spring," with daytime highs in the upper 70s F to mid-80s F, and evening temperatures that dip down to the mid-60s F every day of the year. No need to wear anything heavier than a light jacket. Polo shirts, jeans, or khakis are the daily uniform.
Also nestled in the Andes Mountains is Eje Cafetero, the coffee triangle which is comprised of the cities of Pereira, Manizales, and Armenia. The climate, that is just a bit cooler than in Medellín, especially in the evenings, is perfect for growing some of the world's best tasting coffee.
The capital city of Bogotá sees average daytime highs in the mid-60s F and evening temperatures that hover around 50 F. At nearly 8,700 feet of elevation, some people are initially affected by the altitude. However, after a short adjustment period, most people adapt well to this climate. Jackets, leather boots, and decorative scarfs will keep you comfortable as you enjoy all the city has to offer.
In the southern part of the country, the Amazonian rainforest occupies 35% of Colombia's total land mass. The Colombian city of Leticia is located at the crossroads of the countries of Peru, Brazil, and Colombia. With relative humidity averaging 86%, lightweight, cotton or other breathable material clothing is a must, as well as a raincoat.  – Nancy Kiernan
3. Mexico: Something for Everyone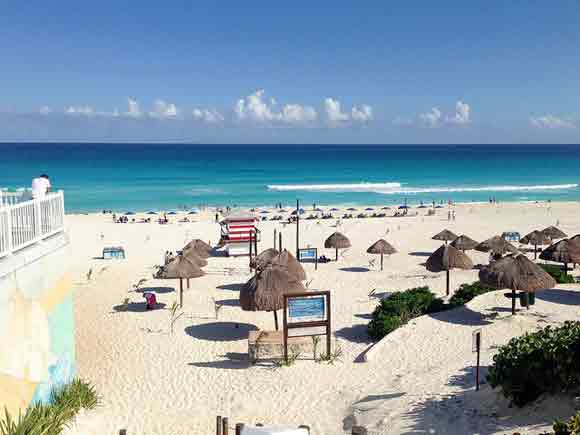 Mexico is a big country, almost three times the size of Texas. And across its territory, you'll find a wide variety of climates…something for everybody.
In mountainous central Mexico, there is a temperate and dry climate, with virtually no humidity and lots of sunshine. Thanks to the elevation, between 3,000 and 7,000 feet, temperatures rarely get above the mid-80s F during the day. At night it dips into the mid- to high 60s F, just cool enough for a light sweater or jacket. During the coldest part of the year, January and February, it might get close to freezing on some nights. But in general, you don't have to worry about air conditioning or heating…or the associated costs.
In much of the coastal areas in the central and southern parts of Mexico, on the Pacific and Caribbean, you do have a semi-tropical climate. That means heat and humidity in summer, with temperatures well into the 80s F during the day. You also have a rainy season, with overcast days and afternoon showers frequent from May to October. Dry season features lower temperatures and humidity and no rain. Expect pleasant, sunny days, with temperatures in the 70s F and low 80s F.
One thing to keep in mind is that Mexico is in the hurricane zone, especially the Yucatán Peninsula's Caribbean coast, although the Pacific and Gulf Coast can also face hurricanes and tropical storms. Hurricane season runs from June to November. And it's best to be prepared by stocking up on water and non-perishable food, and having an emergency plan in place. – Jason Holland
Get Your Free Report on the World's Best Places to Retire:
Learn more about the best places in the world to retire in our daily postcard e-letter.
Simply enter your email address below to sign up for our free daily postcards and we'll also send you a FREE report on The World's Top 10 Retirement Havens.
Get Your Free Report Here
4. Panama: A Tropical Retirement Haven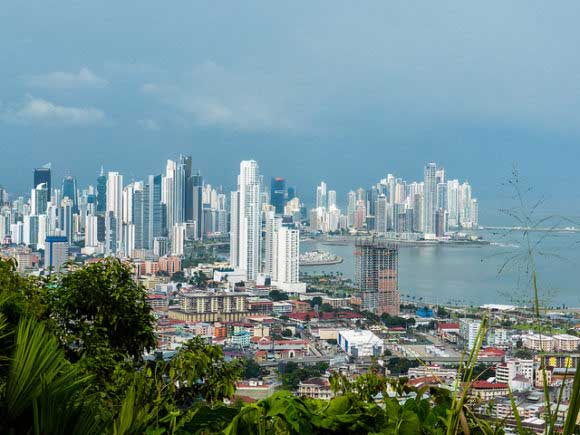 Warm, tropical Panama…yes, this is a country blessed with hundreds of postcard-perfect beaches. Just like in those postcards, they are pristine, lined with swaying palms, and very sunny. From the pure white sands of the Caribbean, to the pale and burnished golds of the Pacific, the variety is astounding. Panama is, after all, a country blessed with two long coastlines.
But what about all that land in-between? There is much to explore inland, and whether you prefer the sultry heat of the lowlands or the cool mountain breezes of the highlands, Panama has the climate for you. Spend some time here and you'll learn just how many microclimates there are. And though many will tell you Panama only has two seasons—wet and dry—the truth is more nuanced.
Here, the holiday season begins in December with glorious summer weather. Each new year is characterized by beautiful sunny days, and in much of the country January through March are virtually rain-free.
In popular sea-level destinations like cosmopolitan Panama City and Coronado beach—both on the Pacific—average daytime temperatures are around 88 F. Ocean breezes help things cool down quickly once the sun sets. (That's always around 6:30 p.m.) Evenings are usually about 10 degrees cooler, and "extreme heat"—anything above 95 F—is, well, extremely rare.
In Panama's highlands, cool, spring-like weather is the norm. Daytime temperatures are often in the 70s F, with evenings up to 10 degrees cooler, but never cold. Here, similar to the lowlands, the wet season generally kicks off with light showers in May. On the Pacific Coast, where most people live, rain is typically predictable (an hour or two, starting between 2 p.m. and 5 p.m.). July often brings an "Indian Summer" or respite, and is a great time to visit and take advantage of low-season hotel rates. From August to November we get heavier rains and storms, but as Panama is completely outside the hurricane belt, there isn't much to worry about. Panama's strategic position is to thank for the canal, the ever-growing flight hub, amazing bio-diversity, and shelter from the world's worst storms.
So go ahead, choose the climate that best suits you. The one thing you can count on, no matter where in Panama you live? You'll never have to shovel snow or "defrost the car" again. – Jessica Ramesch
5. Spain: Cool Mountain Towns and Warm Mediterranean Beaches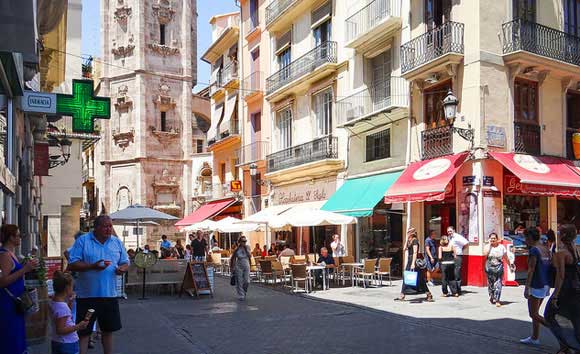 Spain is not only one of the largest countries in Western Europe (just slightly smaller than France), it is also one of the most geographically diverse. And that means a varied climate, too—so whatever climate suits your fancy, you'll likely find it someplace in Spain.
Spain covers 85% of the Iberian Peninsula, so most of Spain's border is coastline. The Mediterranean Sea lies along Spain's eastern and southeastern border. The Atlantic Ocean and Portugal make up Spain's western and southwestern borders. The Bay of Biscay runs along Spain's northwest coast, while the rest of Spain's northern border abuts France and tiny Andorra.
Temperatures along Spain's coastline tend to be temperate, but not uniform. Temperatures are cooler along the northern coasts and hotter as you go south. But you won't find temperature extremes—along the coasts, average summer highs and average winter lows tend to be no more than about 25 F to 30 F apart. The reliable temperatures are one reason these coasts are popular with vacationers and expats.
Northwest Spain—the so-called "Green Spain" along the Bay of Biscay—enjoys cool summers and mild winters. (Summer temperatures average in the high 60s F and low 70s F, while winter temperatures are generally in the 40s F and 50s F.) This region is also green for the usual reason—plenty of rain. In fact, the climate is rather similar to that of the Pacific Northwest.
Spain's eastern Mediterranean coast is dryer and hotter, with more sunshine than in the Northwest. And the southern coast—the Costa del Sol and the Costa de la Luz, for example—enjoy more than 300 days of sunshine a year, with low humidity. Summers are hot, with average temperatures in the 80s F. But in winter, temperatures are often in the 60s F, making these areas agreeably mild for snowbirds. Thanks to the guaranteed sunshine and warmth, these coasts have been popular tourist and expat destinations for decades.
Much of Spain's interior is a high plateau that is rimmed and dissected by mountain ranges. Its harsher, more continental climate means hot summers and cold winters. In many areas, summer temperatures can soar over 100 F during the hottest part of the day…when many shops sensibly close for siesta. Freezing temperatures, and even snow, are common in winter in some parts of the interior. But spring and fall are glorious, with lush spring vegetation, vibrant fall colors—and mild temperatures in both seasons. They are perfect times to explore the interior's many historic towns, which are rich in dream-worthy castles, imposing cathedrals, and romantic medieval walls.
The Pyrenees form Spain's northern border with France, and their snow-covered slopes are popular with skiers in winter. The Guadarrama Mountains, outside Madrid, and some ranges in southern Spain are also popular ski destinations. These are just a few hours from the Mediterranean beaches…making it possible to ski in the morning and lie on a beach in the afternoon. – Glynna Prentice
Get Your Free Report on the World's Best Places to Retire:
Learn more about the best places in the world to retire in our daily postcard e-letter.
Simply enter your email address below to sign up for our free daily postcards and we'll also send you a FREE report on The World's Top 10 Retirement Havens.
Get Your Free Report Here