In many ways, the Central American country of Costa Rica is a pioneer of the concept of eco-tourism and adventure sports. The idea is that instead of lounging on the beach or going on a sightseeing bus tour, participants venture out into the wild and natural areas for a variety of activities, like bird watching and trekking…or they get an adrenaline rush from engaging in safe but thrilling activities like zip-lining.
Whatever your activity, you get to see wildlife up close and enjoy being out in a beautiful natural setting. And there are plenty of things for people of all ages, including U.S. retirees in Costa Rica, can do safely—and it's a lot of fun, too.
Surfing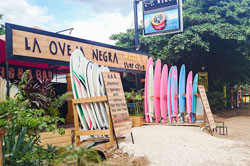 You're never too old to learn to surf. So say many expat retirees who move to Costa Rica and decide to take up this ancient watersport. With 763 miles of coastline and great waves year-round just about everywhere, it seems a shame not to take advantage. These waves attract surfers from around the world of all ages.
Sure there are some pretty strong currents and head-pounding breaks in some areas. But there are plenty of safe options for beginners to practice. And there are many, many surf schools ready to teach you the ropes. Some top spots for new surfers include Tamarindo on the northern Pacific, Jaco on the central Pacific, and Playa Samara on the Nicoya Peninsula. The cool thing is that while there are beginner waves in these and other areas, there is usually water more suited to intermediate or advanced surfers nearby. So as your skills develop you won't have to travel far to have fun.
Zip-Lining
How does the idea of careening along a steel cable dangling by a harness, through towering trees hundreds of feet off the ground grab you? If you're up for it—you're ready for one of the veteran adventure activities in Costa Rica: zip-lining. And even if you're reluctant so far, keep reading as you might discover your courage. By the way, it's not just for the young and reckless. My 60-something father-in-law zip-lined last year. He didn't love it (the fact that it was a rainy day didn't help) but is glad he did it.
Costa Rica is a developing country but safety standards for activities like this are high—the economy depends on tourism, after all. And zip-lining, also known as a canopy tour, can be a great way to get a bit of a thrill in a safe environment.
Horseback Riding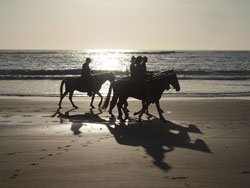 Imagine riding down the beach, the wind blowing through your hair as your horse's hooves stir up the surf of the incoming tide. Or perhaps you're cresting a hill on a narrow trail through the jungle and spy a pair of toucans munching on seeds on a leafless tree ahead. When you're on horseback in Costa Rica, anything is possible.
It's a favorite activity of retired expats in Costa Rica, as lessons and tours are cheap and plentiful just about everywhere in the country, but especially in the tourist centers like Arenal and the coasts. Often going on a horseback riding tour is as easy as flagging down the gentleman riding by on the beach, leading a second horse for any customers he might meet. There are also riding clubs in towns like Escazu in the Central Valley. And if you're interested in having your own horses on your property, large lots and ranch property in rural areas are widely available.
Hiking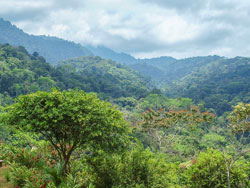 Costa Rica is a small country, about the size of New Hampshire and Vermont put together. But still about 25% of its territory is made up of national park, wildlife refuge or private nature preserve. That shows a real commitment by the government and private landowners to conversational and habitat preservation. And the cool thing is, with education of the public and recreation in mind, most of these wild areas are open to visitors with well-marked and maintained trails.
Sure, some trails and parks are more strenuous or treacherous than others. For example, Corcovado National Park on the Osa Peninsula on the southern Pacific coast near the border with Panama is recommended only for experienced trekkers in great shape. But there are plenty of parks, including Manuel Antonio on the central Pacific coast, that are perfectly accessible for any person, including those with mobility issues. The rewards are glimpses of famed wildlife like howler monkeys, sloths, and more. Plus, it is a special feeling to be out in the unspoiled natural beauty found in such abundance in Costa Rica.
Bird Watching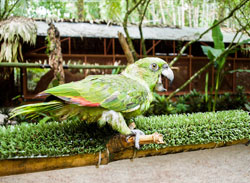 With its position in Central America, Costa Rica is a crossroads between North and South America, add a tropical climate and variety of habitats (from rain forest to dry plains to beach to cool mountains), and you get the perfect recipe for bio-diversity. In fact, the country has more than 500,000 species in residence. Most are insects. But there are 800 different species of birds, including migratory species who spend part of the year in Costa Rica, as well as permanent residents.
As a result bird watchers from around the world travel to the country to cross more species off their list. Some stand-outs include the resplendent quetzal of emerald, red, and white plumage, which makes its home in the high-elevation rainforests known as cloud forests in the more mountainous areas of the country.
The scarlet macaw is endangered but can still be found in numbers on the central and southern Pacific coasts. There are also dozens of species of hummingbird, as well as hundreds of wetlands birds, eagles and hawks, and more. Since many national parks and wildlife areas are very accessible, bird watching can be the perfect retiree activity.
Free Costa Rica Report:
Learn more about Costa Rica and other countries in our daily postcard e-letter. Simply enter your email address below and we'll send you a FREE REPORT – Why Are Americans Still Flocking to Costa Rica. 
This special guide covers real estate, retirement and more in Costa Rica and is yours free when you sign up for our IL postcards below.
Get Your Free Report Here