I'm up a bit after sunrise for my daily ritual. It starts with a long leisurely walk on the beach.
Something about the sound of crashing waves, watching anchored boats bob on the horizon, and the cool weather before the heat of the day hits…it just puts me in the right mood.
I live in Tamarindo, on Costa Rica's northern Pacific coast. It's a small town, popular with tourists, where life revolves around the beach. Surfing, which put Tamarindo on the map in the 1990s, is still huge here. I surf a bit myself—let's just say it's harder than it looks. You also have sport fishing, snorkeling and diving, stand up paddle boarding…it's a haven for watersports.
There's plenty of fun onshore, too. Beach bars and restaurants line the graceful arc of the bay, golden sand bordered by palm trees. That's where I spend many of my evenings: watching the sunset in an explosion of yellow, red, and orange and enjoying the sea breeze.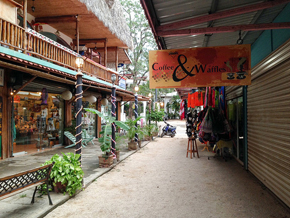 You can have three meals a day on the beach, your feet in the sand. You have to watch out though. Some restaurants cater to tourists and charge high prices. I stick to local favorites like El Pescador, which has an open-air bar and a collection of wood tables under shade trees, with reggae and chill out music the soundtrack. It has a small menu, mostly seafood. But with fresh snapper filet with rice, beans, and salad for $6 and happy hour beers for $2, the price is right.
If I'm on the go, I might have an empanada instead, bought from one of the vendors on the beach—$1.50 and delicious with a liberal dose of homemade hot sauce. I usually get fresh coconut juice, too, just $1. And even though I was never one to get a massage back home in the U.S.—too expensive—I don't mind indulging here. At $40 an hour, on the beach or in the air-conditioned spa, it's quite reasonable.
It's a carefree life. Less stress. A simple day-to-day existence. Nobody dresses to impress. The uniform, whether you're a millionaire or beach bum, is swimsuit and flip-flops. It's a refreshing attitude, that rejection of materialism. And everybody is laidback.
The expat community in Tamarindo is tight-knit—think lots of barbecues and parties—and welcoming of newcomers. Soon it seems like you know just about everybody in town. And the cool thing is that you have a big mix of nationalities. Ticos, of course. Then there are probably as many, if not more, Italians and Argentinians than Americans and Canadians. It makes for a great mix of languages, cultures, and cuisines.
I love my life on the beach, and the little town I've come to call home.

Get Your Free Costa Rica Report Here:
Learn more about Costa Rica and other countries in our daily postcard e-letter. Simply enter your email address below and we'll send you a FREE REPORT – Costa Rica: The Land of Pura Vida
This special guide covers real estate, retirement and more in Costa Rica and is yours free when you sign up for our IL postcards below.
Related Articles
Best Places to Live in Costa Rica: Five Top Expat Havens