My husband, Paul, and I were happy with our lives in the United States. I was 45 and Paul was 55 when we met. We lived in the Baltimore area and had stable jobs making a decent income.
Sometime in 2007 we started to talk about retiring early and moving somewhere cheaper to live.
Sure, it had a lot to do with our 10-year age difference and not wanting to wait until I reached retirement age. It also had to do with wanting to live a different life, a more adventurous life, and to do it while we were both healthy enough to enjoy it. Paul had loved National Geographic Magazine ever since childhood and had a love and appreciation for Latin America. He had even attended college in Mexico after serving in the Vietnam War. I, however, had played it safe in life. And now that I had a partner to explore with, I was ready for a little adventure.
At first, we considered less expensive parts of the United States to move to…but pretty soon we started to talk about retiring to another country. We didn't want to be so far from the U.S. that our family and friends wouldn't visit.
We had gone to Mexico on our honeymoon back in 2003 and I had fallen in love with the country and the Mexican people. So, when we started to talk about retiring outside of the U.S., Mexico was top of the list. But in 1996, I had also visited Costa Rica for just a few days to speak at a conference. I remembered it as being lush, beautiful, and a place I always wanted to go back to visit. Both countries were close enough to the U.S. for easy travel and different enough to be…well…different.
So we started our research, reading everything we could get our hands on. We became concerned about all of the drug-related crime reported on the news so pretty soon decided against Mexico and focused our efforts on Costa Rica.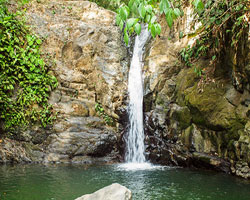 We ended up taking a retirement tour to Costa Rica in January of 2009 and we were hooked. We followed up with a couple more visits during the next year. Costa Rica met all of our initial criteria: It had a good universal health care system, a stable democratic government, and clean drinking water. The weather was great; the country had an excellent public transportation system, and was generally a safe place to live. But the best part was the people—the Ticos we'd met had always been warm and welcoming to us on our visits. We felt no anti-American sentiment at all.
Paul already spoke Spanish and I was ready and willing to learn. So, on April 1st, 2009, we moved to San Ramón de Alajuela, Costa Rica and have never looked back.
We love our lives here and have developed some great friendships with Ticos and other expats alike. San Ramón is located at about 3,000 ft. elevation, so we have spring-like temperatures all year round. We just love having our doors and windows open all day.
We live a simple life with our two cats. Our rental house is surrounded by trees and lush foliage and has a view of the Gulf of Nicoya. We keep busy writing for our website, Retire for Less in Costa Rica, and offering relocation and health care tours for potential expats who are considering retirement in Costa Rica, but we're only as busy as we want to be.
Every month we write about our cost of living for the month before and, even with rent, health care, and a car, we can usually stay below $2,000 for everything. Even though Costa Rica may be more expensive than many other Central American countries, we are finding it possible to live a good life for less here. We choose to live simply and in an area of the country where we don't need air conditioning. And you can do it too; it just depends on the choices you make.
Free Costa Rica Report:
Learn more about Costa Rica and other countries in our daily postcard e-letter. Simply enter your email address below and we'll send you a FREE REPORT – Why Are Americans Still Flocking to Costa Rica. 
This special guide covers real estate, retirement and more in Costa Rica and is yours free when you sign up for our IL postcards below.
Get Your Free Report Here