When we lived in the U.S. my husband, Paul, and I both worked 40+ hour weeks and, like most folks, were busy after work and on weekends doing all the "stuff" of life—laundry, grocery shopping, cleaning, and running errands. Now that we are retired and living in Costa Rica, we are only as busy as we choose to be. We're still busy, but in a different way.
First off, we can do those things anytime, usually during daylight hours. And secondly, things usually take longer here than it would in the U.S.—there isn't such a thing as one-stop-shopping. But that's okay. Part of the fun is the hunt for what we need. We weren't necessarily looking for easier…we wanted different.
Simple things like paying bills is different here. Instead of writing a check and putting it in the mail, we pay most of our bills in person (though many people pay them online). We like to "see and be seen" by the people with whom we do business. It's just more neighborly.
A typical day for us starts at 5:30 a.m. when our cats wake us up to be fed. While I sleep in, Paul gets up, opens the doors to a beautiful morning, sweeps the porch, then feeds our cats who have been patiently waiting. Breakfast for him is usually a pineapple smoothie or homemade yogurt and cereal.
Several days each week, he meets friends around 7 a.m. and walks two to four miles through the hills, alongside coffee fields and cow pastures, then returns home for a hot shower. Later, he often heads into the town of San Ramon, just 10 minutes away, to run errands—buying groceries, paying the phone bill, stopping by the macrobiotica for vitamins or the farmacia for medications—or visits with friends in the Parque Central or at a local bakery. Often, he will have a casado for lunch—rice, beans, salad, vegetable, and his choice of chicken, beef, chorizo, or his favorite, costillas (pork ribs)—at a little soda (restaurant) for about $2.
Me—I've never been a morning person. I thought that would change when we moved to Costa Rica, but it didn't! So, I wake up slowly, check my email, drink some lemon water that Paul has left for me by the bedside, then head downstairs for breakfast—usually a piece of toast with homemade peanut butter and banana. I spend my days writing or working on our website (called Retire for Less in Costa Rica) and doing whatever I want to do. I love spending time in the kitchen, baking bread, making yogurt and natural peanut butter, and cooking.
Sometimes I'll go into town with Paul to run errands or meet friends for lunch.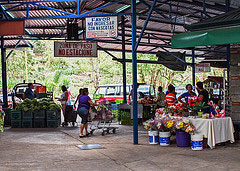 On Friday afternoons, we often go into town for the feria—the weekly farmers' market. Farmers and other vendors come from all over the area to sell freshly picked produce, flowers and plants, meats, fish, and eggs and much more. We almost always run into friends and stop to chat with the Tico vendors we've gotten to know.
A couple of times a month, we drive less than an hour away to the beach where we'll meet friends, cook-out on the grill, take pictures of the white-faced monkeys in the trees, and spend time in the water. We leave the heat of the beach behind around 3 p.m. and head back to our cool and comfortable home in the mountains.
But the best part of our daily routine is when sometimes we just stop, relax, and do nothing, especially in the afternoons during the rainy season. We read, nap, watch hummingbirds at the feeders, listen to the parrots flying overhead and the howler monkeys in the trees down by the river, or just lay in the hammock and daydream.
At night, we fall asleep to the sounds of nature all around us.
Remember, when you retire overseas, you can live the life you choose. The key is to create a life that makes you happy. We've definitely found our bliss in Costa Rica.
Get Your Free Costa Rica Report Here:
Learn more about Costa Rica and other countries in our daily postcard e-letter. Simply enter your email address below and we'll send you a FREE REPORT – Why Are Americans Still Flocking to Costa Rica. 
This special guide covers real estate, retirement and more in Costa Rica and is yours free when you sign up for our IL postcards below.
Get Your Free Report Here