If you need a manicured lawn, 18-hole golf course, large fancy supermarket, or luxury condo to be happy…you can find that in Costa Rica. But you'll have to give the country's southern Caribbean coast a miss.
This out-of-the-way region is about four hours' drive from the capital, San José. The expat community, clustered near the border with Panama (the Bocas del Toro archipelago is just across the way) in towns and communities like Cahuita, Puerto Viejo de Talamanca, Playa Chiquita, Playa Cocles, and Manzanillo, attracts do-it-yourselfers, bohemians, free spirits, and pioneers.
Despite the natural beauty of golden-sand beaches with a fringe of palm trees and other foliage providing shade, there are no big resorts. No condos towering on the shore. No cookie cutter, gated communities. In fact, much of the land here is protected from development as national park or wildlife refuge.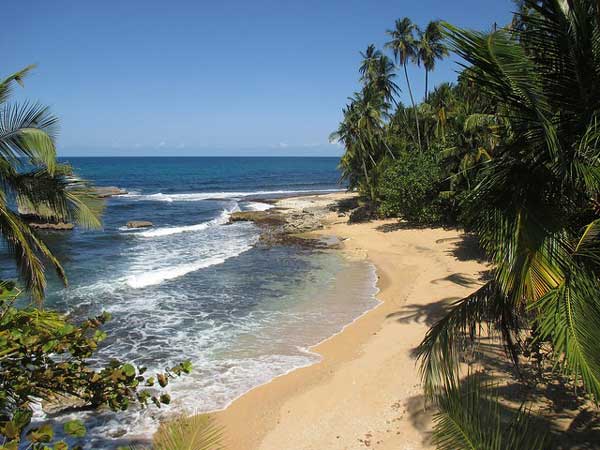 Instead you have jungles of towering tropical hardwoods, filled with sloths, howler monkeys, and other creatures. Picture a narrow-paved road (watch out for the potholes) winding its way through the trees, parallel to the beach, with small shops, yoga studios, and cafes on either side. Many folks get around by bike here—the pace of life is slow, you're not in a rush to get anywhere.
Dirt and gravel access roads snake off to the beach (always uncrowded, sometimes totally deserted except for you) or inland through the rainforest, where most people live in simple homes, often open air. One two-bedroom home, walking distance to the beach near Puerto Viejo, the main town, is listed at $149,000. You'll find many homes hovering around this price point.
Although it's an unspoiled region, you're not exactly roughing it. Essential services are here: clean drinking water, electricity (although brief outages are frequent), and highspeed internet. Medical care is very basic in this area; not the best place for anybody with a chronic condition or in need of specialist care.
Thanks to tourism (a fraction of what the Pacific coast gets), you also have French bakeries, sports bars, gourmet restaurants, and other fare. And the grocery stores are surprisingly well-stocked.
But many locals and expats prefer to do the bulk of their shopping at the Saturday market in Puerto Viejo. Here you can get organic produce, bread, prepared foods made by enterprising expats, locally made dark chocolate, and more. As fishing is still a local industry, fresh snapper can be had off the boat for $5 a pound.
And since just about anything grows in this climate, it's not unusual to have an abundant orchard on your property: mangos, bananas and plantains, papaya…a fruit salad whenever you want it.
In many ways, the Caribbean is almost a country within a country. In the 1800s, a wave of immigrants, mostly from Jamaica, came to this stretch of coast to work in agriculture, the railroad, and the port. Their descendants still live there to this today. Although they are fairly well integrated, they still retain music (reggae and calypso), food (spicy beans and coconut rice dishes and savory seafood soups), language (Caribbean-accented English and a creole), and other traditions.
That Caribbean feel, almost an island vibe, lends another unique aspect to this region.
It's not for everybody, still a little rough around the edges. But for those who really want to "drop out" Costa Rica's Caribbean could be worth a closer look.

Related Articles

A Peaceful Retirement in Atenas Costa Rica

There is More to Tamarindo Than a Perfect Climate

How We Fell for Costa Rica and Pledged to be Good Guests
---
The Countdown Is On! Discount Ends June 15
Right Now Is the Best Time in History to Start Earning as a Freelancer
If you crave the freedom and flexibility of a side income that allows you to earn when you want and play when you feel like it...we have a solution for you.
"Remote work" is here to stay, and we can show you how to capitalize on this trend and turn what you already know how to do into a side income online that can help fund a retirement that looks the way you want it to. Can you really afford to miss this?
Online Portable Income Masterclass
June 26-27, 2021
---