Don't get me wrong, I love Texas. I like the people, their independent attitude, and friendliness. But when I left for the Marines in the late '60s, I never planned on returning. Not because of the task at hand—I was just ready to experience what the world had to offer. My eventual return was strictly out of commitment to responsibilities and an available career.
When I reached 60, in a moment of clarity, I became acutely aware of how fast time was passing.
Standing before my mirror to shave one day, I realized I didn't want the "rocking chair retirement."
I dared to let the memories of Costa Rica that I had packed away so neatly years ago occupy my thoughts—days when my life revolved around surfing, the ocean, and nature. Why not live that way again? Who says a man of my age can't do such things? I thought.
The decision was made. My wife Anne and I started planning by reading blogs, forums, and books on Costa Rica. We filled out surveys, checklists, and learned everything we could about preparing for and moving there. We even attended an International Living conference. While there we met many other people with the same ambitions and made some important contacts as well.
IL's Costa Rica Editor, Jason Holland, was one of those contacts and he has proven to be an extremely valuable resource.
After that, we started making trips to the areas of Costa Rica we thought we might be interested in. It took us about two years to thoroughly complete our due diligence.
We started to downsize, too. At first it was hard for me to part with many of my possessions. Then I began to realize these possessions, many of which I rarely saw, used, or paid attention to, had taken a reasonable amount of my income over the years to shelter and preserve. I began to see them for what they were—anchors to the past.
Finally, I set a date and made plane reservations. The date arrived and we boarded an airplane, with all of our possessions packed—no, crammed—into four suitcases.
The following morning, in a hotel where we had spent the night, we awoke in our new world.
"We're more free than we were at 18 or 19 years old," I said to Anne.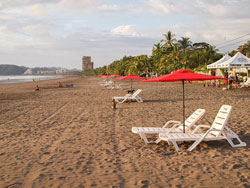 We had rented a small villa—it's just six months old and has a pool—south of Jaco, on the other side of the coastal highway from Playa Esterillos Oeste.
The beach here is beautiful and it only takes about 15 to 20 minutes to walk or about five minutes to drive there. By American standards, it's never crowded.
Even on weekends and holidays it's still not as crowded as many popular beaches on either coast of the United States.
We're still in the process of determining exactly what our cost of living will be. We're always finding ways to cut costs while keeping our living conditions comfortable. We save a lot by shopping at the local farmers markets. The fruits and vegetables are not only less expensive, they have so much more flavor than what we're accustomed to. We have a great time meeting new people there, too.
The expats and tourists here come from all over the United States and other countries, too. We enjoy meeting so many different kinds of people who seem to share a lot of similar interests with us. I've even met people from where I lived and surfed years ago in Florida.
If I had to estimate right now, I would say $2,000 a month will provide Anne and me with a much more satisfying lifestyle than we had in Texas, but I'm sure you could spend less depending on how you choose to live. We like to enjoy ourselves and are not really trying to see how cheaply we can live—I've already bought a new surfboard.
As great as things are working out for us, my advice for someone wanting to move here is to first visit as much as possible. When you visit, do so with a mind-set of actually living in those places—not as a tourist on vacation.
Don't expect it to be like where you came from—why do it in the first place if it is? And try to speak as much Spanish as you can. In our case—everybody including us—gets a big laugh from our attempts and I think the Ticos (as the locals call themselves) appreciate it.
Most of all, realize that this is your opportunity to reinvent yourself and enjoy a new life. Be ready for surprises and embrace the experience.
Related Articles
Best Places to Live in Costa Rica: Five Top Expat Havens