Escazú, in the San José province, is often referred to as the Beverly Hills of Costa Rica as it is the most upscale area in the country. Home to many well-heeled Costa Ricans, Escazú has its fair share of swimming pools, tennis courts, and golf courses.
Just a few miles west of downtown San José, Escazú's location puts you moments from the cultural center of the country, with modern amenities at arm's reach including a CIMA Hospital and an international airport.
Due to the large expat population, as well as the international businesses in the area, English is widely spoken here. Plus, amenities that you're used to are easily found here, from ritzy beauty salons to in-vogue designer shops.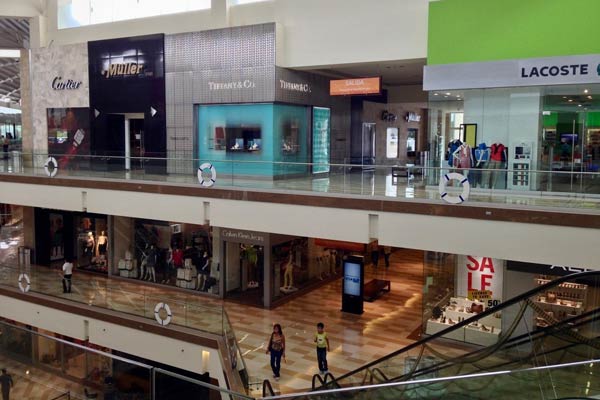 Avenida Ezcazú could be Costa Rica's version of Rodeo Drive. Here you'll find the architecturally modern high-rises, and brand name designer stores that Escazú is known for. In fact, Starbucks opened their first ever store in Costa Rica here. And you can't miss those iconic giant horse statues that mark the entrance to an upscale PF Chang.
Speaking of restaurants, Escazú has you covered. You can find just about any ethnic or gourmet cuisine here. The old main street is often referred to as the "Golden Mile." It's a four-lane road now, where traffic weaves its way past trendy clubs and cafés, as well as high-end specialty stores. This is where my husband, Michael, and I bought our posh Italian-made kitchen cabinetry. Then we went across the street to celebrate the decision by having ribs at Tony Roma's and later, dessert at TGI Fridays.
If golfing is important to you, then there's an excellent 18-hole course at the country club. Afterward you can spend an afternoon shopping in familiar settings; there's a huge, deluxe mall full of upper-end American and European brand stores. Or maybe you'd just like to relax by seeing the latest big-screen megahit—you can do that too—in English, at the multiscreen movie theatre.
And when there's only one of something in the whole of the country, you can bet it's going to be in Escazú—like Crate and Barrel, or the Electrolux store. Is it any wonder then, that the Intercontinental Hotel chose this area for their striking and grandiose presence?
If that sounds just a bit too much like modern America and not enough like quaint Costa Rica, have no fear; there are still areas outside this commercial hub that resonate the charm of bygone days. And where farmers can still be seen riding horses.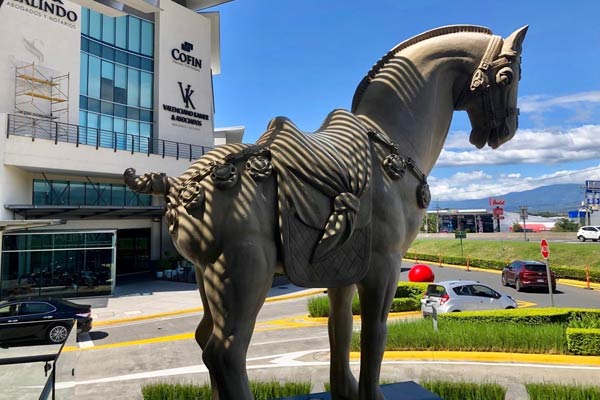 This is where you'll find Escazú's other face. So far, I've mostly been talking about the area known as San Rafael de Escazú—the busy, modern commercial center of Escazú. But if you turn your attention to San Antonio de Escazú, you'll find a quieter area that retains lots of the ancestral charisma of Costa Rica. Up in the hills that overlook the hubbub that is anchored around San Rafael is the "elder" Escazú. More traditional, less developed, and more rural with typically smaller tico restaurants. When you look out over the dramatic vistas after strolling along the twisty roads with time-honored adobe buildings, you'll realize that not everything in Escazú is "Americanized."
You can find anything from tico-style houses to high-rise condominiums or luxury homes in gated communities in Escazú. There are even some empty lots still available if you're looking to build. But like most of the real estate in this area—it's pricey.  However, if you look around you can find three-bedroom townhouses for less than $200,000. If price isn't an issue you can also find a breathtaking three-acre, eight-bedroom colonial masterpiece with separate quarters for the staff for a mere $1.97 million.
The Takeaway
If you're looking for a place where you can enjoy a foreign culture without giving up your own, with a temperate, tropical climate, and high-end fashion, then Escazú just might be the place for you.
Related Articles
There Are Many Reasons to Move to Costa Rica
Fun & Interesting Facts About Costa Rica
An Overview of Traditions and Culture in Costa Rica