One of my favorite surprises upon moving to Costa Rica was the open-air ferias or farmer's markets. They can be found all over the country, and offer delicious fresh fruits and vegetables at very affordable prices.
For example, at my favorite market (located in the town of San Isidro de General and held every Thursday and Friday), you can buy three pineapples for $2, mangoes for less than a dollar a pound, and a head of lettuce for 50 cents. Many vendors also sell tasty delicacies such as raw cacao treats, herbed goats-milk cheese, specialty yoghurts, fresh fruit jellies and jams, and amazing home-baked bread just to name a few.
Because Costa Rica has pretty much a perfect climate, with temperatures in the 80s year round, it's easy to spend most of your day outside. I went without a car for the first three months after I moved to Costa Rica, and I walked, a lot. I shed 10 pounds within the first month (without even trying), simply because I was eager to explore and walked almost everywhere I went. An added bonus was that during mango season, I came home with backpacks full of mangoes, as they were literally dripping off the trees!
One lifestyle choice that I easily transferred to Costa Rica was practicing yoga. Costa Rica has no shortage of yoga studios or even yoga classes held on the beach. When I first moved to the Playa Negra/Playa Avellanas area (on the Nicoya Peninsula), yoga classes were offered at the very popular spot Lola's (named after its resident pig, Lola). Lola's is not only a beachside restaurant and bar, but also has a space for private yoga instruction and massage. Additionally, Playa Negra's recently opened "Peace Retreat" offers yoga classes, surf lessons, all-inclusive wellness retreats, Spanish immersion programs, and a range of accommodations.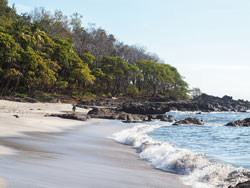 Another amazing activity that I was able to continue in Costa Rica (coming from Hawaii) was surfing. After surfing world-class surf breaks in Hawaii for 8 years, I was curious to see how surfing in Costa Rica would compare. I was not disappointed. Playa Negra and Playa Avellanas offer excellent surf with several breaks to choose from; and there is even a spot named "Little Hawaii" for experienced surfers. There are waves to be surfed year-round, as swells come throughout the year from both the Northern and Southern hemispheres.
All in all, Costa Rica's abundance of fresh and healthy food, combined with its mild climate allowing for a wide variety of outdoor activities and exercise, makes an excellent recipe for eating fresh and living better. In fact, it is precisely this concept that is reflected in Costa Rica's ubiquitous slogan "pura vida" (translated literally as "pure life"). "Pura vida" also means to enjoy life; in Costa Rica, that's a pretty easy thing to do.
Free Costa Rica Report:
Learn more about Costa Rica and other countries in our daily postcard e-letter. Simply enter your email address below and we'll send you a FREE REPORT – Why Are Americans Still Flocking to Costa Rica. 
This special guide covers real estate, retirement and more in Costa Rica and is yours free when you sign up for our IL postcards below.
Get Your Free Report Here