For many visitors and even many expats who've lived in Costa Rica for years, the country's capital, San José, remains a very utilitarian destination, so to speak.
As the commercial center, it's the place go for the best shopping in the country. If you can get it in Costa Rica, it's in San José. And as the governmental center, when you're going through the residence process…you end up in San José. With the top hospitals and most specialists, it's also the best place for medical care.
But San José is also the heart of culture in the country, with a lot to recommend it across many disciplines and art forms. For residents of the Central Valley, the region which surrounds San José, a trip into the city for cultural activities is well worth a day trip or night out on the town. Those further out could make it a weekend trip. Below are five cultural experiences to enjoy in San José.
1. The Classics
If you're a fan of opera, classical music, ballet, modern dance, and jazz…look no further than the National Theater in downtown San José. Drawing national and international acts, this historic building, dating to the 1800s, is fully-restored inside and out and is considered one of the most beautiful buildings in the country. Tickets for primetime performances start at $10. And noontime shows during the week are as low as $2 for those over 65.
2. Theater
For an English-language theater, you can check out the Little Theatre Group of Costa Rica, which is made up of expat amateur actors (newcomers welcome). Past productions at the Little Theatre include One Flew Over the Cuckoo's Nest and Shakespeare's Twelfth Night. Drama with professional casts can also be found at Teatro Eugene O'Neil and Teatro Laurence Olivier, with performances in Spanish and English.
3. Museums
The capital also hosts several world-class museums. Not on the level of Paris or London perhaps, but worth a visit. The National Gallery recently played host to an exhibition of works by Picasso, Warhol, Renoir, and more. There are also museums that pay tribute to pre-Columbian artifacts and artworks created in jade and gold—the Jade Museum and Gold Museum respectively. It's amazing what the indigenous peoples of Costa Rica created hundreds of years ago with primitive methods.
4. Festivals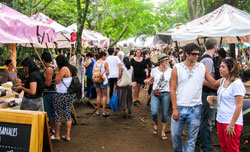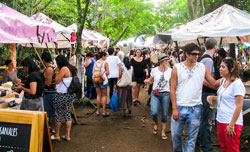 Every year, usually in April, the Festival de las Artes offers a week-long gathering of artists and performers from around the world. Performances take place on stages set up in La Sabana, San José's main central park near downtown. Artists and craftspeople also exhibit their work, often for sale. And performance artists, puppeteers, musical groups, and more perform at the park and at venues throughout the city. The schedule can be a bit overwhelming. But the caliber of performers makes it worth braving the crowds and checking out at least one or two days
5. Concerts
As a major city in Central America, San José is also a tour stop for many musical artists on international tours. Aside from Latin favorites like Juanes, recent performers have included Lady Gaga, Paul McCartney, Aerosmith, and Elton John. The venue is usually the National Stadium in the aforementioned La Sabana park. But the stadium of the Saprissa soccer team across town is also used.
Related Articles