I remember Costa Rica. How could I forget?
In 1997 my wife, Suzan Haskins, and I were married there.
It was the first time I'd been south of the U.S. border. We found a small boutique hotel in San Jose that offered wedding packages. They'd supply the notario for a civil ceremony (sort of like getting married by a Justice of the Peace) along with a bottle of champagne and a guy playing music on a portable keyboard. It was perfect.
For our honeymoon, Suzan planned something completely alien to me: a week on the road in an SUV with no agenda of any kind. No timetable, no confirmed destinations, not even much of a proposed route. We'd just pick a place to go each day, get there if we could, stop somewhere else if we couldn't, and spend the evening wherever we ended up thinking about a place to go the next day.
I have a bit too much German heritage in my family background to be completely comfortable with this kind of open-ended planning. It seemed to me like no plan at all, and no good could come of it. But Suzan assured me that it would be OK.
After all, she said, it's Costa Rica. What could go wrong?
Of course, she was right. Not only did nothing go wrong, but it turned out to be one of the best trips we've ever taken in our lives—the trips we've taken together in the 14 years since. Even when we took wrong turns…even when we were confronted with roads upon which I was sure no human could drive a vehicle of any kind…even when we had no idea of where we were when we stopped for the day…we had incredible fun.
For me, that trip set the bar for adventure travel, and it has rarely been surpassed. And Costa Rica had everything to do with that.
We may have taken wrong turns, but they inevitably took us somewhere breathtakingly beautiful. We may have faced roads that nobody in their right minds would have attempted traveling, but we traveled them anyway and got somewhere breathtakingly beautiful every time. We may have had no idea where we were when we stopped at night, but wherever it was, it was without fail absolutely stunning.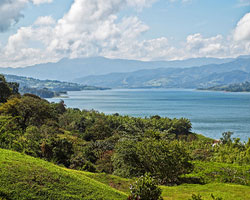 We quickly discovered that Costa Rica is an astonishingly beautiful country just about anywhere you look. People of German heritage take note: that makes for an astounding trip even without an agenda or timetable. Honestly.
If only on the basis of my marriage and honeymoon experience, I would have remembered Costa Rica for the rest of my life. But fortunately for Suzan and me, we get a chance to go back regularly. It's one of the happy circumstances of our work that International Living has a conference in Costa Rica every year, so we get a pretty regular Costa Rica fix. And it always brings back good memories.
Of course, the roads have vastly improved over the past 14 years, and we now know our way around well enough that the chances of getting lost are almost non-existent. But that feeling of freedom and adventure are still there, along with the amazing natural beauty.
We never really feel nostalgic when we go back to Costa Rica. Nostalgia is the feeling you get for times and things that have changed too much or passed away altogether. But for us, Costa Rica is still the lush, natural, welcoming, friendly place we explored without a plan or timetable 14 years ago. We get the feeling each time we're there that we could do the same thing again and have just as good a time. Costa Rica is just that kind of place.
Free Costa Rica Report:
Learn more about Costa Rica and other countries in our daily postcard e-letter. Simply enter your email address below and we'll send you a FREE REPORT – Why Are Americans Still Flocking to Costa Rica. 
This special guide covers real estate, retirement and more in Costa Rica and is yours free when you sign up for our IL postcards below.
Get Your Free Report Here