"It's hard to pick just one reason to love Costa Rica," says Diana F. Miskell. "I just love the cool, temperate mountain weather, and the locals are so welcoming."
Five years ago, Diana and her husband, Lance Turlock, moved to picturesque Atenas—a serene farming village surrounded by mountains in Costa Rica's Central Valley. At about 3,200 feet above sea level, temperatures generally stay in the 70s F year-round.
For the couple, life is filled with pleasures found in living simple–enjoying fresh local coffee in the morning and having plenty of free time during the day to pursue their hobbies.
"If there's something to do for the day, like going to town or doing laundry, I'll do it in the morning," says Diana. "I try and only do one thing a day that is work-ish. Then the rest of the day is ours."
The new lifestyle also agrees with their budget and they spend much less on living expenses in Costa Rica than they did in Vancouver. In Canada the rent for the couple's unfurnished home was over $1,000, without utilities. In Atenas they rent a small furnished home and pay $800 a month, which includes electric, cable, and high-speed internet.
"We love living in Atenas," says Diana. "It's exhilarating to immerse yourself in a different culture and we enjoy the stimulation of trying to learn a new language. Everything is totally different from where we came from."
Diana worked for many years with the Canadian Coast Guard, taking early retirement. Lance was a patent agent, and before leaving for Costa Rica he figured out a way to take his income on the road.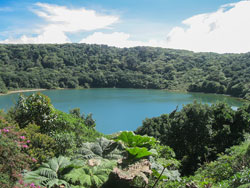 "For many years, I was the typical commuter from the suburbs to the big city," says Lance. "It was a two-hour round trip, even though there was rarely any need to meet face to face with a client. As the Internet took hold, my commuting shifted more and more to telecommuting and I came to the realization that I can do what I do from anywhere in the world where Internet access is up to standard."
The internet is quick and reliable in Costa Rica, making it an ideal location for anyone who works online. Lance has found he can continue servicing his clients in Costa Rica the same as if he were in Canada.
After moving to Central America, Diana found the time she finally had time to pursue a passion she had since childhood—painting. She is involved with other local artists and together they have created the Atenas Painters Association. The agriculture community where they live is peaceful and full of wild, exotic animals. Colorful parrots and squirrel-like agoutis regularly visit their home, the perfect subjects for Diana's paintings.
While Diana and Lance enjoy the many benefits of living in Costa Rica, it's the strong sense of community that makes Atenas feel like home. "We have more friends in Costa Rica than we did in Canada," says Diana. "There, we hardly knew the names of the people on our street. Here, in our neighborhood, everyone knows everyone. Life is very different."
Get Your Free Costa Rica Report Here:
Learn more about Costa Rica and other countries in our daily postcard e-letter. Simply enter your email address below and we'll send you a FREE REPORT – Why Are Americans Still Flocking to Costa Rica.
This special guide covers real estate, retirement and more in Costa Rica and is yours free when you sign up for our IL postcards below.
Get Your Free Report Here