It wasn't the practical reasons, like lower cost of living, great—and cheap—medical care, and friendly people, that convinced Dave Scott to move to San Ramón, a town on the western edge of Costa Rica's Central Valley region.
Though the country has all those advantages and more, and while those were factors in the decision, it was something else that drew him.
"It was like an invisible string around my neck pulling me here," says Dave. "It's more of a heart thing than a head thing. It's hard to explain. It was just the feeling I had."
The severe winters in Maine were also taken into account. But even though it's in the tropics, San Ramón, like the rest of the Central Valley, has a very temperate climate, averaging about 75 F year-round. Highs are in the mid-80s F, lows at night can get to the mid-60s F. It's thanks to the altitude—starting around 3,000 feet.
The temps are easy on the electric bill, too—no heat or AC needed. Dave says an average bill is about $120 a month.
Another advantage of San Ramón is the location. It's in the middle of the country, making travel to other regions easy. Pacific coast beaches are just an hour south. You can be in the rural Arenal region, known for the 33-square-mile lake and active cone volcano of the same name, in about two hours. The country's main international airport is about an hour east.
The Central Valley also has the best medical care in both the public and private systems, especially in and around the capital, San José, which is just about an hour and a half away. Of course, San Ramón itself has a good hospital and many private physicians.
It's a thriving regional hub with about 70,000 people in town and the surrounding area, with a bustling downtown centered around a cathedral and large central park. There are dozens of shops, restaurants, and cafés…along with any service you need. There are plenty of cultural activities, too—having a branch campus of the University of Costa Rica plays into that.
And Dave has certainly adapted to the pura vida lifestyle Costa Rica is known for.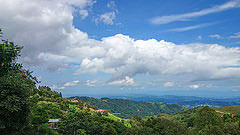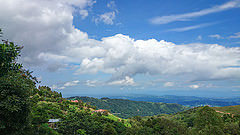 "When I interact with Ticos, they don't seem stressed. They're happy. There's less drive to keep up with the neighbors and buy things. Last time we were in the U.S. you could really see a difference there. Here we do with a lot less stuff, and we seem to generally feel better about life," explains Dave. "My stress level is much lower here. It's relaxing. Even if you've been out all day running errands there's always the sunset or the birds or something else to mellow you out."
Dave and his wife eat a diet of mostly fresh fruit and vegetables, along with chicken and fish. It's all readily available at local markets, including the weekly feria, or farmers' market. Occasionally, they make a pilgrimage to PriceSmart, a warehouse shopping club similar to Sam's Club in the U.S. that has branches throughout Central America. You just can't beat Bisquick for making Red Lobster-style biscuits, says Dave.
The couple stays busy working in their garden ("My wife loves to plant stuff," says Dave) and hanging out with friends and family. They also volunteer with a San Ramón-based Tico/gringo organization called the Community Action Alliance, which raises money for local charities and groups in need and fosters connections between the expat community and locals. Dave says that the English Conversation Club, one of the Alliance's activities, consists of about 300 local members who will generate enough income to provide 11 scholarships for local elementary students next year. The couple participates by teaching English to school kids and adults, work they find a lot of joy in.
"Every single day is different and that's one of the things that makes it so nice," says Dave.
Get Your Free Costa Rica Report and Learn about More Exciting Places:
Learn more about Costa Rica and other countries in our daily postcard e-letter. Simply enter your email address below and we'll send you a FREE REPORT – Why Are Americans Still Flocking to Costa Rica. 
This special guide covers real estate, retirement and more in Costa Rica and is yours free when you sign up for our IL postcards below.
Get Your Free Report Here