Before moving to Tamarindo, on Costa Rica's northern Pacific coast, my husband and I lived in Chicago. We were accustomed to brunch as the key to socializing with friends. If you set a weekly date with someone or made plans to catch up with an old friend, oftentimes you would do it over a weekend brunch.
We had to re-learn some of the "rules" to socializing when we moved to our little beach town. When we began to meet people, it struck us as odd that the common invite for social gatherings was to go and watch the sunset together…but we quickly learned why.
Playa Tamarindo and some of its neighboring beaches are world-famous for their sunsets. The big ball of fire puts on the performance of a lifetime every single night, with an unobstructed view of the horizon, looming over the blue, green, and aqua shades of the Pacific Ocean. Whether you spend five days or a whole year in Tamarindo, it's likely your phone and camera will quickly fill with photos of the sunset…like this one.
And if you're lucky enough to witness some sunsets during the rainy season, you'll experience a magical combination of clouds and multi-colored sunsets that will take your breath away.
As relief from the heat of the day sets in and the sun begins its descent, it's a great time to catch up with friends and get a glimpse of the local wildlife. The animals, including howler monkeys and parrots, become more active at this time of day and you can watch them in all their glory. Happy dogs run and play together in the surf and many people come out to walk, run, or bike along the shoreline as another beautiful day comes to a close.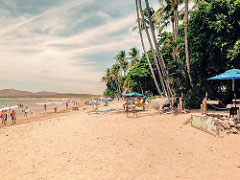 If high tide is in the late afternoon, you have the pleasure of watching the silhouettes of talented surfers catching waves against a backdrop of the burning orange or golden yellow sunshine as it drops slowly toward the water's edge.
Many of the local beachfront bars and restaurants have hopped on the sunset bandwagon as well, and you can enjoy happy hour specials pretty much everywhere…two-for-one cocktails and discounted appetizers abound. Some places also feature live music, or host bonfires at sunset on certain evenings, or even hire entertainment such as a local group of highly impressive fire dancers. Of course if you're looking for a more casual get together, you have the option of picking a prime spot of your choice on the beach and bringing your own refreshments.
What we've learned about sunset get-togethers is that they're a great way to get to know people in a casual and comfortable atmosphere…and the picturesque scenery is an unbelievable added bonus.

Get Your Free Costa Rica Report Here:
Learn more about Costa Rica and other countries in our daily postcard e-letter. Simply enter your email address below and we'll send you a FREE REPORT – Costa Rica: The Land of Pura Vida
This special guide covers real estate, retirement and more in Costa Rica and is yours free when you sign up for our IL postcards below.
Related Articles
Best Places to Live in Costa Rica: Five Top Expat Havens
Upcoming Conferences
Live Better, Spend Less, Retire Sooner
IL's Retire Overseas Bootcamp
October 21-23, 2022 in Atlanta, GA

In safe, warm, welcoming communities abroad, as little as $1,700 a month can bankroll a good life... this fall, our experts will show you where—and how.
Early Bird DISCOUNT—Save $100 When You Register by Sep. 29
Details Here IL's Retire Overseas Bootcamp
---
Registration Now Open for the Best of Europe Private Screening

In the Right Spots in Europe, You Can Retire in Style—in an Historic, Sun-Drenched Locale—for as Little as $2,300 a Month or Less—Especially Now With the Dollar and Euro at Parity for the First Time in Two Decades.
And We'll Show You How, October 1-2, During the Special All-Online Best of Europe Private Screening.
---
The Income Revolution Forum
What if You Had the Freedom to Enjoy the Good Life Anywhere in the World You Wanted to Be...and Get Paid While You're There?
We'll show you how—with hands-on guidance—you could beat inflation...secure your retirement...ditch your commute...and turn a skill you already have into a portable side income of $300, $600, even $3,000 or more a month.