I'm looking out over the deep blue Pacific. Fisherman with nets wade out into the shallows, flinging them periodically to catch bait fish. There's not a cloud in the sky, and the water, with the high midday sun, glitters with light.
In Costa Rica, we're in the dry season from December to April, which means a very small chance of rain, especially where I am on the northern Pacific coast. It is the sunniest part of the country.
The place is Brasilito, a tiny village by the sea. It's low-key, untouched by large-scale tourism. There is a luxury, all-inclusive resort just outside of town. But the guests rarely leave the grounds. What's left are a few small hotels and open-air restaurants catering to the few foreign visitors.
The surrounding area has a healthy expat population. Most expats here, including a large number of Canadian retirees, live in the enclave of Playa Flamingo and the residential community of Playa Potrero. Many have homes in the hills with panoramic ocean views. A three-bedroom home in Potrero, a short walk to the beach, is listed at $99,500. For a luxury two- or three-bedroom condo with an ocean view in Flamingo, prices start around $200,000.
Only a 30-minute drive on good roads from my home in Tamarindo to the south, Brasilito is one of my favorite places to grab a seafood lunch. It's very tranquil, never crowded. When the weekend comes and Tamarindo fills with visitors, it's a great place to escape to.
There are several restaurants, especially popular with Tico tourists and locals, right on the water in Brasilito. From the soccer field (every Costa Rican town has one), you head north along the beach to find them.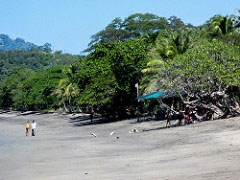 I like to stop at the Indira Bar and Restaurant. It's in a rustic building that could use a paint job. But they have the coldest beer in town—$2 for a frosty bottle of Pilsen. And the owner is super-friendly. He joins me briefly when I sit down by the open window, watching the waves. He points to a small boat just offshore tied up and bobbing in the swell. "That's my boat. I went fishing this morning…there's grouper and snapper on the menu today." It's $10 for a nice fish filet, salad, rice, and beans. I recommend the ceviche too—$3 for a heaping bowl.
The restaurant next door is also worth a visit. The tables are set right on the sand and a wind-whipped canopy provides shade. The tide also seems like it's going to sweep through but always stop just short. Here you have an even better view of the beach, which is virtually empty. A few people ride by on horseback. A couple walks hand in hand. A family lounges in the shade of a tree, kids playing in the shallows.
The stereo alternates between reggae and Latin styles like cumbia, salsa, and bachata. The tropical heat is tempered by the sea breeze—and the cold beers. It's a pleasant way to spend an afternoon.

Get Your Free Costa Rica Report Here:
Learn more about Costa Rica and other countries in our daily postcard e-letter. Simply enter your email address below and we'll send you a FREE REPORT – Costa Rica: The Land of Pura Vida
This special guide covers real estate, retirement and more in Costa Rica and is yours free when you sign up for our IL postcards below.
Related Articles
Life is Good at $2000 a Month in Costa Rica
Caribbean or Pacific: Choose Your Paradise in Costa Rica