Move to Portugal
North Americans are just starting to realize what Europeans have known for decades: that Portugal offers comfortable, cultured living at a low cost. Whether you're looking to live in Europe full-time or part-time, sunny, pleasant Portugal deserves a look.
Here are some of the most popular destinations for expats in Portugal:
The Algarve
British and other European expats have been settling in the Algarve for years. Blessed with golden sand coves, almond groves, and Portugal's kindest climate, the Algarve runs along Portugal's southern Atlantic coast.
This region has numerous golf courses for those interested in outdoor sport, as well as plenty of sun, surf, and sandy beaches along the coast. And thanks to a strong expat presence, you can get by in English here.
The Algarve is relatively expensive, compared to the rest of Portugal. But for those seeking a sunny destination where it's easy to transition to expat life, and where you can enjoy a wealth of outdoor sports, the Algarve is hard to beat.
Lisbon and the Surrounding Area
Portugal's capital, Lisbon, is one of the most charming, yet underrated, capitals in Europe. Located along the estuary of the Tagus River, just before it pours into the Atlantic, Lisbon offers a pleasant river and seaside ambience. One of the world's oldest cities—it's well over 3,000 years old, Lisbon offers the faded grace of a great lady. Worn, centuries-old buildings climb its many hills, often offering magnificent views. Lisbon's central, downtown neighborhoods are popular for their shops, cafés, lively nightlife, and beautiful baroque buildings.
In Lisbon you'll find all the amenities you'd expect from a capital city—museums, concert halls, restaurants, chic cafés, widespread public transportation, and an international airport.
Just half an hour from Lisbon by public transportation are the seaside towns of Cascais and Estoril. These towns are popular with expats due to their small-town, cozy atmosphere and their beaches. They offer an alternative to big-city life, yet are within easy reach of Lisbon. You'll find large expat communities here, mostly British, so getting by in English is not a problem.
Porto
Porto, Portugal's second city, sits dramatically atop cliffs above the Douro River estuary, just a scant distance from the Atlantic Ocean.
Porto is famed as the home of port, the fortified wine so beloved by the British. You'll find the caves, or wine cellars, of all the major port producers across the river from central Porto, in lovely Vila Nova da Gaia. But there is so much more to Porto than its signature beverage. Broad boulevards, sidewalk cafés, chic restaurants offering delectable seafood or petiscos, little snacks that are Portugal's version of Spain's tapas… Lively and well-preserved, Porto offers big-city style and verve in a small, cozy package.
Porto's climate is cool and moist, rather like the U.S.'s Pacific Northwest. This is a walkable city. The historic center, with its shops, cafés, markets, museums, and more, is small and can be walked from end to end in less than an hour. You'll find attractive, walkable neighborhoods outside the center, as well. Pleasant river walks run all the way to Porto's Atlantic beaches on both the Porto and Vila Nova da Gaia sides of the Douro.
Coimbra
Lovely, historic Coimbra is also a lively university town, with as many as 20,000 students. A center for science, industry, and healthcare, the city is also rich in traditional handicrafts. The many students keep Coimbra's vibe young, helped along by its mild climate.
Coimbra has a thriving music scene and plenty of festivals, as well as numerous parks, museums, and more. There's plenty to do in this busy university town.
---
How to Move Out of the U.S.
(and Where to Escape to)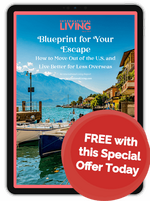 In lots of safe, warm, friendly spots abroad, a couple can live well for around $2,000 a month. Hundreds of thousands of Americans have already escaped—and you could, too. International Living shows you—step-by-step—how (and where) to go. You may be stuck at home right now—but it's the ideal time to put your escape plan in place.
Subscribe to International Living with this special discount offer today—and we'll give you a blueprint for your own escape.
Claim Your FREE copy of this Special Report now when you subscribe to International Living
---
Why I Moved to Portugal
By Terry Coles
Hi, my name is Terry Coles and I'm International Living's correspondent here in Portugal . Today, I'd like to tell you a little bit about myself, what we love about Portugal and the whys and hows of how we ended up here.

The year was 2010, and my husband, Clyde, was researching, retiring, and how could he afford to retire on a firefighter paramedic pension from southern Texas with the high price of living in the U.S. And healthcare in the U.S. So he was researching it online one day and up pops an ad for International Living. So he starts researching it and reading more.

He ordered a subscription to the magazine and the rest was history. I remember reading those magazines back in the day at the time, Clyde nor I had either traveled, we'd only been a little bit to Mexico and I'd been to Canada, but we had never been to Europe. We had never been to Asia or Latin America or any of these other countries.

So for us, this was really a crazy idea. Here we are almost 10 years later. I remember looking at the magazine, reading it from cover to cover and thinking, wow, I've always wanted to go to Italy and Spain  and Latin America and Mexico and all these other places and could we actually live there? How crazy is this idea?

So our life abroad began in Panama. For us who had never traveled, it was about four or five hours

from the U.S., so it was a great starting out point. We bought a house, made a lot of friends. We lived happily there for five years.

Until I convinced Clyde to take our first ever trip to Europe. We spent a month in Europe, covered five different countries and went back as changed people, and decided it was time to move on. And we wanted to live somewhere else now. We had got our feet wet by this close country of Panama and thought, now we can go further.

Not knowing where we wanted to go, we sold the house in Panama with everything in it and walked away with two suitcases each, two small suitcases each. And we traveled the world for two years living inexpensively by doing house and pet sitting.

It was fun and we had a great time and we had pet sits all around the world. And it was from a pet sit in Portugal that we discovered this country started talking to expats here and found out just how easy it is as a country in Europe for Americans to settle in.

That was over two years ago, so it all started from an International Living subscription.

And here I am, your correspondent now. But what do we love about Portugal?

We do love the people, the Portuguese people are wonderful. Many of them do speak English. It is taught in the schools. They even have some TV programs in English here. And all of the movies that come from the U.S. And around the world are run in their original language. So any movies from the U.S. Are shown here in English with Portuguese subtitles. For us, that makes it wonderful. We've lived in many of the countries where this is not the case. You had to speak the language in order to go watch a movie.

So it depends in Portugal where you choose to live. Currently, we're in the Algarve and English is widely spoken here because there's been such a big presence of British people for many, many years. So a lot of the Portuguese do speak English here. Lisbon is more, you might find English spoken there. The further up north you get and away from these areas P ortuguese is more of the language and you really do have to know some of it.

We started our life out in Portugal in the middle of the country, on the silver coast near the city of Caldas da Rainha. It's an inexpensive area, we rented a three-bedroom, fully furnished house for €350 a month. We love the area and made a lot of friends and had great times. But the winters are chilly and wet and it's damp. And I was having problems with my allergies despite going to an allergist and being on a lot of medication. And we cold much of the time, having lived in Panama, which is Hot year-round, we are warm weather people.

So we decided if we were going to keep living in Portugal, we would have to try the Algarve, which is a much more expensive area. Much more English is spoken and a lot of people think it's not real Portugal. It is real Portugal.

So we moved here in the summer. And so far, we're liking it here we are in the middle of December and outside today is a cool, rainy day, but the daytime temperatures reach 60 F. Nighttime's are in the 50s F or sometimes high 40s F, but it's a much milder winter and drier than it was up north.

Portugal has great people, it's easy to find most everything you want, to me Portugal is so much more like the U.S. than Panama or some countries we think too. Fruits and vegetables are grown here. They're wonderful.

We eat a plant-based diet, so it's pretty affordable to buy plenty of fruits and vegetables and things like that for healthy eating.

Healthcare, being older Americans, it was essential to find a place where health care was good. And that was another reason why we came here. Healthcare was actually good in Panama, by the way, and many of the countries we've been to or we've seen doctors or been hospitalized. Healthcare was as good or better in most times than any U.S. health care we've had. And at a fraction of the cost. Just an example, even in this expensive part of Portugal, we can walk into an international clinic close to where we live. I can see an English-speaking doctor for €30, which is about $35 and I've been there a few times and great experience. I've seen a gynecologist.

I've seen a general practitioner who take their time and and just sit down and talk to you about anything you want and answer any of your health concerns.

So healthcare here is good.

Another word on the infrastructure, the highway system is wonderful here. It's just like any U.S.non-toll highway system. There are toll roads, there are non-toll roads. The tolls can get a little pricey, but there's not a pothole anywhere. The roads are really well-kept here throughout the country and it's easy to get around. Water, water is very drinkable everywhere you go, it's delicious, it's pretty much all I drink other than an occasional coffee, I'm a big water drinker, so that's a big issue for me wherever I live. Of course, wine is also great, wine is just as cheap as water here, this is Europe. Electricity is good, very efficient. It is expensive, so you do have to watch what you use. Internet is very good and another essential for most of us that we cannot live without nowadays.

What's a typical budget to live in Portugal? It is one of the least expensive countries in Europe. A typical couple could live on about $2,200 a month, depending on where you're coming from, the U.S. And how you choose to live. If you're coming from New York City or California or you're used to having a couple of thousand dollar mortgage and two car payments and lots of expenses there. This will seem very cheap. If you're coming from small-town America where you're not having car payments, you have a house that's paid for. Maybe you don't go out to eat and you're living a simple life. This might be just as expensive or more expensive. We have friends here who live without cars, and that saves a big expense. We have friends living in big cities or small towns.

As I said, central Portugal in northern Portugal is much more affordable. Our rent was €350 there. Here we are repaying €850 and it's a much smaller place, but it's more modern and compact and easier to heat and cool off, which is something we're looking for. So you can find all kinds of budgets here. We did buy a car, gasoline or diesel is expensive and it depends how much you use it. Sometimes our budget is higher than others, depending on if we go out exploring or if we don't. These days during COVID, we're not allowed to go too far. So we're saving money that way. I think our typical budget is typically $2,500 and $3,000 a month and we live well, we do what we want. We don't eat out a lot.We have a gym membership at a very nice gym, which we can walk to from our house. It's more expensive than other gyms we've used here, but we like to stay fit and active. We think that's important.

One of the biggest reasons we moved out of the U.S. was healthcare. Nine years ago, my husband's healthcare was going to be $1,400 a month for the two of us. Here we pay €288 a month for the two of us, which translates to about $350 or $360. It's a very good, comprehensive plan. It covers my husband's pre-existing condition, he has a pacemaker which he was hospitalized for in Spain and had a great experience there. Healthcare here depends on age, pre-existing conditions, and how comprehensive a plan you want it you want it to be. We have friends that are paying very little, but maybe have a high deductible or it only covers it 50%, ours covers at 90% if the doctor is in network, 80% if the doctor is out of network and if they're out of network, we need to pay first and then get reimbursed. But so far, we've been very happy with it. Our younger friends are paying much less if you're over seventy-five here. I believe you cannot get insurance, but you can get a discount plan. And because healthcare is so affordable here, you can see a doctor €30, it's definitely doable. There's also the public system here. And it depends on where you live, some of the public hospitals are better than others, we've been told by Portuguese people the landlady that we rented from up north was a nurse and she told us this. And we know that coming from somebody that is in the business.

We had a friend that was in a hospital in the city, a British man, and we went to visit him in a public hospital. I was very impressed. I'm a germophobe. I'm cold all the time. The hospital was warm. It was clean. What's different for us Americans is that the hospital rooms here in the public system are wards he was in with five other beds. Only two of them, I think, were occupied. And it was very it was very quiet. Being British, he said that's very common in the U.K., an the wards are larger there. So for an American that's used to being in a private hospital room, for me that was different. But I've heard people have had great experiences in the public hospitals here as well as the private. Because we have to carry health insurance as Americans, we will choose to use the private system whenever possible, but in the event of an emergency, if an ambulance would come get us, we would be taken to a public hospital and have to decide if we wanted to be transferred from there, as it depends on the severity of our illness at the time. Hopefully it will never come to that.

So what is the climate like in Portugal? I like to tell people Portugal has some type of weather for everyone. Like I said, we're warm weather people. We like it warm most of the year, it's not really warm enough in the winter here, but we knew we'd have four seasons.

So the Algarve has the mildest temperature in Portugal, the winters are mild, daytime temperatures get up to 50s F and 60s F. Nighttime's are a little cooler. The Alentejo is the next southern area Summer's in the Alentejo are extreme. They get up into the hundreds, very hot, dry summers, cold winters, because it's it's kind of desert, like, from what I understand. And we looked into moving in to the Alentejo instead of the Algarve, but decided to come here.

Central Portugal, the winters are rainy again, most of the rain in the winter, although the area we were in had a lot of sea mist in the morning and fog, so a lot of dampness there. Mold can be a problem in some houses. You do need do need dehumidifiers here to help with that issue. Summers in the central region are not too hot, and there's a large British population there because they tend not to like extremely hot summers. Summers last year when we were there, when we decided to move were still in the 60s F, low 70s F. And for me, that's not summer. We were used to Panama Summers where it was 85 F or 90 F year-round.

So if you like cooler weather, the central area might be what you're looking at, the further up north you get, the winters get colder, the winters are not snowy here. There's no snow for the most part, except in the mountains. There is one ski area in the country. So you actually can go skiing here. The winters tend to be wet and rainy, the further up north you get, there might be some ice and a little bit of that, but no snow anywhere. Summer's are warm winters are cold, depending on where you settle in the country, but it has something for everyone. The whole Atlantic coastlines, one side of Portugal. So you're never too far from the ocean anywhere. Anywhere we've lived even when we were near Caldas, we were 10 or 15-minute drive from the ocean. So that's a nice feature, and we're also not that far from Spain. It's easy to drive a of couple hours into Spain, which is fun. It's like driving from one U.S. State to another. You just cross the border into another country.

So we're enjoying our time here. We love Portugal. I love everything about it. Because there's so much coastal area here, fish is very commonly eaten in restaurants. One of the typical things served at lunchtime here is the meal of the day the prata de dia. Which is a whole meal, usually, sometimes an appetizer, a drink and a dessert for one set price and depends on where you are in the country.

I think in the Algarve here, prices go for, I think anywhere from €8 or €9 to maybe $13. When we were in central Portugal, we ate lunch out once for €3.75 and that was the meal of the day. It was a breaded turkey cutlet with French fries and rice, not the healthiest thing. We were eating meat back then, but we have stopped since. So depending on where you are in the country, eating out is very affordable. Wine is very affordable, a glass of wine at a typical restaurant might be anywhere from €1.50 to €2.50. Unbelievable by U.S. standards. A cup of coffee here. It's typically a tiny little cup of espresso, but it goes for 60 cents or 70 cents. You can get larger cups for maybe €1 a little more expensive, but still very affordable. Pastries are wonderful. The national pastry is the pastel de nata which is a little custard treat. They're good. But the best ones I've had were in the city of Lisbon itself. There's an area called the line where they make them in. This factory rolls out up to twenty thousand of these delectable little pies on a busy weekend, having them fresh out of the oven there or delicious. And I could have eaten many more of them. So the food is good here. Wine is good here. People are wonderful here. The sights to see are spectacular. What's not to love. And it's affordable.

And it's fun to think we actually live in Europe. When I first mentioned a trip to Europe to my husband, he said, people like us don't go to Europe, only rich people go to Europe. Now, I have to continually remind him that we live in Europe.