If dark, dreary winter days aren't your thing, and you're toying with the idea of moving to warmer climes to wait out the storm, you may just be a "snowbird." Whether it's the Caribbean coast or a Southern Hemisphere city (where our winter is their summer)….a once-off escape or an annual migration…there are countless warm-weather options to choose from.
International Living's in-country correspondents and contributors have shared the best snowbird locations in their adopted countries—places where the weather is pleasant, amenities are plentiful, and the landscapes are breathtaking. From rural mountain towns to vibrant beach resorts, our guide details options for every taste. Hear from our correspondents below…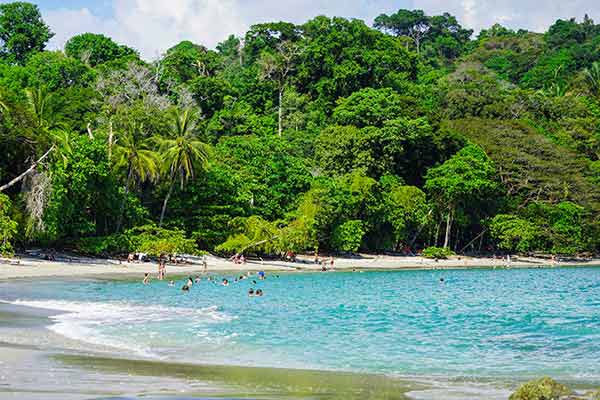 By Kathleen Evans
Costa Rica has long been a favorite winter escape among U.S and Canadian snowbirds, and it's not difficult to see why. Boasting tropical weather, lush rainforests, and long stretches of white-sand beaches on both the Caribbean and Pacific coasts, this unspoiled Central American country is the perfect destination for those in search of a laid-back getaway.
The climate in Costa Rica is typically tropical and subtropical; with a dry season lasting from December to April, and a rainy season from May to November. The country offers a wide variety of landscapes and microclimates, and while snowbirds can be found almost everywhere, some of the most popular destinations include the beach communities along the central and northern Pacific coast.
The country has two international airports—Aeropuerto Internacional Juan Santamaría near San José and Aeropuerto Internacional Daniel Oduber Quirós near Liberia in Guanacaste—so it is easier than ever to adopt a pura vida lifestyle and leave the harsh northern winters behind.
Las Catalinas, Guanacaste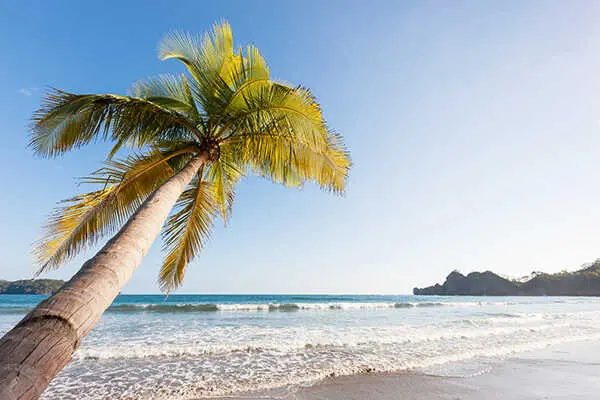 ©Mlenny/iStock
Although every beach community is unique in Costa Rica, Las Catalinas takes uniqueness to an incredible new level. In fact, when you first discover this village, you might suspect you somehow made a wrong turn and landed on the French Riviera or the Amalfi Coast. There is, quite frankly, nothing like it in the country. Nestled in the mountains over Danta Beach in Guanacaste's Gold Coast, this luxurious master-planned community offers a refined taste of Costa Rica. The first construction began in 2009 and the growth continues today.
Set in 1,000 acres of tropical dry forest, the developers had a dream to create a self-sustainable village with homes, condos, shops, restaurants, and boutique hotels—following a strict building code to maintain high-end, Mediterranean-fusion architecture and charming, pedestrian-only walkways and plazas throughout the entire village, all while being respectful to nature. There are no motorized vehicles allowed.
Las Catalinas offers guests and residents 20+ miles of hiking and biking trails and beach activities, such as SUP paddle boarding, kayaking, swimming, and snorkeling. The waves are not big surfing breaks (although you can find them close by down the coast), so the beach is family-friendly.
Taking care of the land is Las Catalinas' sacred duty. The developers have purposely restored the native ecosystem by planting native trees in a reforestation project and protecting wildlife by prohibiting any sort of hunting. They also have their own fire brigade to quickly douse any wildfires during dry season. They have installed a wastewater treatment plant and water management system to use grey water, and have established a recycling program.
Nature abounds in the area. Every acre offers opportunities for birders to catch these colorful, tropical flying delights. It is always a special treat to hear howler monkeys outside your window. And if you like under-the-sea adventures, snorkeling and diving at the nearby Las Catalinas Islands gives visitors a new and different glimpse of teeming Costa Rican marine life, such as manta rays, tiger sharks, sea turtles, and more.
Most of the homeowners here do not live at Las Catalinas full time and choose to rent out their accommodation, at least for part of the year. This creates a great opportunity for snowbird vacation renters, digital nomads, and those on a scouting trip (both short and longer term). Las Catalinas has its own management and leasing agent, or you can find many homes on popular rental sites, such as Airbnb or VRBO.
If you are one to choose a vacation home that leaves a smaller carbon footprint and embraces nature, all whilst enjoying luxury, Las Catalinas village may be a good fit for your winter home-away-from-home.
Manuel Antonio, Puntarenas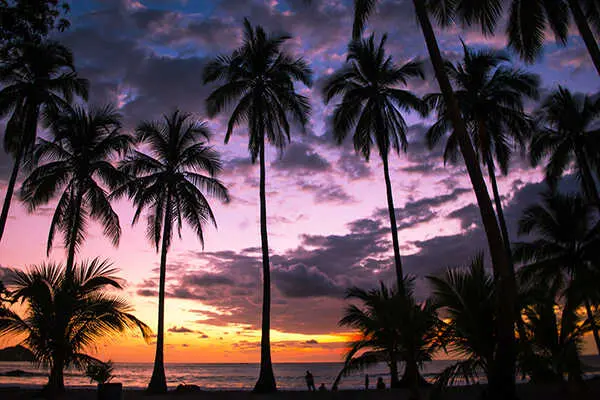 ©MalgorzataDrewniak/iStock
It is no surprise that one of the prettiest beaches in sunny Costa Rica attracts a great number of North American and European snowbirds choosing to make the holidays brighter. But there is a whole lot more to the Manuel Antonio community than pretty beaches.
The town has long been one of the top tourist attractions, boasting the number one most visited national park in Costa Rica, established in 1972—Parque Nacional Manuel Antonio. Although it is the country's smallest national park, the diversity of wildlife is nearly unparalleled. The forest is home to sloths, giant iguanas, white-faced monkeys, rare squirrel monkeys, and millions of colorful crabs. The park protection is unique because it covers the lush rainforest, as well as the beaches and coral reefs. As a visitor, you can soak up the sunshine and snorkel the pristine waters. (Changing rooms are available.)
The central location of this coast makes it easy to get to from the capital, San José, which is where the largest international airport is located. It is less than a three-hour drive from Juan Santamaria International Airport (SJO), 45 minutes south of Jaco's exciting nightlife and international cuisine, and 45 minutes north of laid-back Dominical with its fantastic surf and whale watching opportunities. The town of Manuel Antonio is right next to Quepos, with one of the largest marinas in the country, making it a popular place for anglers, yachting enthusiasts, and those interested in various water sports. Quepos also has a regional airport, so if the three-hour journey by land is not your thing, you can jump on a SANSA regional prop plane and have your toes in the sand in just over an hour.
Manuel Antonio offers a wide variety of housing choices, from basic to breathtaking, plus a good number of short-term vacation rentals and hotels too. The downtown area at the beach, near the entrance to the national park, is fairly flat and walkable. However, the road into town is twisting and turning coming down the mountain, affording "wow" glimpses of the Pacific Ocean as you travel downhill. In the hills you will find most of the luxury boutique hotels and million-dollar mansions. A car is recommended for long-term stays, but buses and taxis are cheap and readily available.
Those visitors who are part of the LGBTQ community find the lifestyle of Manuel Antonio to be the most welcoming beach community in the country—offering gay-friendly tours, restaurants/bars, guesthouses, and events throughout the year. Plus, the town has become a thriving arts community with art galleries and shows.
And while you are "snowbirding," the best part of being in Costa Rica is to be outside in this tropical paradise. Sportfishing from the Quepos Marina Pez Vela makes for a thrilling day out on the open seas. And you can grill your catch at home or bring it to a local restaurant to cook to your liking. The water activities do not stop there; you can also find great surf nearby, as well as water sports such as kayaking, SUP paddle boarding, and snorkeling. Since Manuel Antonio boasts a central location, a huge variety of outdoor activities are in abundance nearby, such as ziplining, hiking waterfalls, and even whitewater rafting—all within a short daytrip.
With all these great features, it is no wonder international snowbirds call Manuel Antonio their winter home.
Santa Teresa, Puntarenas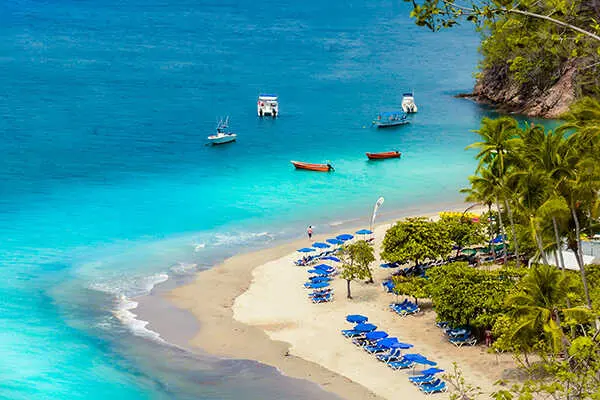 ©JasonOndreicka/iStock
At the bottom of the Nicoya Peninsula, you will find one of Costa Rica's newest boomtowns for snowbirds. Well, the town itself is not so new, but the spotlight on it is. The town's remoteness is part of its appeal—being around a five-hour drive from San José's Juan Santamaria Airport or from Liberia's Daniel Oduber Airport in the north of Guanacaste.
Originally a tiny surfing town with horrible roads and a beautiful jungle background, the area has metamorphosized over the last several years into a place to be seen. Tom Brady and Gisele Bundchen own a home in the area. And star spotters have murmured the names of Matt Damon, Mel Gibson, and Leonardo DiCaprio over the last decade. From just a few hundred residents not that long ago, Santa Teresa and its smaller neighbor Malpaís now have an estimated population of 2,000 to 3,000 full-timers—which can swell by a couple more thousand during high season.
This understated gem has a classically Bohemian artsy-surfer vibe. It is not driven by modern amenities and conveniences. It takes on more of a rustic, hideaway feel. A place where locals, visitors, and longer-term expats go to get off the grid and just "be." Whether that takes the form of surfing or healing or yoga, it is a popular place in today's unstable world to get back to the natural ebb and flow of our bodies and nature.
The roads have improved and now most of the trip will be paved (but not all of it). There are not many big cities nearby, but you will find what you need to sustain yourself in the way of grocery stores and markets, an emergency clinic, pharmacies, a bank, and a surprising number of restaurants. And although it is a mountainous area, a car is not essential as the main road is flat.
Just minutes away, you can explore Cabo Blanco Nature Reserve, Costa Rica's first official national park, founded in 1963. The biodiversity within the five distinct ecosystems is a dream for naturalists. It protects 3,140 rustic land acres and 4,420 marine acres. You can also spend a day taking a one-and-a-half-hour boat trip around the tip of the peninsula to Tortuga Island. The island's pristine blue water and powdery white-sand beaches give the appearance of the Caribbean. The uninhabited island will throw you back to Robinson Caruso's time while you enjoy a day filled with snorkeling and the island's famous barbecue lunch. There are also a number of gorgeous beaches to explore north of Santa Teresa. Isolated and empty, you will feel completely alone.
Since Santa Teresa is now booming, you will discover all kinds of construction and new developments in the area. Although most of the new housing is high-end, you can still find basic accommodation to fit a more limited budget. Even though the new boom has some of the old-time residents grumbling, it is a good thing for snowbirds ready to explore their next winter home.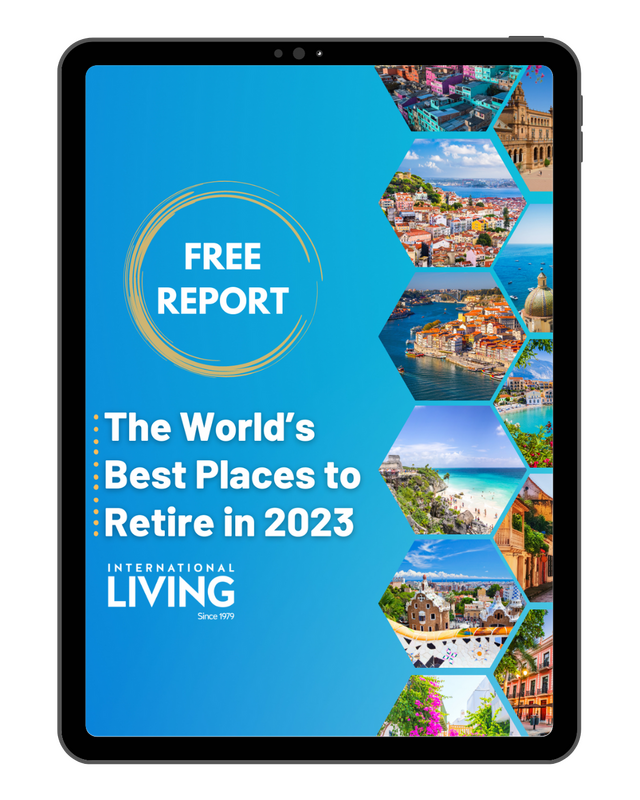 Get Your Free Report on the World's Best Places to Retire:
Learn more about the best places in the world to retire in our daily postcard e-letter.
Simply enter your email address below to sign up for our free daily postcards and we'll also send you a FREE report on The World's Top 10 Retirement Havens, plus access to over 10 more free reports. Our gift to you, on our favorite destinations.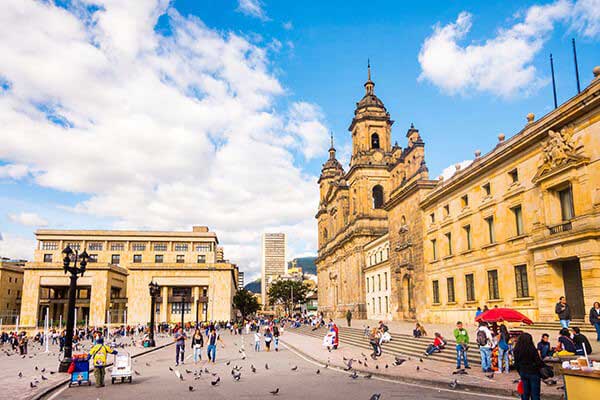 By Michelle Thompson
Colombia has come a long way since the days of drug cartels and guerillas. If you've only heard about how dangerous it is, don't believe the hype. Snowbirds, tourists, and expats from around the world have learned just how beautiful its cities can be. Cartagena, Manizales, and Santa Marta are just some of the fantastic travel and living opportunities available. It isn't just Colombia's ideal climate that captivates people. The cost of living is low, the people are wonderfully warm and welcoming, and there are countless beautiful landscapes and historic landmarks to discover.
While you should always be vigilant when traveling in Central or South America, there are several safe areas for you to unearth in Colombia. You'll hear many stories about foreigners who came to Colombia, fell in love with it, and decided to stay permanently. Here are the top three destinations you should consider if you're planning to escape the harsh winter cold this year.
Manizales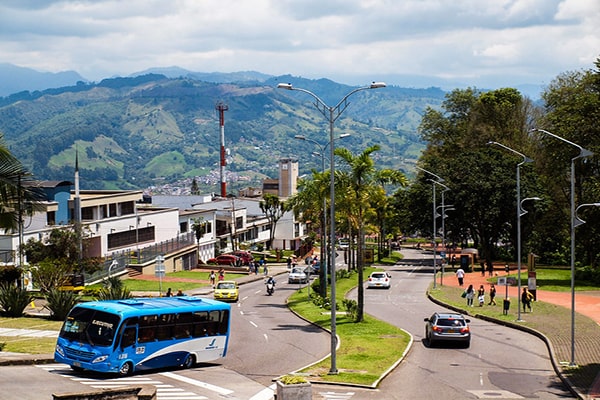 In the Colombian region of Antioquia, you'll find Manizales, a city of 432,400 people. The subtropical highland climate in this region never gets very hot despite being considered part of the tropics. The city is located in the northern part of the famous Eje Cafetero region and is a great starting point for anyone who wants to explore the smaller towns of Colombia where coffee production is central. In fact, the coffee cultural landscape of Colombia is one of the country's many World Heritage Sites recognized by UNESCO.
In Colombia, coffee is considered an important part of the national identity and culture. Its production is a big part of Manizales' local economy, as is tourism. In January, activities like bull fighting, horseback riding, and artisanal fairs offer locals and visitors a memorable experience. Afterward, take some time to relax and enjoy the many museums the city has to offer, including the Museum of Art and the Museum of Natural History. As well, the local Botanical Gardens feature several collections that represent the impressive natural florae native to Colombia. Next, walk by the neogothic Cathedral Basilica, located opposite Bolivar Square, one of the city's most recognized landmarks.
The terrain around the city of Manizales has beautiful snow peaks, lush farmlands, and one of the world's most interesting ecosystems called the páramo. Páramos are important natural landscapes found in tropical high-altitude regions like the Colombian Andes. The vegetation you'll see there is typically exposed to cool, windy conditions and grows in rich black soil that allows plants such as the treelike Espeletia, also called "big monks", and hairy-leafed genus to survive.
Colombia's terrain also boasts several hot springs, including Manizales' own Ruiz Hot Springs and Otun Hot Springs. In addition, you can enjoy the local Manizales Country Club for a day of golfing or visit the Hacienda Venecia coffee plantation for a tour. With an average high temperature of 70 F and nighttime lows of 54 F during the cooler months, Manizales' climate is ideal for anyone who wants to avoid the scorching heat of the Caribbean coast and enjoy warm, comfortable weather.
If you enjoy the outdoors and are looking for a hiking experience, plan a day trip to Nevado del Ruiz Natural Park. The entrance is in the northern sector of the park and is accessible through the Valle de las Tumbas. Make sure to check with local authorities about any potential volcanic activity. If you plan to hike up the mountain, give yourself time to acclimatize to the altitude, drink lots of water, climb at your own pace, and rest when you need it. Some sections of the trek are quite difficult.
Manizales offers all of the comforts of a city and is only a stone's throw away from the beautiful flora and fauna of the Andean cordilleras. Snowbirds who choose Colombia will have the occasion to immerse themselves in its colonial architecture and natural parks. You can also take part in numerous cultural events that showcase Colombian culture and traditions according to each geographic region.
Barichara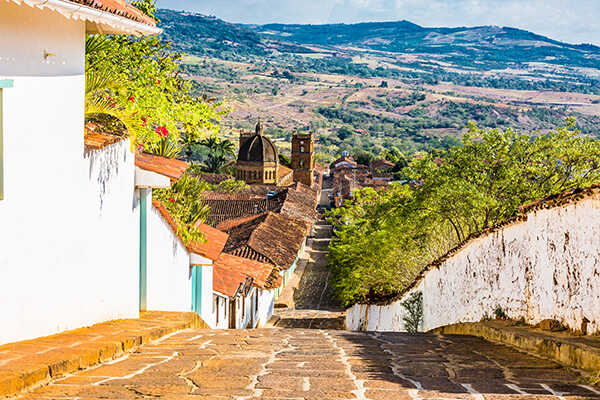 ©OSTILL/iStock
Barichara is a favorite destination among Colombians for celebrating the holidays or just getting away from the hustle and bustle of the city. This small town of just over 7,000 residents is located in the northeastern Santander department. In 2010, it was recognized for its architectural heritage and declared a heritage town as part of the Tourist Network of Heritage Towns of Colombia.
This appealing town has stunning architecture, as well as charming boutique hotels, restaurants, and cafés. Locals love to go all out during the month of December when it comes to decorating their town square. You can find delightful holiday light displays. If you take a walk around the town, you will surely come across one of three main churches: the Capilla San Antonio, the Capilla de Santa Barbara, and the Immaculada Concepcion cathedral.
The town's main attraction, however, is its attractive colonial-style streets and homes. Built in the Andalusian style and lined with cobblestone streets, the houses are made of layers of earth through a process called tapia pisado. The construction is sustainable and stable and was influenced by Indigenous home building traditions. Spanish settlers added colonial-style clay tiles on the roofs.
The town of Barichara will offer you a laid-back lifestyle. You can spend hours exploring the shops and restaurants and sample a variety of traditional Colombian fare and Santander specialties including goat and corn arepas. The town is also known for its artisanal terracotta production, and you can take a class yourself at the Taller de Ceramica Terracota. They hold weekly workshops that allow participants to create their own pottery and learn the art of ceramic-making. The people of Santander are known for their frankness and hospitality. You will likely learn about the area's stories from local residents who take great pride in being the first to fight for Colombia's independence from Spain.
Barichara has a warm, dry climate with balmy temperatures of 88 to 89 F year-round. Between April and November, there is more rain, and January is the sunniest and driest month of the year. Evenings can be a bit cooler and windy, but it's nothing a light sweater can't fix. To get to the town you will need to rent a car or take a bus through the mountains from the city of Bucaramanga, which has the area's nearest airport. Expect a winding road with spectacular views of the Andean mountains.
The mountainous terrain provides opportunities for amazing photography, and you can find several panoramic viewpoints throughout the town. Watching the sunset while having a beer or a glass of wine on a terrace as you hear some traditional music playing is a memorable experience. Barichara overlooks the Suarez River canyon. Drive back in the direction of the city of Bucaramanga for a day trip where you'll come across the Chicamocha Canyon. This region is a major tourist attraction and is nestled between the eastern cordilleras. The canyons, rivers, waterfalls, trails, and forests in Santander have made it one of the most significant places for tourism in Colombia.
Santa Marta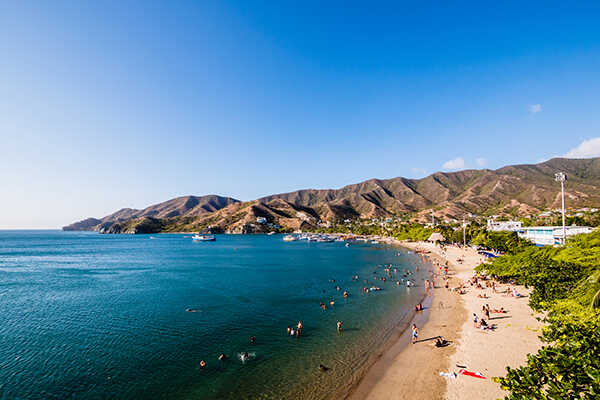 ©holgs/iStock
Santa Marta is another popular touristic district. It is located on the Caribbean coast of Colombia and is the fourth largest coastal city in the country after Cartagena, Barranquilla, and Soledad. Santa Marta was declared a biosphere reserve by UNESCO in 1979 due to its impressive lagoons, mangrove trees, and fauna. The region is home to manatees, otters, and alligators.
The climate in Santa Marta sees an average high of 89.6 F and a low of 75.2 F. The weather is usually similar throughout the entire year. The dry season lasts from December to April and the wet season from May to November. As a result, Santa Marta's economy reflects the hot weather. It is primarily based on tourism, port activities, fishing, and agriculture. The main products produced in the region include cocoa, cassava, coffee, and bananas.
There are several charming nearby villages around Santa Marta worth visiting. The village of Minca is a 30-minute drive outside of Santa Marta and is accessible by horse, taxi, or trekking. It is a great place to take in the local coffee and cocoa farms. In nearby La Victoria you can find Colombia's oldest coffee farm. Or, enjoy a visit to the nearby village of El Paraiso where you can swim at Marinka Falls.
The city of Santa Marta has a lot to offer. The estate of Quinta de San Pedro Alejandrino is considered an architectural landmark and dates back to the 17th century. The building has been transformed into an art museum and highlights pieces from several South American countries liberated by Simon Bolivar. The Rodadero Sea Aquarium and Museum are also worth a visit. You can access them from the popular El Rodadero beach. The aquarium is home to several species of sharks, fish, dolphins, and sea turtles native to the Caribbean coast of Colombia.
Tayrona National Natural Park is located at the foothills of the Sierra Nevada, the world's highest seaside mountain. It has several sandy beaches with crystal-clear water surrounded by swamps and forests. The nearby town of Cienaga is a wonderful option for a day trip. With a population of 105,510, it was previously named a heritage town by the Colombian government. The area is known for its banana production and was mentioned by Colombian author Gabriel Garcia Marquez in his book 100 Years of Solitude. Not far from Cienaga you can find Nueva Venecia and Buenavista, both known as palafito (stilt houses) villages. These settlements have homes raised above the water supported by stakes. In addition, visits to the Cienaga Grande Flora and Fauna Sanctuary and the National Natural Cienaga Grande Park are recommended. These natural preservation sites were created to protect the mangroves from the region. These trees are important to the ecosystem because they filter the salt from the sea into the rivers.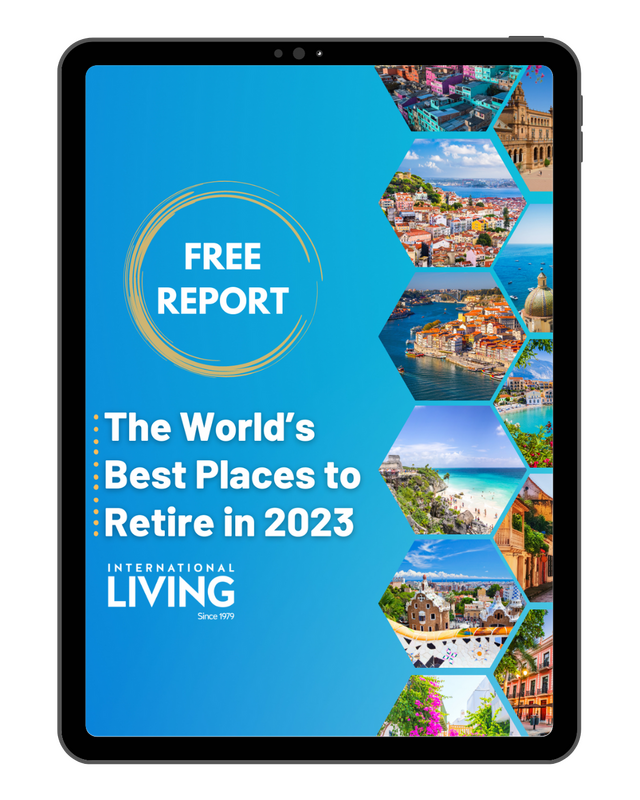 Get Your Free Report on the World's Best Places to Retire:
Learn more about the best places in the world to retire in our daily postcard e-letter.
Simply enter your email address below to sign up for our free daily postcards and we'll also send you a FREE report on The World's Top 10 Retirement Havens, plus access to over 10 more free reports. Our gift to you, on our favorite destinations.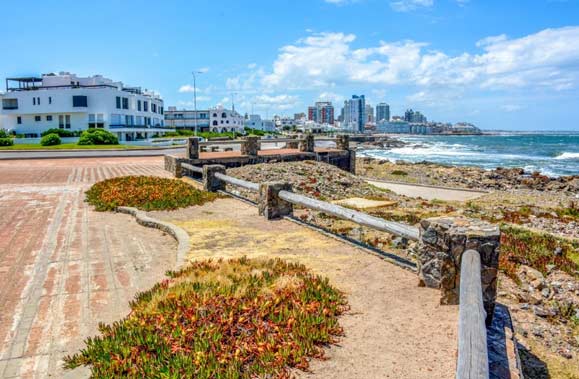 By David Hammond
If you're looking for a unique place to escape the North American winter, consider Uruguay.
Uruguay is different from many snowbird escapes in that it's not a tropical place. The climate of Uruguay is similar to the southeastern U.S., but it's in the Southern Hemisphere where the seasons are opposite. So, when it's winter in North America it's summer in Uruguay, with average daytime temperatures in the low 80s F.
Geographically, Uruguay's rural interior is a natural grassland used for farms and pastureland. Its coastline is long, sand beaches, punctuated with coves and rocky points, popular with summer vacationers and snowbirds.
For snowbirds, a 90-day tourist visa can usually be renewed for another 90 days (for a total of 180 days in the country). And, as far as snowbird-friendly locations, Uruguay offers some interesting choices.
Punta del Este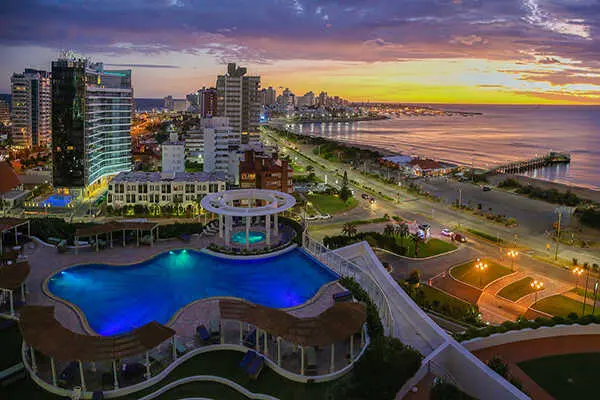 ©LuckyViks/iStock
In 1947, Mauricio Litman opened the Cantegril Country Club in Punta del Este. During the 50s and 60s, the club hosted special events to attract more international visitors. These included a film festival, tennis tournaments, and beauty contests. The club's success encouraged more resort development and more special events.
Today, the resort development that started in Punta del Este stretches more than 40 miles along the Uruguayan coast. And the history of summer events includes polo, formula car racing, and outdoor fashion shows.
If you spend a summer in Punta del Este, you'll find the days follow a rhythm. The mornings and late afternoons are good times to spend outdoors. You might go to the beach, surf, take a long walk, golf, play tennis, or socialize over coffee at an outdoor cafe. Between noon and 4 p.m., when the sun is strongest, is a good time to lunch in the shade, nap, read, and catch up on emails. And, in the evening, most restaurants serve dinner from 8:30 p.m. until after 11 p.m. Local-style barbecue and Mediterranean cuisine are both popular in Punta del Este.
If bars, nightclubs, and casinos are not your thing, nightlife also includes strolling along Gorlero, the main avenue on the Punta del Este Peninsula. On Gorlero, you can listen to street musicians or socialize over gourmet ice cream. (In summer, some of the ice cream places on Gorlero stay open past 2:30 a.m.)
You also find interesting places to visit near Punta del Este. One is a rustic, on-the-beach restaurant called La Huella offering world-class, quality food. It's in the affluent, low-key beach town of José Ignacio, 20 miles east of the Punta del Este Peninsula.
In the nearby countryside, you find three exceptional wineries: Alto de la Ballena, Viña Edén, and Bodega Garzón. The furthest from town is Bodega Garzon (41 miles). It's ranked as the fourth-best winery in the world by the World's Best Vineyards, a prestigious academy of the top wine and travel experts.
As far as shopping, Punta del Este adjoins the middle-class city of Maldonado, with a full-time population of 70,000. Between Punta del Este and Maldonado, you find a wide range of goods and services.
What about a place to stay? In Punta del Este you find a huge selection of furnished-and-equipped apartments and single-family suburban homes.
Many apartment buildings in Punta del Este offer hotel-like amenities and services. Common amenities include a reading and/or game room, a gym, and a swimming pool. Services often include a front desk with porters and daily housekeeping for your apartment.
Rents can be significantly higher during the peak summer month of January. However, many owners will negotiate a significantly lower January rate if you're staying for multiple months. You can find rentals at Punta del Este real estate offices and on websites like www.apuntavamos.com.
Some snowbirds buy a second home in Punta del Este. (Property in Uruguay is bought and sold in U.S. dollars. And you, as a foreign visitor, can buy and own property with the same rights as a Uruguayan citizen.)
If you own an apartment in a well-managed building, you can enjoy a lock-and-go lifestyle. However, if you buy a single-family home, it's wise to hire a security company and local administrator to keep your property safe and maintained when you're away.
Regarding communication with locals, the language of Uruguay is Spanish. But you find a higher percentage of English speakers in Punta del Este than in any place in Uruguay. This includes English-speaking real estate agents and property managers.
Concerning getting around town, some snowbirds rent a car by the month. Others live without a car, and then rent one occasionally when they need it. In many neighborhoods, you can do most of your day-to-day shopping on foot. Taxis in Punta del Este are expensive and not practical for everyday use. But buses, which are clean, safe, and inexpensive, can be a good way to get around some parts of Punta del Este and Maldonado. Good Punta del Este neighborhoods to live in without a car are near the base of the Punta del Este Peninsula and Avenue Roosevelt.
Most Punta del Este apartment buildings offer secure underground parking. If you buy an apartment that comes with a parking space, it can be a good place to keep your own car when you're away. If you don't own an apartment but do own a car, you can often rent a spot from an apartment owner with an extra parking space.
Is Punta del Este right for you? Punta del Este provides summer weather, clean beaches, and a long menu of things to do. While Punta del Este can fit a range of snowbird budgets, it does cost more than some other warm-weather getaways. However, many snowbirds seeking a high level of service find it's worth it.
Montevideo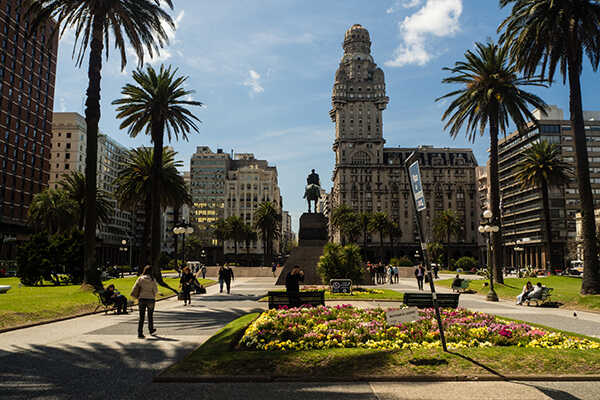 © Erlantz Pérez Rodríguez/iStock
The Río de la Plata is a large sea-like estuary notched into the east coast of South America. On the north shore there is a bay which forms the best natural harbor in the region. After seizing the bay from the Portuguese during colonial times, the Spanish sought to fortify it with a walled city on the small peninsula that forms the bay's southeast point. This city, founded in 1726, is Montevideo.
In time, the wall was removed and the city grew to cover more than 75 square miles. Today, Montevideo is the capital of Uruguay. It's a city of 1.4 million known for its interesting architecture, tree-lined streets, and sandy beaches.
If you're a snowbird in Montevideo, mornings are a good time for exercise. The best place for walking, running, or bike riding is along the Rambla. The Rambla is the promenade that runs for 13 miles along the city's waterfront. You also find several gyms and sports clubs in Montevideo.
Morning is also a good time to food shop at a street market. These markets, called ferias, are set up in most Montevideo neighborhoods two mornings a week. It's where you get the best prices on fresh produce, fish, and cheeses.
Regarding eating habits, most people in Uruguay eat four meals per day: Desayuno in the morning from 8 a.m. to 9 a.m.; almuerzo from 1 p.m. to 2 p.m.; merienda from 4 p.m. to 5 p.m.; and cena from 9 p.m. to 10 p.m.—sometimes later in the summer. In Montevideo, you find all kinds of great eating establishments. These include sidewalk cafes, barbecue places, and lots of pizza places. (Sixty-five percent of Montevideo's population are descendants of Italian immigrants.) You also find a range of ethnic restaurants, fine dining, and cool coffee houses.
Afternoons are a good time to explore new corners of the city, check out unique shops on pedestrian streets, visit one of the city's many museums, or attend an art exhibit. On weekends, you can watch (or join in) the street tango at Plaza Fabini. Entertainment choices include going to the movies, club music, or a performance at one of the city's two grand theaters. Theater productions include impressive local symphony and ballet productions. Carnival in Uruguay lasts 40 days. In Montevideo, it includes three parades and nightly shows.
A popular day trip is visiting one of the many fine wineries just beyond the city's rural edges. A popular way for English-speaking snowbirds to visit them is with Wine Explorers Uruguay, a company that organizes regular winery excursions.
Modern Montevideo is comprised of 62 defined neighborhoods. The most well-established neighborhoods for snowbirds and expats are Pocitos and the adjoining community of Punta Carretas. It's where you find two large shopping malls, more than 100 restaurants, and the city's most popular beach.
Other Montevideo neighborhoods to consider (where rents are often lower) include:
Parque Rodó and the adjoining neighborhood of Palermo—by a large beautiful park and sandy beach.
The southern part of the Cordón neighborhood—an up-and-coming area with unique cafes, shops, and night spots. (Often referred to as Cordón Soho.)
Ciudad Vieja and the adjoining neighborhood of Centro—the oldest parts of the city where you find original plazas and the city's earliest architecture.
Regarding a place to live, you find a selection of furnished-and-equipped rentals that offer monthly rates on websites like Airbnb.com/montevideo-uruguay/stays/monthly. While rents in Montevideo are quite reasonable, some snowbirds buy an apartment as an investment and to enjoy their own place with their own things.
When it comes to transportation, you find good bus services and affordable taxis. When you consider navigating city traffic and finding parking, it's easier to live in Montevideo without a car than with one.
Is Montevideo for you? If you like the idea of summer weather and a beach combined with the dining, entertainment, and cultural options of a capital city, Montevideo may be your place.
Atlántida
©Juan Bornio/iStock
While vacationing in Uruguay in 1935, Natalio Michelizza, an Italian working in Buenos Aires, discovered Atlántida, a coastal area with wide sandy beaches. At that time, Atlántida was in the early stages of development. Natalio recognized the area's potential as a resort community and spent the rest of his life in Atlántida subdividing land and building.
Today, Atlántida is the anchor town of a 42-mile stretch of simple resort communities known as the Costa de Oro (Gold Coast). During summer, when snowbirds and vacationers arrive, the full-time population of around 6,000 goes up by several multiples.
Outdoor activities in Atlántida may remind you of summer camp. It's common to see morning exercise classes on the beach. On the water, jet skis pull banana boats loaded with young people. There is also an amphitheater by the beach with occasional live shows.
As for dining opportunities, among Atlántida's dozen or so restaurants is Don Vito. It's a landmark place with a large menu on the city's pedestrian street, two blocks from the beach. Also, in the evening, it's common for snowbirds to invite new friends over for a barbecue.
A popular day trip or weekend getaway is a visit to Montevideo to dine, shop, and attend a live performance. (From Atlántida it's a one-hour drive to Montevideo's city center.)
Because Atlántida is the area's anchor town, you find more goods and services than you'd expect for a town its size. This includes two large grocery markets, four pharmacies, three hardware stores, two building supply stores, six dentists, and six medical clinics.
Concerning healthcare coverage, some snowbirds rely on travel insurance while in Uruguay. Others get accepted to a local private healthcare plan. (While you need to be a legal resident to get on Uruguay's state health plan, you don't need to be a legal resident to get on many private health plans.)
The most popular type of private healthcare option in Uruguay is called a mutualista. It's a comprehensive membership plan that often costs $600 to $720 per year. (Between $50 and $60 paid monthly by automatic withdrawal from a local bank account.) There is also a small copayment due when you receive medical services. You may find it's worth it to pay for the whole year, even if you're just in Uruguay four to six months at a time. Especially since you can get your annual physical and health screenings while in Uruguay.
Among the private clinics in Atlántida is Asociación Española. It's part of a large hospital network with its main headquarters in nearby Montevideo. So, you can get access to the organization's top specialists and specialty centers if you ever need it. (You also find an Asociación Española clinic in Punta del Este.)
About housing, you can find some apartments in Atlántida, but most furnished-and-equipped rentals are modest single-family homes, which you can find through one of the four real estate offices in town. While some snowbirds buy a single-family home in this area, it can be a challenge to manage long distance without trusted local neighbors to keep an eye on things for you.
For transportation, most snowbirds in Atlántida rent a car. However, if you live in the neighborhood of Atlántida Sur, everything is close enough that you can get around on foot. There is also a regular bus service between Atlántida and Montevideo.
Is Atlántida for you? Atlántida provides an ideal setting for a laid-back getaway. And while you find fewer English-speaking locals in Atlántida than in Punta del Este or Montevideo, you can probably get by using a translating phone app while you learn some basic Spanish. Also, you will likely meet English-speaking expats and other snowbirds in Atlántida who can help show you the ropes.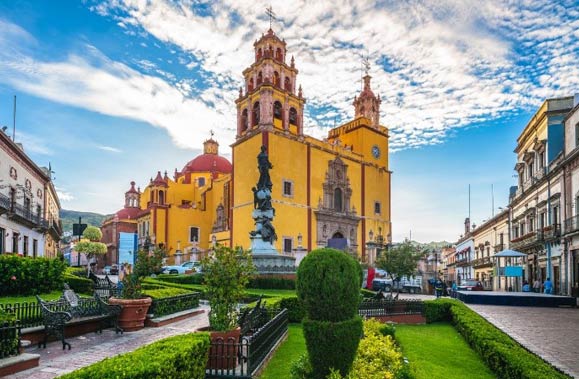 By Jason Holland
You'll start to see the first land towards the beginning of December, with probably the largest group coming right after Christmas. By Easter, they're gone. Of course, you'll always see a few outliers on either end.
I'm talking about snowbirds, people from mainly the United States (especially northern states) and Canada who, when temperatures drop and the snow starts falling, flee chilly winter weather for warmer climes.
Originally, their destinations were places like Florida and Arizona—and people still certainly head to Palm Beach and Scottsdale—but, soon enough, Mexico was welcoming so-called part-time expats from the U.S. and Canada for the winter season. It stands to reason. It's close, so travel is easy and low-cost. In fact, many visitors actually drive to their preferred destination in Mexico. And, of course, the weather is warm and pleasant.
And it's not just beach destinations. Snowbirds heading to Mexico also flock to places with vibrant arts and culture, top restaurant scenes, and other amenities and things to do. Often, they go to the same places each year, meeting up with the same friends each year.
While expats are living in these places year-round, there is a definite "low season/high season" shift when winter comes in. It makes these towns livelier, as you might expect. So, make sure to set your restaurant reservations well in advance to beat the crowds and get a good table!
Something to consider is the housing question. Some snowbirds have bought homes or condos in their favored location. They return each winter. But when they're not there, they rent out their place to make a bit of money.
Some snowbirds aren't ready to buy, so they rent each year. This can get tricky. Good homes and condos in popular destinations get snapped up quickly. So, it's best to reserve a place well in advance, which could mean putting down a deposit ahead of time to secure it with the landlord. Local real estate offices also maintain listings of medium- and long-term rentals appropriate for snowbirds, although usually it's more expensive than going through an individual owner.
Snowbirds can be found all over Mexico. But here are five of the most popular destinations.
Puerto Vallarta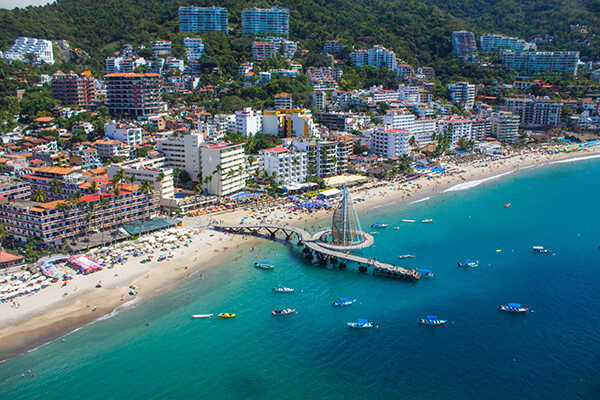 ©Ignativss/iStock
Set on the expansive Bahia de Banderas (Bay of Flags), one of Mexico's largest bays, Puerto Vallarta is a place of awe-inspiring vistas. The verdant mountains drop dramatically close to the shore, in some places ending in rocky, cliff-lined coves, in most places, pleasant sandy beaches.
Puerto Vallarta, on Mexico's central Pacific coast, is Mexico's second most popular beach destination after Cancun. A busy international airport makes access easy. And visitors are attracted by the long list of things to do. Boating, fishing, sunset cruises, golf, surfing, shopping in everything from modern malls to craft markets, dining at simple seafood "shacks" to fine-dining restaurants…it's all in Puerto Vallarta.
The heart of the action is the Zona Romantica, the neighborhood in the center of this seaside town, whose narrow streets are lined with bars, restaurants, cafes, shops, spas, and more. It's the place to explore day or night. It's also the site of the popular Los Muertos beach, which is the perfect place to rent a lounger under a palapa and have a server bring you cold drinks and delicious food (try the ceviche) all day long.
Another can't-miss in PV, as the local expats call it, is the malecon, a miles-long pedestrian promenade along the coast that is popular with locals and tourists alike. On one side you have the Pacific and a series of abstract public art sculptures, on the other a seemingly endless series of souvenir shops, restaurants, bars, nightclubs, art galleries, tequila tasting rooms, and the like. Yes, it's quite touristy but still a lot of fun.
In the early evenings, families come out for a stroll, perhaps some grilled shrimp, grilled corn, ice cream, cut up mango with chili powder, or other treats from the plentiful street food vendors.
There are a few different places to stay. You can be "in town," Puerto Vallarta proper, which puts nightlife, cool cafes, and more close by. A walk-to-the-beach condo can be $500,000+ in the best locations in a new building. But you can also find options under $300,000…even under $200,000. For these types of units you would rent $1,000 and up per month.
You can also check outlying, up-and-coming neighborhoods like Versalles where real estate can be a bit more affordable, with two-bed condos going for under $200,000.
Some snowbirds prefer a more resort-style experience. Nuevo Vallarta, a massive master-planned development with several separated gated communities and condo buildings within its borders, offers beach access, golf, tennis, and other amenities. Golf carts are a popular mode of transportation. A three-bedroom condo in this community starts at just over $200,000.
Lake Chapala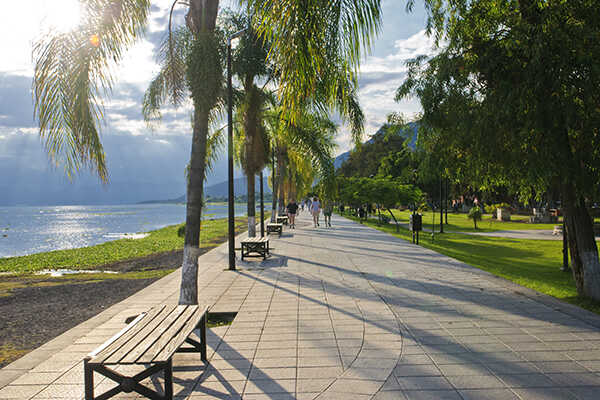 ©Esdelval/iStock
On the north shore of Lake Chapala, Mexico's largest lake, is a cluster of small towns and villages collectively known as Lakeside. This is one of the country's longest-running expat destinations. Retirees and other expats have been coming here going on 60 years thanks to the mild climate, natural beauty of the expansive lake surrounded by verdant mountains, and, of course, the fun and friends that come with being in a large expat community.
Most foreigners live in and around Ajijic and Chapala, the two main towns, as well as San Antonio Tlayacapan and San Juan Cosala. There are many gated communities of homes and condos, even a golf course/country club-style development. The most sought-after properties are those set on a hillside with panoramic lake views. That adds to the list price as you might imagine.
But you can also live in town, where you can walk to any number of restaurants, from local Mexican to international choices like Thai and Mediterranean, as well as cute little boutiques, cafes, and neighborhood shops for groceries. It's small-town life at its finest. In Ajijic, a late afternoon stroll along the malecon, the promenade along the lakefront, is a popular activity.
The expat community in Lakeside is particularly active, with much of the action centered around the Lake Chapala Society. This community organization hosts classes from Spanish to photography to yoga…and much, much more. There are also volunteer opportunities. And, of course, plenty of parties, ladies' lunches, and dinners out…happy hours, too.
A big plus to living in Lakeside is that Guadalajara, one of Mexico's largest cities, is less than an hour's drive, which means all the big-city conveniences, like top medical care, an international airport, and good shopping at big-box stores are accessible.
Medium- and long-term rentals in the Lake Chapala area are going for $600 and up for simple homes; $1,200 and up for larger, more well-equipped properties in a better location. Homes for sale vary widely. Ultra-luxurious places are going for close to $1 million and simple places for under $100,000. The sweet spot for expat/snowbird homes is in the $150,000 to $300,000 range.
Los Cabos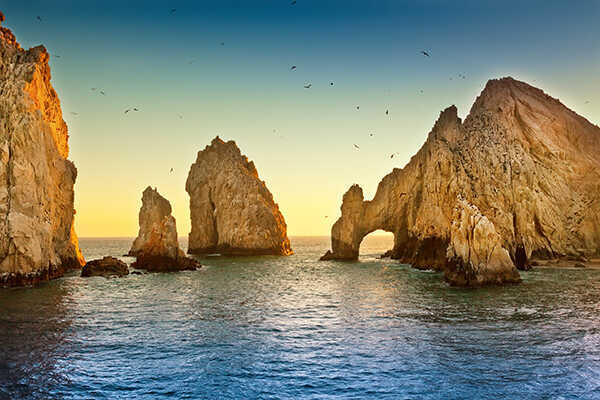 ©Ruth Peterkin/iStock
At the far tip of the Baja California peninsula, Los Cabos is a long-time favorite vacation destination that also hosts a significant snowbird population each year.
Cabo is actually made up of two towns—San Jose del Cabo in the east and Cabo San Lucas to the west—which are about 30 minutes apart by car, and the territory in between them, which is mostly residential.
To be sure, Cabo is not for everyone. The beaches are pristine, and there is plenty of fun. The marina in Cabo San Lucas offers boat tours, fishing, sunset cruises…there is world-class golf…margarita bars, craft breweries, fine dining, and street tacos…and you can't forget the buzzing nightlife scene in Cabo San Lucas or the art galleries of San Jose del Cabo. But this is also the desert, with the climate and look to match. However, many consider the landscape to project a stark beauty.
An international airport, with multiple direct flights to the U.S. and Canada, makes it easy to get to. It's quite popular with Californians and others from the western U.S., including many celebrities who have second homes in Cabo. But it's only a 20-hour drive from the border up at the top of the peninsula in San Diego. And a surprisingly large amount of people make the drive, especially snowbirds. They might have pets they're bringing (either too large or too many for the plane) or perhaps extra items they'll need during their months-long stay.
And simply having a car while you're in Cabo can also be handy because much of the community is spread apart.
Housing can be pricey in Cabo, and there are plenty of luxury properties. But look in the right places and you can still find two-bedroom condos, with views and/or quick access to the beach, for under $250,000. Rentals vary, but figure on paying at least $1,200 a month and up.
Riviera Maya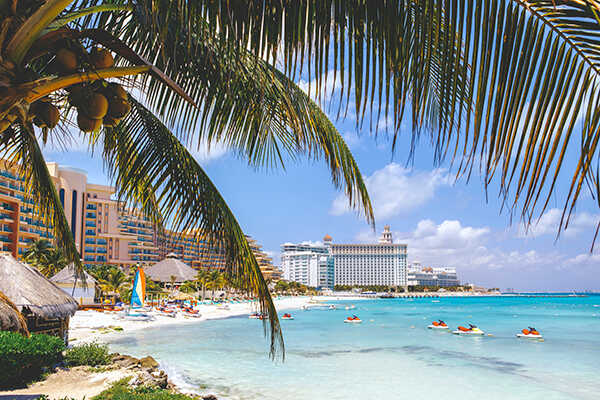 ©pawel.gaul/iStock
The Riviera Maya is Mexico's Caribbean coast. Eighty miles of powdery white-sand beaches, clear azure waters, swaying palms…
The region stretches from Cancun in the north, with an international airport and a hotel zone packed with large resorts and all-inclusives, to laid-back but rapidly growing Tulum to the south—with several more appealing towns in between, many of which are snowbird havens. (More on that in just a moment.) And the arrival of snowbirds is definitely noticeable.
Winter is the best time of year in the Riviera Maya, weather-wise. For much of the year it is warm and humid, with a climate much like South Florida. But in winter, temperatures, and humidity drop a bit…it can even feel a bit cool in the morning. And there are sea breezes, too. Plus, it hardly rains at all because it's outside the rainy season. Blue-sky days are the norm.
Boating, snorkeling, scuba, swimming in cenotes (freshwater pools in the jungle), nights out on the town, restaurants of every cuisine, adventure theme parks, shopping, checking out Mayan ruins…there's all sorts of things to do on the Riviera Maya. And, of course, you can also just laze away the days on the beach.
As far as the snowbird scene, there are a few particularly popular locations.
The little seaside town of Puerto Morelos, just south of Cancun, is a favorite destination for Canadians especially. The pleasant town square is a gathering place day and night and is lined with cafes, restaurants, and little shops. You can enjoy any meal of the day here. And, you can even bring something home for dinner from the market or the fishing cooperative that sells fresh catch. Along the water there is a short malecon, as well as a fishing boat dock. It's very laid-back and quiet, with uncrowded beaches, exactly what some winter residents are looking for.
Playa del Carmen is a thriving city of 300,000 that has grown rapidly since the 1980s and the introduction of widespread tourism. There aren't as many big resorts here, certainly nowhere near as many as Cancun. It definitely has a more cosmopolitan and urban feel, with the heart of the action being 5th Avenue, a miles-long pedestrian promenade that parallels the beach, lined with world-class restaurants, cute shops, bars, nightclubs, live music venues, and more. It's kind of a party place. And snowbirds seeking a busy social life do well here. You can live right downtown, where you can walk to everything, or in gated communities on the edge of town that offer a bit of relief from the tourist crowds.
At the far southern border of the Riviera Maya is Tulum. Once a haven of backpackers and hippies, this bustling beach town has grown up in many ways, although it definitely still has a bohemian vibe. It doesn't have quite the same influx of snowbirds each year but is more of a trend as Tulum goes more mainstream. Tulum is said to have some of the most beautiful beaches in the region, and the restaurant scene is quite good. If you want the feel of a city, but less than Playa, Tulum is a good bet.
One last place worth mentioning is Puerto Aventuras. This isn't a town per se, but rather a sprawling, master-planned residential resort. There are major hotels and resorts on the beach, as well as a mix of condo developments in the residential area. It's gated with security. There's a marina, golf course, beach, restaurants, shops…even a school. It's very self-contained and many people come for the winter season and spend most of their time within the borders of the community.
In good locations in the Riviera Maya, it is possible to find two-bedroom condos, the ideal snowbird "habitat" because they are lock and leave, featuring amenities like a community pool, and that can be rented out when not in use by the owner, for under $250,000, even under $200,000. Seaview or walk-to-the-beach units can command premium rates. For rents, you're looking at $800 and up for nice furnished places close to the water.
San Miguel de Allende
©ferrantraite/iStock
Elegant, Baroque, Spanish colonial architecture as a backdrop. A vibrant traditional culture with no shortage of festivals, fiestas, and celebrations throughout the year. A buzzing arts scene showcasing the talents of local and international painters, sculptors, and other artists. There's all that and so much more that attracts winter residents to San Miguel de Allende, which is in the highlands of central Mexico, about four hours north of Mexico City. A major draw is the temperate climate. Although there can be cold days in winter, for the most part you'll have chilly early mornings, which quickly give away to sunny blue skies that warm things up for the rest of the day.
Snowbirds arrive to find no shortage of activities.
Of course, simply strolling the narrow cobblestone streets lined with the restored historic homes painted in shades of scarlet, vermillion, and umber (which have been repurposed into art galleries, cafes, restaurants, and boutiques selling one-of-a-kind designer fashions, as well as private homes)…or relaxing in one of the many shady, well-kept public parks and plazas…can be just as fulfilling as anything else. The historic center was designated a UNESCO World Heritage Site in 2008.
The first expats in San Miguel de Allende were actually GIs, World War II veterans who discovered they could use their GI Bill to study at the city's art institute and that the cost of living was very low. Soon SMA's reputation grew over the decades, and it drew expats from around the world. Today, an estimated 10% of the population of 140,000 is said to be foreigners. That expat population certainly reaches its peak in winter, as a good amount of snowbirds do come into town. The difference is noticeable in the number of people in the streets, the wait times at restaurants, and the crowds at the Saturday morning organic farmers' market. But it's never unmanageable, and it's always fun to have new people in town. Plus, it retains its bohemian, artistic nature.
Real estate can be pricier in San Miguel than in some other locations. But there are still deals to be had, including two- and three-bedrooms in good neighborhoods within walking distance to the historic centro for under $200,000. Rentals start at around $500 for a one-bedroom apartment in a good location. Try $800 and up for a two-bedroom apartment. That's furnished, by the way.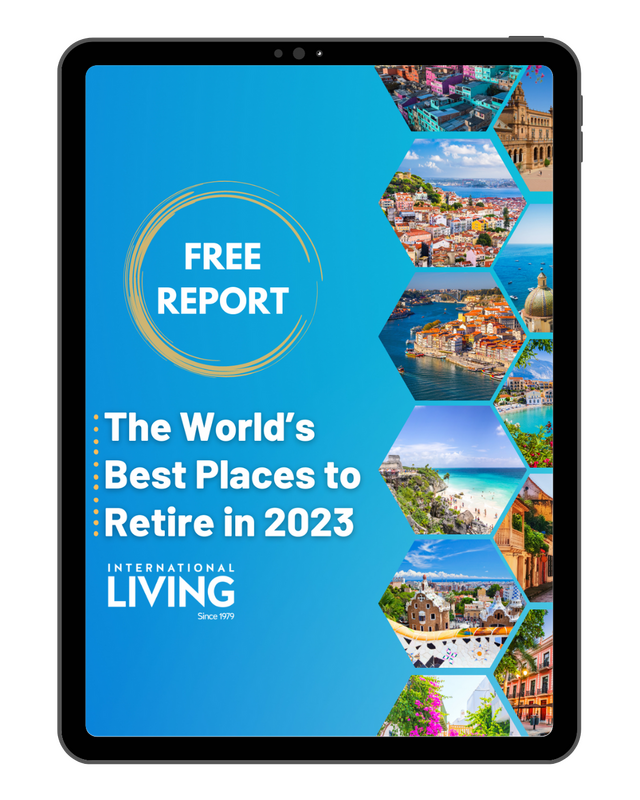 Get Your Free Report on the World's Best Places to Retire:
Learn more about the best places in the world to retire in our daily postcard e-letter.
Simply enter your email address below to sign up for our free daily postcards and we'll also send you a FREE report on The World's Top 10 Retirement Havens, plus access to over 10 more free reports. Our gift to you, on our favorite destinations.
By Donna Stiteler
The idea of living in Ecuador's Andes mountains may conjure up images of walking through knee-high snow, through blinding blizzards with gale-force winds so strong you'll need crampons to just walk through downtown Cuenca's streets. But remember, the Andes mountains sit atop a giant heating pad called the equator, so the weather is temperate everywhere in Ecuador, even at altitudes of 8,000 feet.
However, during Ecuador's winter months (June to September) the temperature can dip to a low of 50 F when skies are overcast and it's raining, so expats living in the Andes have a few fun places to escape when they need warmer climates.
Salinas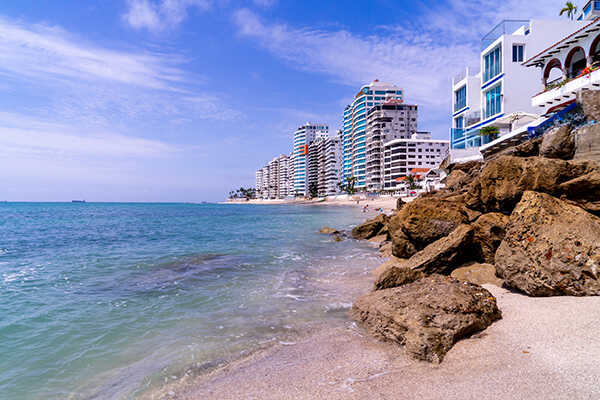 ©joreasonable/iStock
Salinas is a relatively small town with a population of 40,000, which swells to 200,000 during Ecuadorian holidays as it's a favorite getaway to enjoy lazing on the beach, water sports, game fishing, whale watching, jet skiing, parasailing, and surfing. It's no wonder that it's the go-to place for expats wanting to escape the chill of winter. Modern condos line the 1.6 miles of white-to-gray sand beaches in Salinas. Expats in the Andes flock to Salinas because it's typically 10 degrees warmer in the winter months and there are plenty of towns nearby offering all kinds of adventure.
The beach is divided in half by a jetty on a crescent-shaped bay with a malecon (boardwalk) loaded with street vendors hawking everything from shrimp on a stick to jet ski rides.
To the north is San Lorenzo Beach, Salinas' main and most crowded beach which sits on the malecon. Opposite the beach are dozens of restaurants and bars where you can grab a seafood dinner with fish or shrimp fresh off the boat for $6 at a trendy restaurant. The water is generally calmer than other beaches in the area, due to its sheltered crescent shape, making it ideal for swimming.
To the west of San Lorenzo Beach is Chipipe Beach, which is quieter but with lots of hotels and restaurants nearby (only without the bustling crowds). It's better suited for families or for those not looking to party nonstop, but is still close enough for you to join the lively nightlife.
La Chocolatera is at the westernmost point of Ecuador and has three main attractions: La Fae Beach, where a boarded walkway leads you to a seal colony; El Morro (or little hill), with a lighthouse and incredible views of Salinas; and La Chocolatera, whose tempestuous waves break on the dark rocks, which makes it look like a giant bowl of frothy chocolate being stirred, hence its name.
Accommodation is not hard to find in Salinas as there are lots of rentals in the condos lining the beach, many found on Airbnb. Expats usually flock to Salinas during the winter months (except for holidays) as it's one of the world's least-expensive beach resorts where a nice, private, single room in a boutique hotel just one block off the malecon goes for $30 a night.
If you want to be nearer to town, Chescos Hostel & Hotel is located on San Lorenzo beach on Salinas' malecon. Rooms start at $35 and you'll be within a two-minute walk of a wide variety of restaurants, bars, and a supermarket.
For a more unique experience try Hostería Ecológica El Faro, which is located east of the malecon away from the crowds on one of the finest beaches in Salinas. What makes it a standout is its lush botanical garden and onsite zoo filled with turtles, parrots, lemurs, and monkeys. Each room at Hostería Ecoloógica has a view of the garden and offers a free daily American breakfast and private beach area for swimming, starting at $100 a day.
Puerto López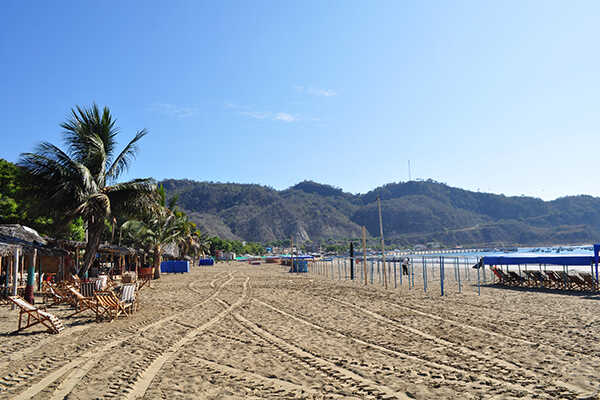 ©pabloborca/iStock
Puerto López (population 16,000) is a small fishing village set on an arched bay on the Pacific coast. The town features a vibrant waterfront area which is lined with many beachfront restaurants serving fresh fish right off the boat from their hauls of Amberjack, dolphin, wahoo, marlin, and tuna. There are tiki bars that line the beach serving exotic drinks or giant pilsners for just a $1. There are some nightclubs, but most of the enjoyment takes place during the day when you can enjoy sitting out under large umbrellas, or going on ecotours.
The biggest draw from mid-June to October is going on a whale watching tour where humpback whales breach close enough to splash water on you. This is the time of year whales mate and the odds of spotting them as they migrate up the coast are good.
You can also hop a boat to Isla de la Plata, 30 miles offshore, which was a pirate hideout dubbed "the Island of the Silver." But the main attraction is a boat tour to "The Poor Man's Galapagos" where you can spot blue- and red-footed booby, nazca booby, frigatebirds, albatross, pelican, and other seabirds that nest in colonies without the high costs. Snorkeling is popular as the island is surrounded by a coral reef, and on the way to the island you'll spot pods of dolphins that follow your boat.
For nature lovers, just north of Puerto Lopez is Los Frailes, which is part of the National Park of Machalilla. There is a two-hour hike in this area that goes first to Playita Negra, a black-sand beach, then to La Tortuguita beach, to a lookout point over the Pacific coast.
Also north of Puerto Lopez is the Indigenous village and archaeological site of Agua Blanca. For $5 you can hike around the site which ends at a sulfur lagoon, where guests can swim and cover themselves in mud from the bottom of the lagoon. There is also a lookout point and two small restaurants.
For history lovers, visit the Salango community, whose ancestral roots date back about 5,000 years, which is located near Machalilla National Park. Not only will you discover the ancient heritage of the Indigenous, but the island of Salango is home to beautiful species of seabirds like blue-footed boobies, frigates, and pelicans among others. There's also a marine sanctuary, where you can spot schools of tropical fish and coral reefs while snorkeling or skin diving.
But the beaches aren't the only reason expats head towards the Puerto Lopez area. Because ecotourism is big in this area, there are several relaxing resorts which combine sun with guilty pleasures.
Hosteria Mandala is devoid of the usual distractions such as pools and televisions, instead this hotel is located in a vast botanical garden with hundreds of different types of plants, trees, and flowers where iguanas, white bats, and hummingbirds home. The beach cabins/rooms have access to terraces with hammocks with views of the botanical gardens. Rooms start at $45.
For those wanting a more upscale private oceanside retreat, Hosteria Ecologica El Faro features an onsite zoo with turtles, parrots, lemurs, and monkeys. There's a free daily American breakfast and a private beach for swimming. Rooms start at $100 for two people and they'll organize off-site tours for you.
Montañita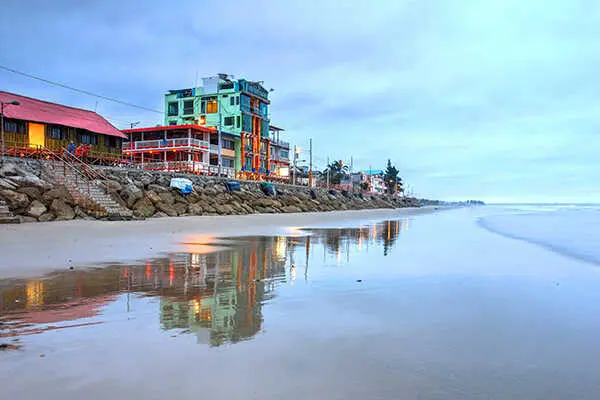 ©Bogdan Lazar/iStock
Nearby Puerto López is the beachfront bohemian village of Montañita, where surfing, hair braiding, jewelry-making, and artisan shopping is set against a backdrop of nonstop partying. Going barefoot without a shirt is the dress code and what happens in Montañita stays in Montañita, but without the glitz of Vegas. It's ideal for the kind of laid-back person who, regardless of age, wants to drink beers all day, ride bicycles around town, and try out their surfing skills.
There's a steady stream of backpackers who come to Montañita to surf, as well as many cosmopolitan tourists hailing from around the world who just want to kick back and raise a little hell. Because of this, there are plenty of cheap digs in town for those who want to walk out their door and be in the heart of the party on Cocktail Street, as well as upscale resorts within walking distance of town for those who want to enjoy the vibe but want a place with modern amenities far enough away from town to get a good night's sleep.
For those wanting an upscale experience, Montañita Estates is a brand-new Tropical Boutique Hotel sitting on a hilltop just a one-minute walk to Montañita's bars, restaurants, and the beach. The main attraction is their tropical oasis which has two beautiful pools and jacuzzis, tucked into poolside gardens. There's a yoga studio and fitness center on site as well as Brawa Restuarant, a poolside bar, and lounge. Prices start at $75.
Hotel Olympus is located in the heart of Montañita on the famous Cocktail Street a few meters from the beach. Rooms are not fancy or big but if you want to be in the heart of funky town and party all night, this may suit your needs. Prices start at $35.
Vilcabamba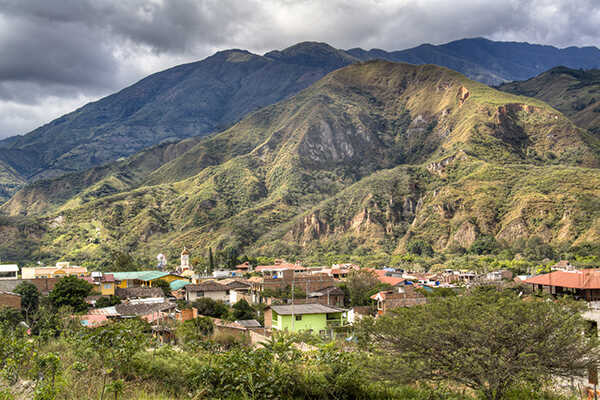 ©nicolasdecorte/iStock
If you're not a beach person but want to escape the chill, then Vilcabamba, a small village (population 4,000) located four hours south of Cuenca, offers many spa resorts which offer massages, organic meals, and hammocks surrounded by lush landscapes. Vilcabamba has long been internationally recognized as the "City of Longevity" because of its preponderance of centurions. Expats who want to enjoy a healthy living experience and a stress-free environment come to the village.
A favorite expat hangout is Izhcayluma eco-resort, whose prices are frozen in time. Cabins with private porches and hammocks are set in lush landscapes and hummingbirds visit you daily. Rooms start at $20 and you can indulge in $20-an-hour massages or facials, or take free yoga classes. Their restaurant serves organic meals with vegetables and fresh honey from their onsite farm. Accommodation includes self-guided hiking trails, a swimming pool, and a bar equipped with a large television and pool table. A big plus: Izhcayluma will pick you up from your Cuenca location in their spacious private bus and carry you to their resort.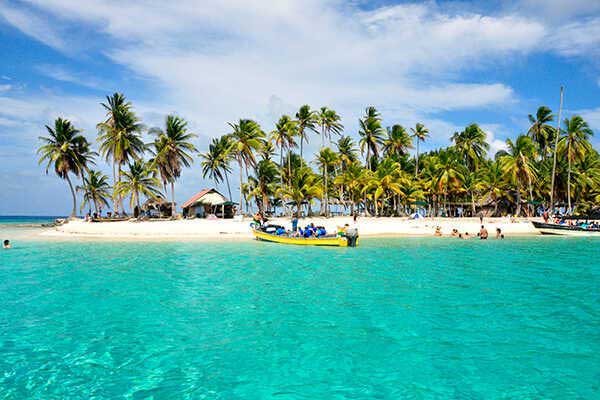 By Jim Gault
Getting tired of cold winters and snowflakes? Dreaming about escaping to a warmer climate with cool ocean breezes and flocks of pelicans flying gracefully in single file above glistening waves crashing onto the shore? Then consider Panama. With a variety of beautiful and less crowded beaches, a lower cost of living, and close proximity to North America, Panama is a great place to spend your winter months. Pedasi and the Coronado area on the Pacific Coast and the mountain town of Boquete are Panama's top targets for snowbird tourists.
Pedasi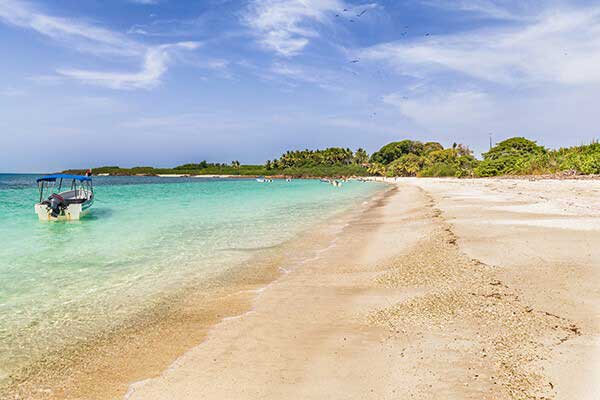 Pedasi is a small fishing town on the Azuero Peninsula in the middle of the country and about an easy five-hour car ride from Panama City. The area has almost 30 miles of unspoiled coastline with about a dozen pristine beaches. The village is built around a quaint church on a traditional town square, just three miles from three unspoiled, empty beaches. Colorfully painted homes line the main street and dozens of beautiful murals by professional artists and painted utility poles decorate the village.
The top reasons for snowbirding in Pedasi are, first and foremost, the miles of beautiful, empty beaches perfect for peaceful walks, clean air, and great fishing. There are no long rows of homes, pay-to-park lots, ice cream and hot dog vendors, or police. Just a few people walking their dogs or maybe enjoying a cooling boogie board ride. Pedasi has a small-town country feel with a slower, and improved, quality of life. The people are friendly and have a helpful nature.
If you choose to snowbird in Pedasi you will be embracing a well-established expat community with enough conveniences and enough things to do. The reduced cost of living will help make your dollars go further. You are also in a great location to explore slightly further afield. Playa Venao's picturesque one-mile-wide crescent bay and beach with great people watching opportunities and the best surfing in Panama is only 30 minutes away. You're also in a great central location for short day trips, and within a five-hour drive of Panama City, mountains, or other great beach communities
The pace of life in Pedasi allows snowbirds to enjoy relaxing activities such as reading a good book, whale watching (in season), fishing from the beach or offshore with a captain, taking a short boat ride and snorkeling in the sparkling, azure-green waters of Isla Iguana national park, or going on a midnight beach walk to watch sea turtles hatch and scramble into the sea. In February, Carnival is celebrated just before Ash Wednesday in Pedasi. The small town of Las Tablas, just 40 minutes away, is the center of Carnival celebrations in Panama. Visitors come from afar to enjoy upbeat music and view colorful and elaborate costumes and floats. Because getting around Panama by car is so easy, it allows visitors to frequently take trips of one to several days to different locations for a dramatic scenery change or cooler temperatures.
You will be extremely happy that you made the decision to exchange cold winter days, sweaters, and snow shovels for shorts and sandals on the beaches in Pedasí, Panama.
Coronado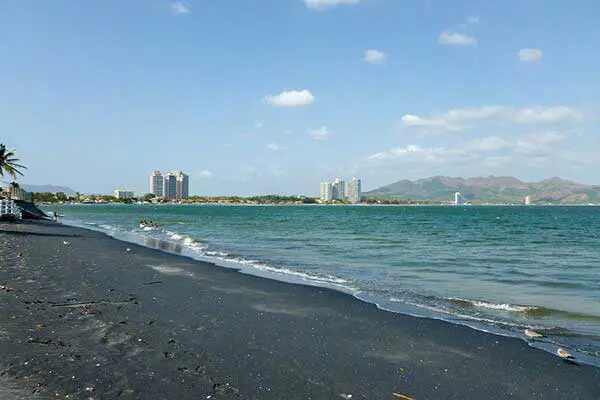 The Coronado area, little more than a one-hour drive from Panama City, is an excellent Pacific beach choice if you're looking to snowbird and test-drive life overseas. There are several beachfront towns in this area: Punta Chama, Gorgonia, Farallon, Palmar, Santa Clara, and San Carlos. Each has its own unique personality, activities, and amenities.
One of the top reasons to snowbird in the Coronado area is the more than 30 miles of beautiful, deep-blue Pacific coastline extending from Punta Chame to Buenaventura, with more than a dozen empty, salt-and-pepper sand beaches offering snorkeling, kite surfing, surfing, horseback riding, fishing, and ATV and jet ski rentals. When you are ready to relax, enjoy revitalizing spa treatments, long tranquil beach walks, and fresh seafood and cocktails. Coronado also boasts several resort communities to suit a variety of interests and budgets. There are low-rise or towering condos, both on and off the beach, single-family homes with swimming pools, quaint B&Bs, boutique hotels, and luxury full-service resorts. You'll also find a sunny climate with warm temperatures all year round ranging between 82 F and 86 F, and little rainfall during snowbird season.
In Coronado there are four major grocery/home goods stores (El Rey, Super 99, El Machetazo, and Riba Smith) that are a short drive away on the Inter-American highway. Reliable infrastructure and internet offer the ability to be a digital nomad and stay connected. You'll find a full range of services in Coronado, including large shopping complexes, restaurants, gas stations, banks, hardware and retail stores, shipping offices, ATMs, art galleries, veterinarian care, dental care, pharmacies, and a full medical center. There are also several golf and tennis options. And, excellent local healthcare with well-staffed clinics and world-class hospitals and doctors are only a one-hour drive away in Panama City.
In terms of accommodation options, there are numerous gated and well-planned communities with short- and long-term rental options and numerous amenities. If you'd like a scenery and climate change from the beach, you can quickly drive to (and rent) in the small mountain town of El Valle de Anton, located in the crater of an extinct volcano. You can enjoy horseback riding in a cloud forest, beginner to moderate hikes on mountain trails, nearby pre-Columbian Indigenous petroglyphs, and excellent bird-watching opportunities in cooler temperatures.
The proximity to Panama City via car or public transportation affords easy access to visit the city for plays, concerts, museums, Panama Canal tours, fine dining, exploring the historic district of Casco Viejo, and cosmopolitan shopping.
Whether it is relaxing and reading a good book or fun and activities in the sun you desire, the Coronado Pacific Coast area is a great place for snowbirding.
Boquete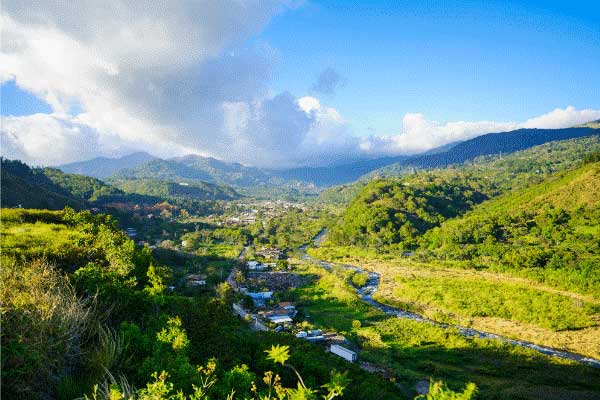 As the weather turns colder and the Christmas holidays are behind you, it is a great time to become a snowbird and seek a change of climate. With eternal spring-like weather, Boquete, Panama is a great place to spend the winter months. Because not everyone wants to escape to beaches, this mountain town at an elevation of 3,000+ feet above sea level has become a top destination for snowbirds.
Boquete offers snowbirds a slower quality of life with enough conveniences and enough to do, as well as a well-established expat community. You'll find several good restaurants for your gastro indulgences, and plentiful fresh vegetables and fruits due to rich volcanic soil, a cool climate, and light rainfall.
Despite offering tourists and residents a reduced cost of living, Boquete offers good electric and water services, good internet services to permit digital nomads to work remotely and stay connected to family and friends, as well as good doctors, two large nearby hospitals, and the ability to purchase low-cost prescription drugs.
In terms of things to fill up your day, you can choose to take advantage of the excellent volunteer opportunities on offer, to share your life experiences and make a difference for people or animals. Or, if you'd rather lounge on the beach for a while, you'll find beautiful beaches only a few hours away for a change of scenery, climate, and restaurants. Some snowbirds like to relax and read a good book, while others like to stay busy. Whatever your preferences, Boquete does not disappoint. For the adventuresome person, there are miles of hiking trails on the slopes of towering Volcan Baru, Panama's highest mountain, with abundant natural fauna and flora to enjoy. Tree Trek Boquete offers zip lining on 12 different cables and a walking tour over six suspension bridges offers amazing views of rivers and the volcano. For the golf enthusiast, there is a championship course with stunning views and a short executive par three. Both courses are open to the public. Pickleball courts and tournaments are nearby.
For more sedate adventures, Boquete offers the opportunity to observe hundreds of species of colorful and exotic birds including the endangered resplendent quetzal. Several places offer fantastic, educational coffee tasting tours and Boquete is well known for having the most expensive coffee in the world, Geisha coffee.
The natural beauty here inspires and contributes to a very lively arts and music scene. The Boquete Jazz & Blues Festival has become a great opportunity to listen to famous Latin and other renowned artists. The Flower and Coffee Fair showcases several thousand blooms including many exquisite orchids. The town is nicknamed "The Flower Capital of Panama" and visitors come from all over the world to see the kaleidoscope of colors and taste some great coffee. Due to the pandemic, please check both schedules to see if dates have been set in 2022.
So, what are you waiting for? Trade in those sweaters and snow shovels and plan a getaway to beautiful Boquete, Panama. Great activities, spectacular scenery, and springtime temperatures are waiting for you.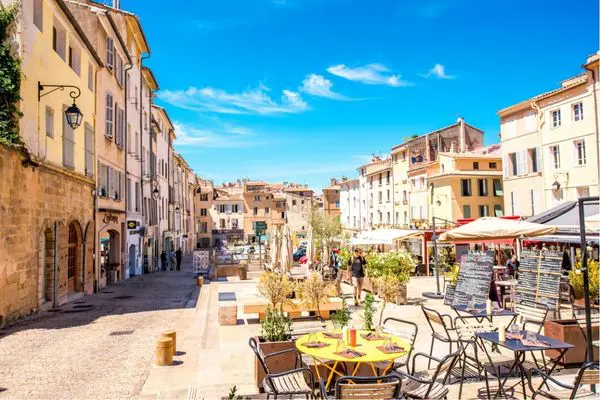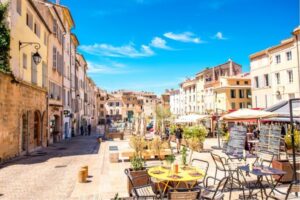 By Tuula Rampont
France is one of the nicest places in Europe to spend the winter months. While the north and areas around Paris certainly have their share of rainy days, several cities and towns in the south of France are quite idyllic spots to enjoy the best of local cuisine and fine wine—all under the glorious Mediterranean sunshine.
Since public transportation in France is cheap, efficient, and relatively hassle free, snowbirds can also supplement their months along the sea with a quick pop-over to the City of Light.
The high speed, TGV, train can have you dipping into the boutiques along the Champs Élysées, or enjoying a stroll through the Tullières garden, in around three-to-four hours from the relaxing beaches of the French Riviera.
Nice, France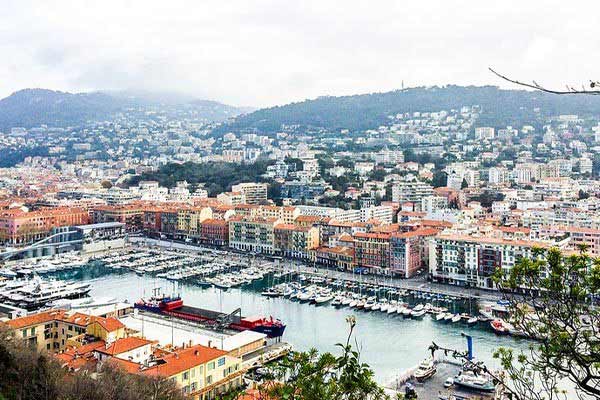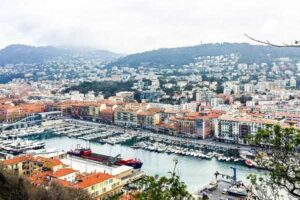 Before the British began to snap up homes in the French countryside in regions like the Dordogne, Occitanie (formerly the Languedoc), and the Loire Valley, they made this shining seaside city their winter getaway.
At around four-and-a-half miles long, a stroll along the Promenade des Anglais (Walkway of the English) gives the clearest window into the long-standing appeal of this French Riviera gem.
The clear, turquoise waters of the Mediterranean lap gently along a series of public and private beaches. Reserve a spot at a seaside table for happy hour cocktails (we like the easy-going vibe of Blue Beach) and a chance to watch the planes fly into the city's cosmopolitan airport—located right on the water with nonstop flights to JFK and Newark, along with a host of international locations.
The fifth largest city in France, Nice is for a certain traveler and vacationer. This isn't just a lay down your beach towel along the pebbles (the city is famous for the round stones—called galets—that are sprinkled along its beaches) and watch the world go by type of getaway. With a touch of sass, and a whole lot of international flare, Nice has a vibrant, and very active social scene; punctuated by exquisite cuisine—a mashup of French, Italian, and north African influences—and a wealth of cultural activities.
Boasting a large number of art galleries and cultural sites (second only to Paris in number), there's always something to do in the city. Beyond seasonal events and festivals, notably Nice's world-famous Carnival which takes place over two weeks in February and March, art fans can get their fix at the Matisse Museum, Marc Chagall National Museum, and the Modern and Contemporary Art Museum.
The centrally located Villa Masenna Museum (about one block from the Promenade des Anglais) is a great introduction to the lavish art and architecture of the French Riviera.
The city is easily accessible on foot and has a well-designed bus and tramway system. Some of the most enjoyable activities for residents include strolling through the old city, known as the Vielle Ville, and visiting the outdoor farmers market. With the Vielle Ville's strikingly colorful facades of deep yellows and rich ochre tones, it's a perfect spot to linger over a café au lait or pick up a parcel of fruit and vegetables for the trip back home.
Visitors can also take advantage of the city's well-connected train service, with a train route that connects Nice with all major and minor towns along the French Riviera. A great way to take day trips along the coast, or even for weekend getaways as far as Marseille.
Short-term rentals can be found on the site Morning Croissant, and connections can be made with local expat groups before arriving. The American Club of the Riviera and the Angloinfo Riviera Directory are good contacts. While you will experience a healthy dose of sunshine during the winter months, average temperatures hover around the low 60s F.
Hyeres, France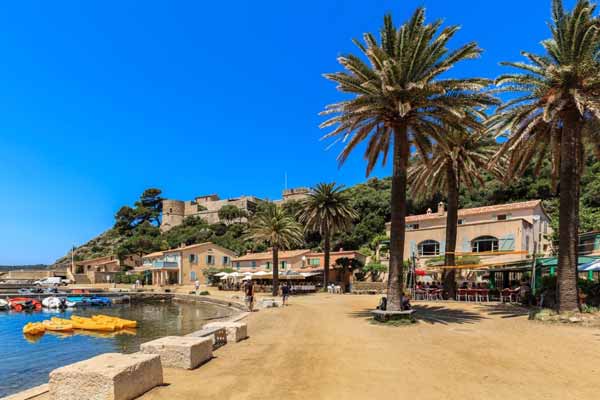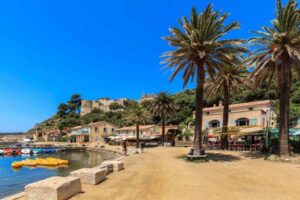 While Nice is an internationally recognized destination, this next haven for snowbirds is a lot less well known—but nonetheless enticing.
The yen to the splashy French Riviera's yang, the community of Hyeres in the Var department is still technically a part of the Côte d'Azur but feels light years apart from the glamorous ethic we attribute to the region.
Although the town has developed a thriving arts and cultural scene, the real appeal of Hyeres is its beautiful natural landscapes and access to some of the most unspoiled beaches in the south of France. Villa Noailles is an expansive contemporary art complex that hosts international design and architecture fairs throughout the year.
Many visitors may pass quite casually through Hyeres main thoroughfare, taking in the maze of cozy cobblestone streets and colorful village homes before dining at a local bistro or brasserie. The cuisine in town is quite fantastic—including gourmet fare at Tom Cariano (located in a luxury hotel of the same name) and sumptuous French pastries at Maison Sarroche, but the real magic of Hyeres happens just outside the limits of the historic center.
With quite 60,000 residences, spread over an expanse of around 18 miles, the community of Hyeres is one of the most extensive in all of France.
Not only will you find the charm, and all of the amenities, of a picture-perfect Provençal-style town, but you'll also be privy to around 24 miles of scenic coastline which include the peninsula of Giens and three spectacular islands: Porquerolles, Port-Cros, and Le Levant.
Known as the Îles d'Or (Golden Islands), the islands can be reached by ferry to the port of Giens.
It's easy to feel like you took a wrong turn and somehow landed on a Caribbean island when you take a day trip to Porquerolles. As the island is car-free, the main means of transportation is either by bicycle, or on foot—although golf carts are known to whisk guests off to the luxurious four-star hotel located on a black sand beach on the island's outer banks, Le Mas du Langoustier.
The island has its own winery (La Courtade), and a set of eclectic restaurants ranging from fine French-dining, to artisanal gelato and granita (crushed ice) carts.
Along a backdrop of umbrella pines, turquoise waters, and sugary-fine sand, Porquerolles' Notre-Dame beach grabbed the title of "Best Beach in Europe" in 2015.
Notre-Dame is a short walk, or bike ride, from the main port.
While thoroughly overrun, and admittedly quite congested in the spring and summer months, Hyeres is an absolute delight to visit in the winter. You'll still be mingling with some of the town's international retirees, coming from Germany, Belgium, and as far away as Denmark (to name a few) but the rush of tourists will have disappeared.
Average winter temperatures are similar to those of Nice and other towns on the French Riviera. Count plenty of sunny days, but mornings and evenings will be quite cool, dipping into the 40s F.
Short term rentals can be found through Morning Croissant, or the Le Bon Coin website, known as the French Craigslist. Hyeres is on the main train route which extends from Marseille to Nice.
Aix-en-Provence, France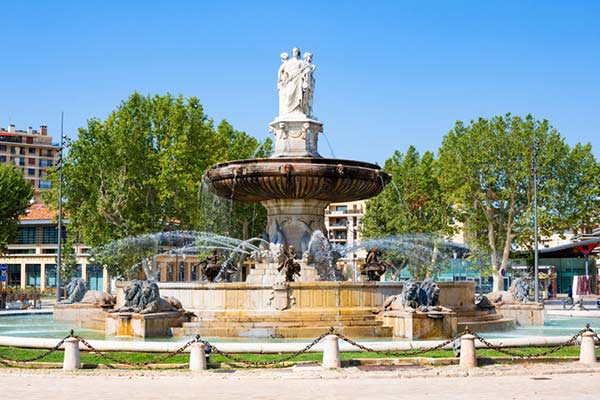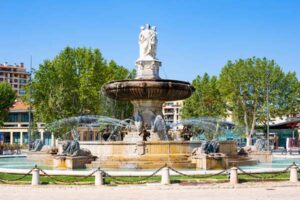 If you're a fan of smaller-town living, try your hand at the beautiful university town of Aix-en-Provence. About a 30-minute drive from the nearest seacoast, Aix, as it's known to locals, is a different kind of look at the south of France. Although missing the calming waves of the Mediterranean, you'll find a different feeling of peace here. Nestled below towering plane trees and known as one of the most elegant boulevards in Europe, the Cours Mirabeau is where Aix-en-Provence is at its finest.
In the winter, you may have to throw on an extra layer, but it's a small price to pay to join in on Cours Mirabeau life.
As a university town, you're certain to find groups of students lingering over coffees and croissants before heading to their next class, but also signs of visiting scholars, local artists, and expat groups enjoying fine people-watching and exquisite views. Aix is known for its stately mansions known as Hotel Particuliers, and its thermal springs—dating back to the Roman era.
Known as the Paris of the south, the town seems to have almost as many restaurants, cafés, and bars as its bigger cousin to the north. If you'd like to spend the winter months eating well, drinking equally as well, and being readily embraced by one of the largest English-speaking expat groups in Provence, Aix is your perfect winter getaway.
By 10 a.m., the cafés along the Cours are be abuzz with activity. Locals meet for the well-established ritual of reading La Provence newspaper over a few steaming café au laits. Expats convene for weekly conversation groups or to head off on hiking or cultural trips. With around 140,000 residents, Aix-en-Provence is a very international city. You'll catch snippets of Italian, German, Spanish, and English (both British and American) being spoken. The well-known Anglo-American Group of Provence (http://www.aagp-provence.com/) boasts over 300 members and helps expats feel at home with activities like book clubs, dining groups, and cultural excursions.
As the birthplace of the painter Cezanne, there are no shortage of artist-focused sites and activities. Go on your own, or take a guided visit provided by the tourist office, to Cezanne's studio and his family's large estate: the Bastide du Jas de Bouffan—whose grounds were featured in 50 or so of the artist's paintings and watercolors.
The towns around Aix also make for perfect day trips and wine-tasting excursions. Try wineries Pey Blanc, Roseraie, or Domaine de La Tuilière. The charming hilltop villages of the Luberon (made famous by Peter Mayle's book, A Year in Provence) are about a 40-minute drive from town.
As an inland town, you'll find Aix a good five to 10 degrees cooler than the coast. Due to its popularity, it is slower in the winter months, but still attracts a sizable number of visitors in the off season. It's recommended to fly into the Marseille airport, then rent a car or take a shuttle to town. Once in the historic center, it's very easy to do everything on foot, or take advantage of the small electric buses that run from shop to shop.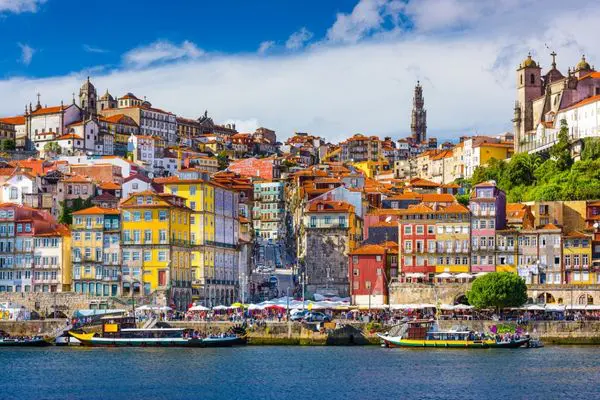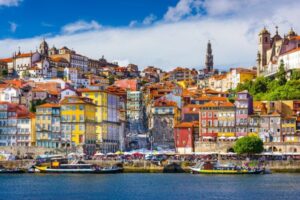 By Terry Coles
When dreaming of a way to escape the arctic blast of winter in the U.S, destinations in Europe may not come to mind but should. Portugal's sunny Algarve region boasts \over 300 days of sunshine each year and winter temperatures are some of the mildest in Europe. Daytime temperatures average around 55 F to 60 F making it the perfect time to explore with few tourists and off-season rates. And since the Algarve receives so many summer tourists many locals who live and work in the area speak English so no worries about the language barrier.
The Algarve is the southernmost region of Portugal bordered by the Atlantic Ocean on the west and south, the rural Alentejo region to the north, and Spain to the east. The region consists of 1,930 square miles with over 500,000 full-time residents.
Faro International Airport sits smack in the middle of the region making it easy to connect from major hubs around the world. Divided into three sections, central, eastern, and western driving from one end of the Algarve takes just a few hours making it easy to explore the whole region with little effort. Since Algarvian towns are on the small side and close together let's look at a few towns in each of the three sections.
Lagos – The Western Algarve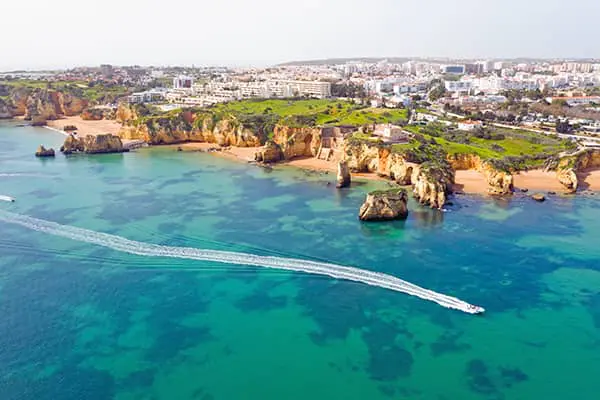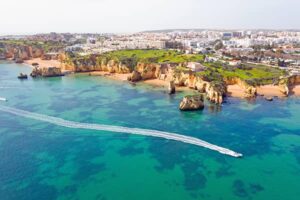 An ancient maritime town Lagos (lah-go-ssh) sits at the mouth of the Bensafrim River and the Atlantic Ocean. The historic old town still features a Moorish wall built in the 16th century. Stroll along the narrow lanes, pop into a few shops and enjoy a traditional seafood meal caught earlier that morning. Nearby is a national landmark, the Church of Saint Anthony with its lavish gold interior and Baroque design.
Along the riverfront is the 17th-century fort of Ponta de Bandeira accessed by crossing the drawbridge over the moat. Lagos was the administrative capital of the Algarve since 1577 and the fort was constructed in 1690 and served to protect the town from raids by pirates and the Spanish.
To the south of Lagos is Ponta da Piedade a spectacular display of weathered cliffs, caves, and grottoes considered to be the most impressive natural feature in the Algarve. Marvel at how the sun glistens off the azure water, a sharp contrast to the bronze jagged rocks that reach high into the sky. Wooden boardwalks with paths and steps offer easy access down to the picturesque setting where you will surely want to pose for one of several hundred photos.
Adventure enthusiasts can hire small boats for thrill rides in and around the rock formations but be sure to dress warmly as the ocean breezes can be nippy.
From Lagos head to the extreme western tip of the Algarve to the town of Sagres where you will feel as if you've come to the end of the road. One of the most remote and barren areas of the country with an isolated, windswept landscape and raging seas. Enjoy hiking along the rugged cliffs then head out to the lighthouse of Ponta de Sagres. Further along, the cliffs by foot or a short drive is Lighthouse of Cabo de São Vicente. Built in 1846 the lighthouse was originally illuminated by an olive oil lamp and had a range of 6.9 miles. Perched on the edge of the extreme south westernmost point of the continent it will give you the feeling of standing on the end of the earth.
Albufeira – The Central Algarve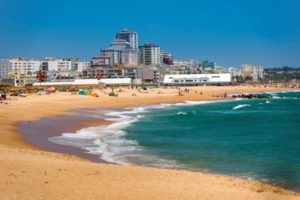 During the height of summer, the coastal city of Albufeira comes alive with raucous parties, kid-packed water parks, and sun-tanned tourists. But during the off-season those left behind are the locals who embrace all its charms. Fall and winter is the perfect time to wander through the historic old town, walk along the town beach, sip wine at the marina and admire its colorful ambiance. During the holidays the city is a buzz of music and lights, the aroma of chestnuts roasting on open fires, and holiday shoppers.
For some refined elegance head to the resort town of Vilamoura and stroll along its vast marina complex lined with hotels, shops, restaurants, and pubs. Marvel at the multi-million-dollar yachts berthed there and just wonder who owns them. The town has a large casino with nightly dinner shows for some adult fun. Vilamoura's crown glory is Falesia beach where forested paths provide great views overlooking the stunning orange and tan cliffs below.
Next head inland for a short drive to Silves (sil-vsssh) once an important trading center from the 9th to 12th century when it served as the ancient capital of the Algarve. The traditional whitewashed village extends upwards to the imposing red brick castle built by the Arabs between the 8th and 13th centuries. Wander through the cobbled old town accessed by a heavily fortified gateway, stop for some traditional Portuguese fare or sit a spell, sip wine and people watch for hours.
About a thirty-minute drive from Silves is the authentic market town of Loulé. The focal point of the town is the Arabic-inspired market building that dominates the center of the old town. Kiosks inside the massive white and red building sell a variety of fruits, vegetables, fish, meat, honey, linens, and other regional handicrafts. A traditional Portuguese town of working-class folks with few to no tourists. During the holiday season, Loulé shines bright with colorful lights, a Christmas village, a skating rink, and that jolly old fat man in the red suit, Pai Natal. Something interesting to note is that the Portuguese people believe it is the baby Jesus who delivers the gifts on Christmas Eve and the big guy in the red suit was invented by Coke Cola for advertising purposes since that's when he first appeared. But nowadays they have succumbed to the modern ways of the world and welcome Pai Natal into their homes.
Back to the coast near the town of Carvoeiro is the Algar Seco, an impressive cliff walk overlooking the ocean. Follow the path and admire the limestone cliffs, caves and blow holes that formed from millions of years of erosion. Climb down to the boneca, a cave that resembles a doll whose eyes look out to the sea.
Just a short drive from Carvoeiro is Praia da Marinha said to be one of the 10 most beautiful beaches in Europe and one of the 100 most beautiful in the world, according to the Michelin Guide. Easy trails follow alongside the ochre cliffs overlooking the gorgeous cerulean waters below. Marvel at the breathtaking rugged cliffs, sea arches, caves, and gorges formed through the centuries.
The nearby village of Porches is synonymous with pottery since some of the finest in the country is made there in tiny workshops. Stroll through the shops and pick up some great finds to take home for souvenirs or home décor.
Tavira – The Eastern Algarve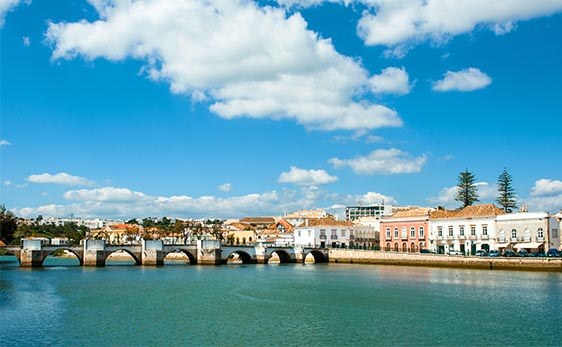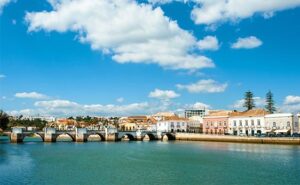 Head east to the laidback city of Tavira about 30 minutes from the Spanish border. A traditional Portuguese town Tavira straddles the Gilão River which reaches the sea through the inlets and lagoons of the Ria Formosa Natural Park. Recently elected as one of the Seven Natural Wonders of Portugal, the Ria Formosa Natural Park is a unique coastal lagoon that changes with the winds, currents, and tides. Winter is the ideal time for bird watching in this natural area with some 20,000 birds that pass through on migration routes from Europe to Africa.
Stroll through Tavira's old town and admire the colorful, "azulejo" tiles that adorn the older homes, have a peek into one of 37 churches or just relax at a riverside bistro with a glass of Portuguese wine. A sizeable expat population calls Tavira home so listen up for English speakers at local cafes when passing by and if you hear some pop in and say hi. Expats are a friendly breed of people who love to share knowledge about their adopted countries.
The tiny village of Vila Real de Santo Antonio about a 20-minute drive from Tavira may be small but does Christmas big. Every year the town hosts and boasts of having Portugal's largest nativity and miniature Christmas village.  It takes 40 days to put together the massive display that includes 20 tons of sand, 4 tons of stone dust, and 3,000 kilograms of cork (grown locally) with 80 animated pieces in an area of 2,500 square feet. The nativity scene fills an entire room. Walk through the display slowly taking note of the many moving parts, lakes, salt pans, buildings, people, and more.
This winter dare to do something different. Join the million who have already discovered the wonders of this tiny country and those of us lucky enough to call Portugal home. Southern Portugal's Algarve offers perfect weather, warm, welcoming locals, many of whom speak English, and stunning scenery. So, what are you waiting for?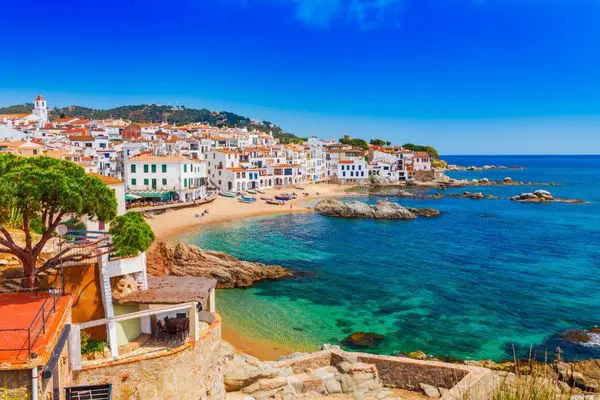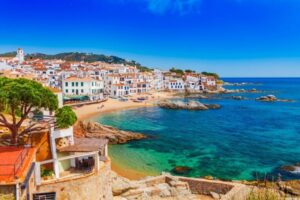 By Marsha Scarbrough
When snow blankets Northern Europe, Scandinavians and Germans have long flown to Spain's warm Mediterranean shores. Since the sun shines on golden beaches 300 days a year, snowbirds can count on an affordable winter in paradise. To date, only a few North Americans have discovered the joys of this sun-drenched, no-freeze zone, but the word is out.
Spain is a first-world country with well-developed tourist infrastructure, old-world charm, fascinating culture, and low prices. Restaurants, tapas bars, and shopping opportunities abound. Public transportation is clean, dependable, and affordable. You can drink the water from the tap, and the electricity will be on 24 hours a day. Furnished, short-term rentals are available through airbnb.com, vrbo.com, es.rentalia.com, and other vacation rental websites.
Here's the hitch, North Americans (and anyone who doesn't live in the European Union) must abide by Schengen Zone immigration rules. As a North American, your tourist visa is valid for 90 out of 180 days. That means you can only stay in Spain for 90 days, then you must be out of Spain for 90 days (and not just Spain but any combination of Schengen Zone countries like France, Italy, and Portugal). However, 90 days may be perfect for the average snowbird who could spend December, January, and February under the Spanish sun.
Non-residents can buy real estate in Spain. The Schengen Zone rule still applies unless you get a "golden visa" by buying €500,000 of Spanish real estate. You can rent out your real estate while you are not living in it, but Spain will tax that income at about 25%. The "golden visa" requires you to visit Spain at least once a year, but if you reside in Spain for more than 182 days, you become a tax resident and must pay income tax in Spain on your worldwide income.
When it comes to dreamy destinations, Spain has an embarrassment of riches. Here are just a few for you to choose from.
Costa Del Sol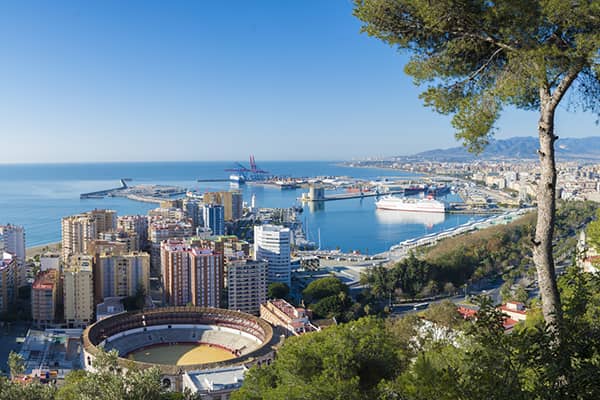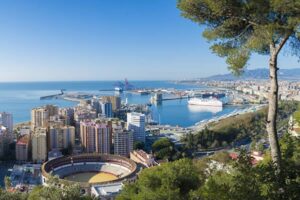 Glorious Costa del Sol is the western stretch of the Mediterranean coastline that arches from a bit east of Gibraltar to Motril. It embraces some of Spain's most famous and well-developed beach resorts. One of them will surely thaw your frozen heart.
Málaga is the sparkling jewel at the center of the sunshine coast. Once a scruffy seaport, today this city of just under 600,000 gleams with an immaculate historic center bisected by a pedestrian shopping street. Other enchantments include ocean-view restaurants, urban beaches, world-class museums (including a branch of Paris' Pompidou), and an old wharf transformed into a slick seaside shopping center.
This birthplace of both Pablo Picasso and Antonio Banderas also serves as the throbbing transportation center for the Costa. Your flight will land at Spain's third-largest international airport. An urban train will whisk you from the airport to the sleek train station where high-speed trains can connect you to the rest of Spain. The long-distance bus station is just across the street. That same urban train continues west along the coast to other snowbird nesting grounds.
The first stop is Torremolinos, the beach where Brigitte Bardot romped topless in the '50s and hippies gathered in the '60s. After a period of faded glory, Torremolinos has been reborn as an internationally known LGBTQ+ hot spot.
The next destination is family-friendly Benalmádena with its inviting beaches, shady parks, and cliff-top ocean-view dining. It boasts a castle and a cable car. Furnished rentals include condos, villas, and apartments.
The last stop on the train is Fuengirola, which sits on a huge golden arc of Mediterranean shore. Cafes, shops, restaurants, and bars line the lively beachside boardwalk. From here, you can take a bus inland to the charming, white-washed Andalusian pueblo of Mijas, popular with snowbirds because of the many surrounding golf courses.
You can continue west along the coast by bus or rental car. Marbella's mild microclimate is a magnet for international jet setters. Saudi princes, Russian oligarchs, and soccer stars mingle with supermodels and upscale snowbirds. Huge yachts fill the marina in adjoining Puerto Banús. Furnished rentals here will be pricey and luxurious.
A bit further west rests Estepona, a former fishing village that retains its quiet charm. Expats have begun to flock to this picturesque pueblo, so snowbirds can't be far behind.
Returning to Málaga and heading east, you'll find a less-developed coastline. As you travel by bus or rental car, check out the community of Rincon de la Victoria and take a look at low-key Velez-Málaga. Perhaps your snowbird heart will come to rest in Nerja, a charming pueblo perched on the "balcony of Europe" with its vast Mediterranean views. As well as local Spaniards, your neighbors will be Brits and Swedes who bask in this beauty all year long.
Costa Blanca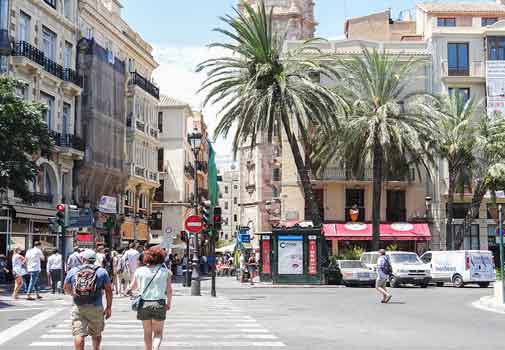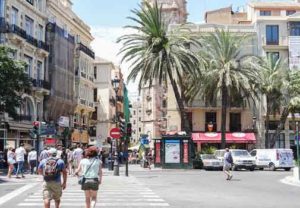 Spain's Costa Blanca sits in the middle of the Southern Mediterranean coast. The city of Alicante anchors its Western end. Its permanent population of 375,000 swells to over a million in the summer high season when Spaniards from the interior move into their second homes, and tourists from all over Europe fill its spectacular beaches. In the winter season, when temperatures are in the sunny 60s F, plenty of rentals are available at bargain prices. Alicante, which boasts a castle, a marina, an old town, and gorgeous beaches, exudes Mediterranean magic. Its colorfully tiled, palm-fringed, ocean-front esplanade feels like a fairy tale.
Heading east, the coastal route between Alicante and Valencia passes through snowbird-friendly pueblos strung along the seaside like sun-drenched pearls. In the village of Villajoyosa, fisherman painted their sea-facing houses in different bright colors so they could spot their home as their boats approached the shore. The tradition continues today creating a colorful jewel of a seaside pueblo just minutes from Alicante on the tram.
Benidorm is a bigger city with more excitement and a bit of glitz. Its forest of high-rise hotels earns it the nicknames "Little Manhattan" and "the Miami of the Mediterranean". It also boasts the tallest apartment building in the EU. Sun-starved British tourists swarm to this popular holiday destination. The city is divided between a Spanish side and a British side.
A bit further east, the traditional white-washed, red-tiled pueblo of Altea captures snowbird hearts as it climbs up the hills facing the sparkling sea. Its quiet charm is a world away from raucous Benidorm. Nearby mountains protect Altea from the wind and create a mild microclimate. Calpe, an enclave guarded by a huge stone jutting out of the sea, is the next pearl on the string. Its friendly community of European expats welcomes wintering snowbirds.
Jávea, called Xábia in Valenciano, offers more than 12 miles of coastline with beaches and hidden coves for swimming, sunning, and water sports. Denia, halfway between Alicante and Valencia, seduces snowbirds with its marina, beaches, markets, gardens, and castle. The adjoining Montgo wild nature park invites those who love the outdoors to hike rugged hills while enjoying ocean views.
Valencia, Spain's third largest city, sits at the east end of the Costa Blanca. Its wide golden beaches, carefully preserved old town, generous urban green spaces, and surprising post-modern architectural wonders make it a welcoming place to wait out winter blizzards.
Canary Islands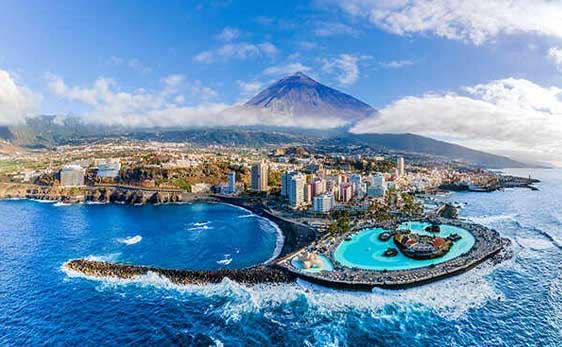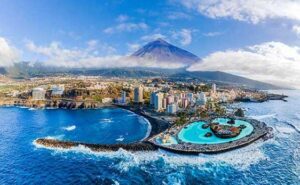 Spain's most consistently mild climate, where temperatures hover in the low 70s F all year, is not Mediterranean. Rather, it's in the archipelago off the coast of Morocco called the Canary Islands (Canarias to Spaniards). Winter is high season in Canarias because that's when flocks of snowbirds from Germany, Scandinavia, The Netherlands, and all those frozen lands to the north descend on the islands. The weather is about the same all year, imagine volcanos surrounded by the desert and cooled by trade winds.
The archipelago consists of eight islands, each one of which has a different landscape and many microclimates. Every island has two different climate zones: arid south and subtropical north. Although the original inhabitants were Berber tribesmen, Spanish galleons stopped here during journeys to the New World. The culture and infrastructure today are the same as in mainland Spain with well-developed beach resorts and a regional twist on the cuisine. Each island (with the exception of La Graciosa) has an airport, except Tenerife, which has two. Rental cars are essential.
Which island suits your snowbird style?
Tenerife is the largest and most populous island. At its center is the third tallest volcano in the world, which is also the highest peak in Spain. Tenerife features sunny beach resorts in its semi-arid south and the capital city of Santa Cruz in its lush subtropical north.
Gran Canaria is called a "continent in miniature" because of its diverse landscapes. The city of Las Palmas shares the status of capital with Santa Cruz de Tenerife. In the south, tourists visit the other-worldly Maspalomas Dunes. The resort towns around Maspalomas are particularly LGBTQ+ friendly and known for hosting the spectacular party that kicks off PRIDE in Europe.
Fuerteventura, although arid, is dotted with beach resorts. It is the most ancient of the islands, thus the most eroded. The entire island has been declared a Biosphere Reserve by UNESCO.
Lanzarote is the island closest to Morocco and the Sahara Desert. It's a dramatic black sand moonscape accented with stark white resorts and apartment buildings with shimmering blue pools. Spain promotes it as "la isla diferente". The entire island is a UNESCO Biosphere Reserve. Timanfaya National Park stuns with its surreal, multi-colored, volcanic landscapes.
La Palma is covered with lush vegetation and subtropical forests. The 2021 eruption of its Cumbre Vieja volcano takes it off the table as a destination for now.
La Gomera, although small, has inviting beaches and lush vegetation. It's Garajonay National Park is a UNESCO World Heritage Site. Locals still communicate using an ancient whistling language.
El Hierro, the westernmost and second-smallest island, offers hotels and short-term rentals with views of its rugged coastline. The entire island is a UNESCO Biosphere Reserve.
La Graciosa is a tiny islet off the eastern tip of Lanzarote. It only has 700 residents, but a few hotels and short-term rentals are available.
No need to shovel snow again as long as you live!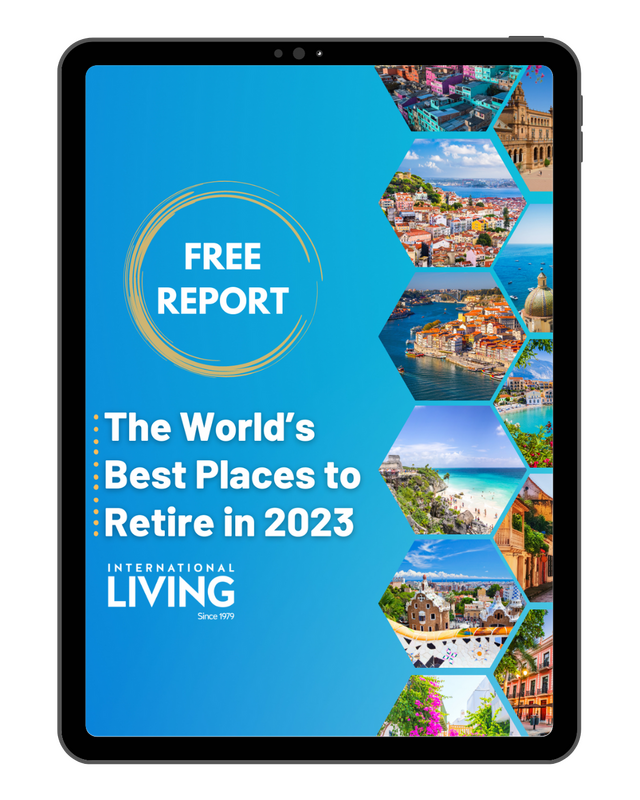 Get Your Free Report on the World's Best Places to Retire:
Learn more about the best places in the world to retire in our daily postcard e-letter.
Simply enter your email address below to sign up for our free daily postcards and we'll also send you a FREE report on The World's Top 10 Retirement Havens, plus access to over 10 more free reports. Our gift to you, on our favorite destinations.
Related Articles
5 Best Caribbean Islands to Live On… and 2 to Avoid
The World's Best Places to Retire
The Cheapest Places in the World to Live
Upcoming Conferences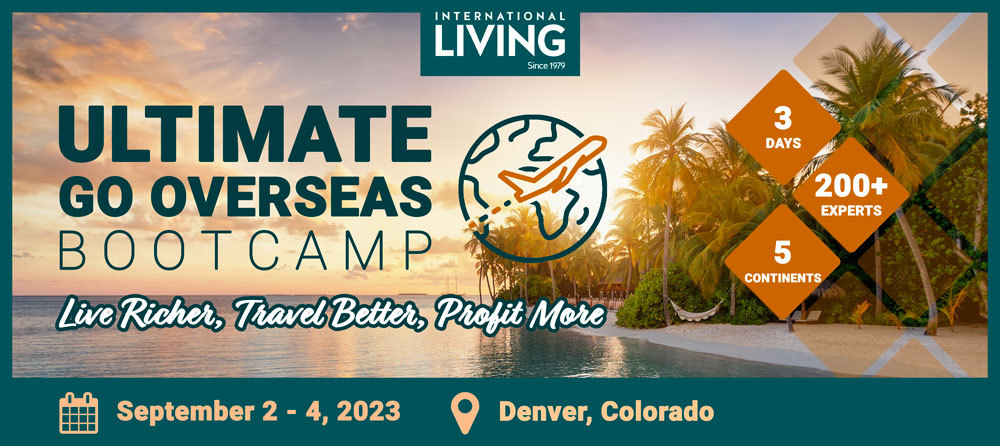 Most Popular Products
Popular Articles You May Also Like