For low-cost living with First-World amenities, few countries in Europe can match Portugal. A couple can live comfortably there for as little as $2,200 a month. Throw in a generally mild climate, rich history, and friendly locals, and you have a country that offers a lot.
There are plenty of great places to live in Portugal. Here are three I particularly like in and around Lisbon, Portugal's lovely, historic capital. Just visiting? These are all great day trips from Lisbon, too.
Cascais: Popular With Expats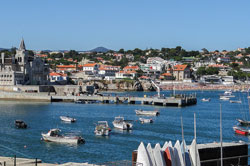 This popular seaside town is only about half an hour by commuter train or bus from central Lisbon. Cascais and next-door Estoril are lined with beaches and are popular both with expats and with tourists. The neighborhoods near Cascais's coast have an old-style village feel, with tile-roofed houses and cobbled streets. A busy tourist zone near the train station is lined with shops and colorful outdoor restaurants, but move beyond this area and the old town is peaceful. Head inland just a few blocks, and you find a modern city with highrises, shopping malls, and modern apartment buildings.
Cascais has a sizable expat population, so between the British expats and the town's lively tourism, you can get by easily in English. Short-term rentals abound here, so if you want laid-back beach life but also want to be within easy hailing distance of a metropolis, Cascais is a good option.
Sintra: A UNESCO World Heritage Site 30 Minutes from Lisbon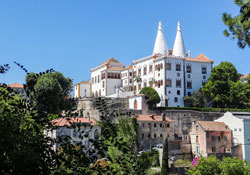 Are temperate, mountain climates more your style? If so, you'll like Sintra. Just half an hour from Lisbon by train, this mountain town was once the summer residence of Portugal's royal family. And it still has the fairytale castles to prove it. This UNESCO World Heritage site is almost unbelievably lovely. The town sits amid green, wooded hills, with most of the old town and the royal residences up a long, winding hill from the train and bus stations.
Head in the opposite direction, away from the royal route, and you find pleasant residential neighborhoods, with local shops and restaurants and friendly locals. Though you're just a short hop from Lisbon, Sintra's tranquil rhythm makes you feel a lifetime away. And the climate, balmy even on hot summer days, is an added bonus.
Belém: For History Buffs and Pastry Lovers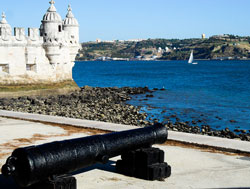 Once a separate village, Belém today is an outlying neighborhood of Lisbon, on the city's western edge. History buffs come to Belém to see what's left of Lisbon's ornate Golden Age architecture, notably the vast Monastery of the Jerónimos and the quirky Belém Tower. (The latter, which sits right in the River Tejo, surrounded by park space, has become Lisbon's symbol.)
And everyone comes to stuff themselves with pastry at the Antiga Confeitaria de Belém, just opposite the trolley-car stop. Custard tarts and pastries are Portuguese specialties, and the Antiga Confeitaria is their high temple.
Outside this tourist corridor, though, Belém has a neighborhood feel, with apartment buildings, local shops, and cafés, where you can enjoy coffee and pastries with less historic ambience—but also with fewer crowds—than in the Confeitaria. There are even several areas of single-family homes, with SUVs in the drive. Walk down to the River Tejo—it forms Belém's southern border—and you find green parks and a riverwalk path that takes you east back toward Lisbon.
Whether you're in the area full- or part-time, Belém is a good option for city types who don't want to be in the center. In Belém you're just four miles from the heart of Lisbon. In addition to the trolley, buses and the commuter train to Cascais also stop in Belém. If you're athletic and ambitious, you can even walk to Lisbon, strolling part of the way along that lovely river path.
Related Articles on Lisbon
Lisbon, Portugal: Everything You Need to Know