When I moved to Portugal five years ago, it was all about the countryside: goats grazing on kelly green meadows, church bells pealing across the valley, and picking grapes at harvest time with close neighbors.
I traded that for a city with bright yellow tram cars, a Moorish castle, a dizzying array of museums, galleries, and parks, and restaurants offering an infinite variety of ethnic and local cuisines.
Welcome to Lisbon, Portugal.
Where is Lisbon?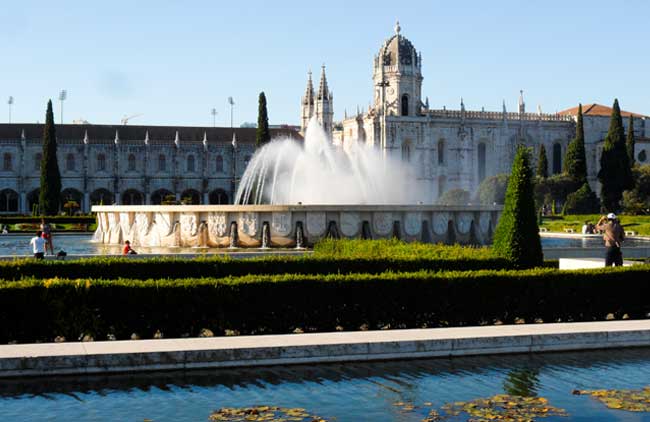 Located on the Atlantic Ocean, perched on seven hills, Lisbon is the country's largest city and the westernmost capital of continental Europe. The second oldest European capital after Athens, it predates Rome by four centuries. Roughly in line latitudinally with Washington, D.C. and longitudinally with Cork, Ireland, Lisbon packs 3 million people into a metropolitan area of approximately 38 square miles.
Lisbon is recognized as a global city by the Globalization and World Cities Study Group for its importance in international trade, finance, arts and entertainment, tourism, and education. And then there are the beaches. Head west along the bank of the Tagus River Estuary and take your pick, from the soft golden sands of Carcavelos to the windswept surfing mecca of Guincho, on the western edge of Sintra-Cascais National Park.
How do we get there?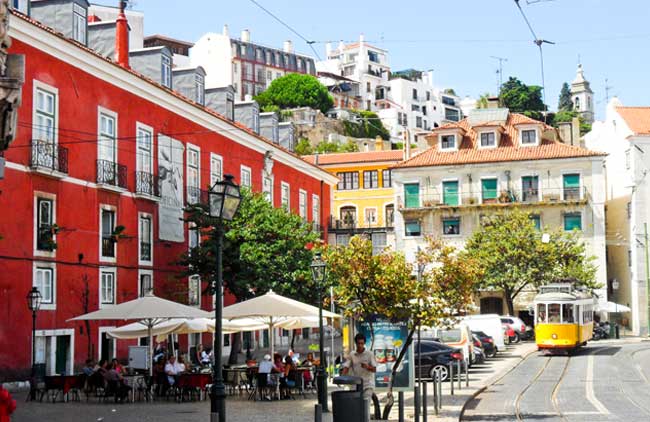 Getting to Lisbon is easy. Many airlines offer flights to Lisbon from points in the United States, Canada, and Europe. Among them are American Airlines/British Airways, Delta/Air France/KLM, Air Canada, TAP Portugal and United/Lufthansa. TAP Portugal and easyJet provide frequent flights from London to Lisbon. Depending on the time of year, day of the week, time of day, and length of stay, some good deals are available.
Travel time from the West Coast of the U S. to Lisbon ranges between thirteen to fifteen hours, because of stops, usually in Paris, Madrid, or Amsterdam. From the East Coast, you'll be flying high four or five hours less.
The city's Humberto Delgado airport is just 15 minutes from the central Alfama district, and serves more than 20 million travelers a year.
Expats in Lisbon find it easy to connect with others when they arrive thanks to organizations like InterNations, Americans Living in Portugal, and International Women in Portugal, which aid transition by offering friendly advice and a wide spectrum of social and educational events.
What's the Climate Like in Lisbon?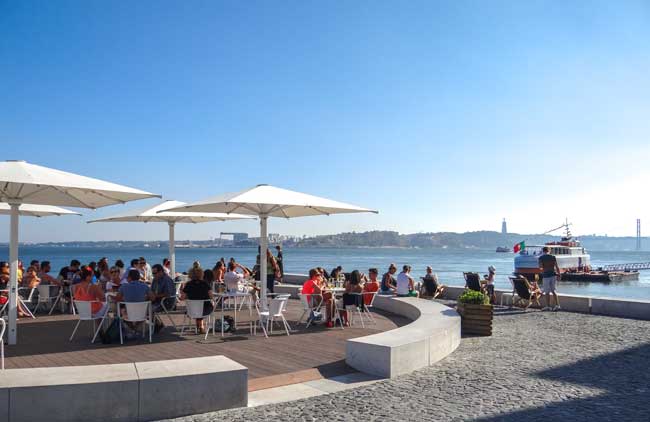 With its Mediterranean climate, Lisbon enjoys the warmest winters of any large city in Europe. Average daytime temperatures range around 59 F and 46 F at night from December to February. The summer season lasts about six months, from May to October, with August the warmest month. Then temperatures hit highs of around 86 F and lows of 67 F.
Which City Districts Should I Visit?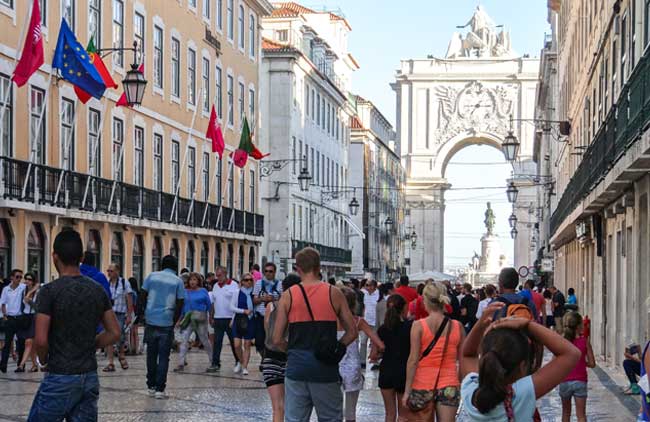 Baixa Pombalina
After the Great Quake of 1755—bringing fires and a devastating tsunami—the first Marquês de Pombal focused on urban planning yielding earthquake-resistant, architecturally elegant gems. His success is celebrated in the Praça do Comercio by the Arco da Rua Augusta, a triumphant arch commemorating the city's rebuilding. At the Praça do Marquês de Pombal, a 118-foot-high monument honors him personally. This shopping and banking center of the country's capital also features Eduardo VII Park, Lisbon's largest park.
Chiado
Located between the Baixa and the Bairro Alto districts of Lisbon, Chiado loves its shopping. Rua Garrett is a prime example, and is home to Café A Brasileira, famed as a haunt of the intellectual and artistic elite, including legendary Portuguese poet Fernando Pessoa. The neighborhood is dotted with theaters like São Carlos National Theater, noted for its lush interior, while Chiado Museum contains an exceptional collection of contemporary art.
Bairro Alto
The literal translation of this district is"high district." Streets like Rua do Diário de Notícias, Rua do Norte, and Rua da Atalaia, offer quirky shops with vintage items and organic foods, as well as bars and live music venues, adding to the area's bohemian flavor. The Garden of São Pedro de Alcântara and the Garden of Santa Catarina provide panoramic views of Lisbon while the São Bento Palace, Puppet Museum, and National Museum of Ancient Art satisfy culture lovers.
Alfama
This oldest of Lisbon's districts retains a medieval atmosphere predominantly because its dense rock foundation withstood the 1755 earthquake. Inhabited by Romans and Visigoths, it was the Moors who gave it its name: "Al-hamma" means "fountains," for the springs which formerly crisscrossed the area. The district's winding, cobblestone streets, modest squares, and whitewashed houses are distinctly Moorish in character. Attractions include the Castle of Saint George—offering breathtaking views of the city—and the Roman Theater, Tile, and Fado museums. Fado is a traditional Portuguese type of music, and in Lisbon, the Alfama district is definitely the place to hear it performed.
Mouraria
Fado's actual birthplace is the Moorish district, so named because it was where Moors were permitted to live after the reconquest of Lisbon in 1147. The most multi-ethnic district in Lisbon, today most of the foreign population is from Bangladesh, followed by immigrants from China, India, Pakistan, and Mozambique.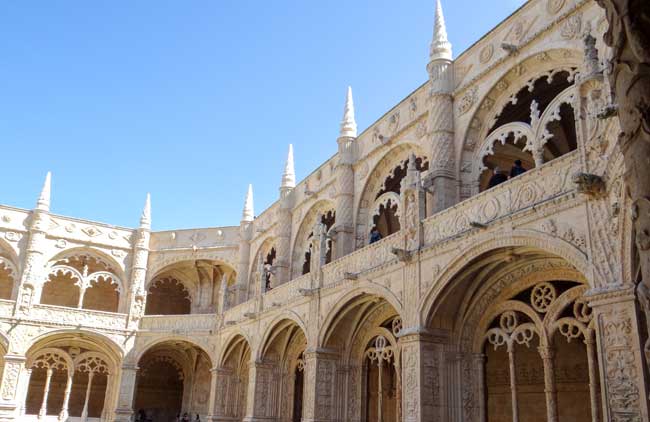 Belém
This district speaks to the age when Portugal was a colonial force and major trade power, evidenced by sites like the Monument to the Discoveries, Maritime Museum, and Belém Tower. Here you'll also find Jerónimos Monastery and Praça do Império, the country's largest square.
Parque das Naçōes
This newest district in Lisbon, site of the 1998 World Expo, is a pedestrian-friendly commercial and residential hub with a futuristic look. Its railway station is a main hub of trains, buses, taxis, and the metro. The area boasts many restaurants, gardens, the second largest oceanarium in the world, a casino, and a 20,000-seat arena hosting concerts and sporting events.
Alcântara
Former farmland turned industrial complex turned nightlife mecca, this district has become gentrified, attracting those seeking loft living and river views. The waterfront area is commonly called docas, "docks," as most of its many bars and clubs are in converted riverfront warehouses.
Related Articles
Lisbon Portugal: Retirement, Cost of Living and Lifestyle Information
Portugal Visa and Residency Information
---
The Countdown Is On! Discount Ends June 15
Right Now Is the Best Time in History to Start Earning as a Freelancer
If you crave the freedom and flexibility of a side income that allows you to earn when you want and play when you feel like it...we have a solution for you.
"Remote work" is here to stay, and we can show you how to capitalize on this trend and turn what you already know how to do into a side income online that can help fund a retirement that looks the way you want it to. Can you really afford to miss this?
Online Portable Income Masterclass
June 26-27, 2021
---