It's evening on the Cais da Ribeira, the waterfront quay. The lights from the many cafés cast a golden glow into the night. Lights gleam golden, too, across the broad expanse of the bridge spanning the Douro River, whose waters, black in the darkness, flow just past the Cais to the sea.
The spring evening is mild—perfect for strolling the scenic riverfront. A murmur of voices rolls out of the packed cafés, and laughing couples, chatting in half a dozen languages, throng the largely pedestrian street. Across the river, the many caves (wine cellars) that have made this city famous loom like ghosts in the dark.
This is Porto, Portugal's second city. Long famed as the home of port, the fortified wine beloved by the British, Porto today is newly chic. Wine bars and trendy restaurants dot the city. Its urban beaches, on the nearby Atlantic, put sand and surf within easy reach. And its cozy, historic city center, with its colorful tiled buildings and its parks and squares, invites you to explore.
Porto is one of Europe's most popular "vacation-break" destinations. Now it has begun to grab expats' attention, too, thanks to its low costs; cool, mild climate (similar to the U.S.'s Pacific Northwest); seaside location; many English-speaking locals; and an ambience that is both friendly and sophisticated.
Porto "has everything we really like in a city," says Minnesota native Barbara Wolfe, who lives here with her husband Bill.
Seattle, Washington, couple Tom and Laine Berning found that Porto meets all their criteria, too: "A place with good public transport, a lot of culture, and you can get to that culture without driving. Walking neighborhoods, places that are safe, and places that have excellent-quality food," says Laine.
So if you, too, seek a low-cost, easygoing European base for full- or part-time living, take a leaf from these expats' book and check out Porto.
Small-Town Vibe, Big-City Style
Porto seems expressly designed for those who like big-city style in a small package. The Greater Porto urban area has about 1.5 million inhabitants, an international airport, concert halls, sports centers, hospitals, and other big-city amenities. But central Porto is home to only about 250,000 people. This gives it a small-city feel, with friendly, personable locals, a very walkable city center, and residential neighborhoods that are near and easy to reach.
I stayed in the area around Rua Miguel Bombarda, toward the outskirts of central Porto. It's an artsy, slightly bohemian neighborhood of art galleries, family restaurants, and shops featuring up-and-coming clothing designers. Yet I was only about a 20-minute walk from the historic center's popular riverside area around Cais da Ribeira.
Tourists tend to concentrate in Porto's historic center, and for good reasons. Porto is one of Europe's oldest cities, and its center has been a UNESCO World Heritage site since 1996. Beautiful churches and public buildings, leafy parks and boulevards, venerable cafés and restaurants, and worn cobbled streets are everywhere, so there's plenty to see and do.
But the center can also be a great place to live, if you like city bustle. Stores sit cheek by jowl on narrow streets, and you're never far from a sidewalk café for your morning coffee. Down side streets hide small, local restaurants where the lunch special, the prato do día, is a bargain and the wine is quaffable and cheap. Take the Taberna do Santo António, for instance, located in the maze of hilly streets behind the Centro Português de Fotografia. Its daily specials, typically Portuguese meat and fish dishes with rice or potatoes, run €4.50 ($5.08). And wine—on tap—is just 80 céntimos a glass. It's hard to work up a bill of more than €7 here…even if you're thirsty.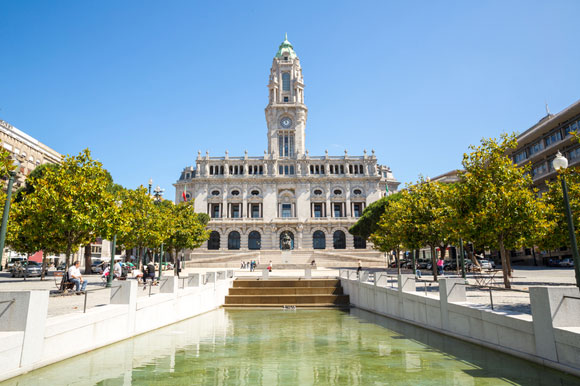 Food shopping is easy in the center, as small supermarkets are everywhere. Or if you prefer, try the colorful and well-stocked Mercado do Bolhão, central Porto's traditional market. Here you'll find a wealth of green-grocers, butchers, and fishmongers…even lunch stalls. The market's casual wine bar is a great place for a shopping break and an aperitif; a glass of Portuguese white wine or slightly fizzy vinho verde costs just €1.50 ($1.70), and a heaping bowl of olives to accompany it is 50 céntimos.
And it's easy to avoid the center's tourists. They mob places like Café Majestic, where J.K. Rowling allegedly wrote parts of Harry Potter while working in Porto. But a 10-minute walk away, off swank Avenida dos Aliados, you can enjoy your coffee at half the price.
If you want to stay in this area, short-term vacation rentals start from about $60 a night through services like Airbnb. Long-term rentals are scarce. You can buy small apartments in nearby (but less swank) Cedofeita starting from about $150,000.
Outside the Center
Porto sits on the Douro River estuary, right where it empties into the Atlantic. The Douro separates Porto, on the river's north bank, from Vila Nova de Gaia, on the south bank. Gaia is where the great port houses like Taylor's, Cockburn's, and Graham's have their offices and caves. (Take a tour while you're here; tickets start at about €5 and usually include tastings of two or three ports.)
Though Gaia is technically a separate city, it's generally treated as a Porto neighborhood. Several magnificent bridges connect the two cities, most notably the Ponte de D. Luis I, which runs from Porto's historic center to the heart of Gaia's caves zone.
You can walk across the bridge from Porto to Gaia, admiring the views of the Douro and of the riverfront at your leisure. (The Douro runs through a gorge here, with steep cliffs on both sides.) Or jump on Porto's efficient metro for the short ride. Stay on the metro another stop or two into Gaia, and you reach a broad boulevard of residential apartment buildings, shops, and commercial centers, including a mammoth El Corte Inglés, the successful Spanish department-store chain. This area is peaceful, modern, and prosperous…and you're less than a mile from Gaia's riverfront bustle.
Both sides of the Douro are lined with walking paths that continue for miles along the Atlantic coast. These paths are one of Porto's most winning urban features. On sunny days, especially, you'll find joggers, dog-walkers, tourists, and even local shoppers and business people thronging these river walks.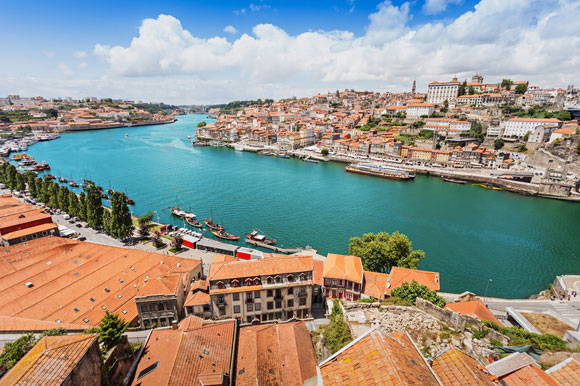 Streets branch off from the walking paths to cozy, traditional restaurants with outdoor tables, and to tranquil residential neighborhoods. Several of Porto's most popular, upscale neighborhoods are near the Atlantic beaches. In addition to Gaia itself, these include Foz and Matosinhos.
Real Estate and Living are Low Cost
Tom and Laine Berning have chosen to rent in Matosinhos, which borders one of Porto's largest beaches. They pay €800 ($904) a month to rent a three-bedroom, 1,345-square-foot apartment. "By Porto standards, it is quite expensive," says Laine. "The average person here spends maybe €350 to €400 a month [$396 to $452]. But those aren't really available right now."
The Wolfes also rent. They pay €900 ($1,017) a month for a two-bedroom, two-bath, 1,184-square-foot apartment in central Boavista, another area popular with expats.
Porto's long-term rental market has tightened in recent years, with lower-priced properties snapped up quickly. Both the Bernings and the Wolfes stayed in short-term rentals through Airbnb when they first arrived. With year-long leases under their belts, they now have time to find lower-priced rentals, if they choose.
However, "we plan to buy something in the next year," says Tom Berning. The couple is checking out property in Matosinhos, as well as in other attractive areas in town.
In upscale neighborhoods like Foz, Boavista, and Matosinhos, comfortable two-bedroom apartments for sale can run €200,000 ($225,000) or more. Upscale city center neighborhoods like Aliados may run somewhat higher per square foot.
But other living costs in Porto are agreeably low. "Food is about 65% less than what we paid in the States," says Tom Berning. "There were some things we expected to be about the same price, like electronics. That's what we expected and that's what we found. Clothing is about half the price."
Bill and Barbara Wolfe lived for four years in Cuenca, Ecuador, before they decided to give Europe a try. Their rent in Porto is about twice what they paid in Cuenca—but their other costs aren't.
"I would say the food cost here is on a par with Cuenca, and we love the variety…the food here is phenomenal," says Bill. "The prices here are very on par with Cuenca. Overall, we anticipate that costs here will be about 15% more than Ecuador."
One big cost advantage is healthcare. Though you must show evidence of private health and evacuation insurance to qualify for a residence visa, "Portugal has national healthcare and we can sign up for that. There is also private healthcare," says Tom Berning.
"It's just amazing when you compare it to other industrialized nations. We brought some prescriptions with us, and the one that was $300 in the U.S. was €3 here."
Tom estimates that a couple could live extremely comfortably in Porto on €3,000 ($3,390) a month, including traveling regularly within Europe. But he knows couples who live here on "maybe €1,500 [$1,695] a month."
"I know people who are on the minimum level of Social Security and who live in this area," says Laine. "And they're doing just fine."
Get Your Free Portugal Report Here:
Romance, culture and adventure awaits in Portugal. Learn more about Portugal and other European countries in our daily postcard e-letter.
Simply enter your email address below and we'll send you a FREE REPORT – Portugal: The Jewel of Southwest Europe.
This special guide covers real estate, retirement and more in Portugal and is yours free when you sign up for our IL postcards below.

Get Your Free Report Here