It's understandable why many Americans regard Italy as expensive. I would, too, if I'd ever been foolish enough to pay $20 for an ice cream near Rome's Trevi fountain or take a $120 gondola ride in Venice.
Thankfully, I spend far more time outside "tourist Italy" than in it. Venture beyond the country's big-ticket destinations, and you'll likely be amazed at how inexpensive it can be.
It's not a case of compromise either—just like art treasures, history, and luscious landscapes, good living is everywhere.
Leaving aside hotspots like Capri and Sorrento, the farther south you go, the more prices fall. A quick example: The average monthly rent for a one-bedroom apartment in Milan is $1,000 and in Florence it's $700. But in Lecce, a flamboyantly baroque city in the Apulia region of Italy's deep south, it's $436.
Thanks to the south's longer summers and milder winters, cost of living is drastically reduced, too. For one thing, you'll spend nowhere near as much on heating. Covering the utility basics of electricity, heating, water, and garbage collection, if you choose to live in a 915-square-foot apartment in Milan, expect your monthly bill to be around $130. In Florence, it will average $90. And in Lecce, around $76.
But it's not just lower living costs that would make me choose Lecce over Milan or Florence. As I mentioned, it's in Apulia, the stiletto heel of Italy's elegant "boot." And there's nothing down-at-heel about Apulia. A land of rustic plenty, this is the garden of the south.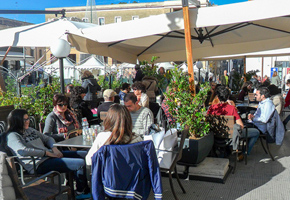 And what a glorious garden it is. Whitewashed hill villages look down upon a patchwork of dry-stone walls, wheat fields, and fruit orchards. The colors are astounding: red earth, silvery-green trees, houses dripping with purple bougainvillea, and, from many places, the glimpse of the hypnotic, blue-green sea.
Olive groves are everywhere, and some of these gnarled trees date back over a thousand years. As Apulia has around 60 million of them, one thing's for sure—you're never likely to run out of "green gold" to add to a pasta dish. It's especially good swirled on a plate as a dip for fresh bread.
The sea is part of Apulia's draw, too. Brightly-painted boats bob in small harbors, fishermen untangle and mend nets on quaysides, and markets glisten with everything from swordfish to sea urchins.
Although the whole of Apulia is relatively undiscovered by North American visitors, it's a different story for Italians. During summer, its seaside towns are hotspots for vacationers from Milan, Rome, and all over. When they're not bronzing on its beaches, they're flirting and gossiping in bars and cafes, and discovering new "slow-food" restaurants that showcase the region's traditional cuisine and wines.
Rooted in agriculture and fishing, the region is less wealthy than Tuscany, Umbria, and other regions of central and northern Italy. But that means Apulia is less expensive for you, too, whether it's finding an affordable rental or shopping for a bargain property.
If you thought Italy was beyond your means, this part of the sun-drenched south will prove you wrong. Whether it's a cone-shaped trullo house in the olive groves or a city apartment, there are properties for every budget: $120,000 delivers a lot of options.
Not that you have to purchase property. Even in Brindisi and Lecce, $450 to $500 a month rents a decent-size apartment.
And your expenses and treats won't be horrendous, either. Coffee for a euro ($1.10) is the norm, not the exception. And one of the best meals I had on the trip was in Brindisi—a $13 fish dinner (wine included) in a little trattoria favored by locals.
Mild winters. Great food. Layers of history and art. Blue skies. Why look any further? Apulia is an Italy you'll fall in love with, and an Italy you can afford.
Get Your Free Italy Report Here:
Learn more about Italy and other countries in our daily postcard e-letter.
Simply enter your email address below and we'll send you a FREE report – Italy: Europe's Most Seductive Country.
This special guide covers real estate, retirement and more in Italy and is yours free when you sign up for our postcards below.
Get Your Free Report Here