There's something irresistible about a free giveaway. Many folks would happily stand in line for hours to get a free coffee. So it's not very surprising to see the popularity of Italy's "free" (or €1) home giveaway explode.
Indeed, when I first heard news that the town of Gangi in Sicily was giving away homes less than the price of an espresso, I hopped on a plane right away to check it out in person.
Gangi was the first Italian town to host one of these giveaways. To this day it remains the most successful.
Since then, there has been almost 30 more. Not just in Italy's less affluent south, but in the north too. These towns have turned to such measures because their populations are dwindling. These are often historic, beautiful towns in stunning places, but there's no work for the young. Their old town centers are crumbling, and they must do what they can to revitalize them.
Cinquefrondi, in the southern region of Calabria, is the latest to join the trend. It's right at the toe of Italy's "boot." Located in the hills, it's surrounded by the Aspromonte National Park and set between the Ionian and Tyrrhenian coasts. (You'll find dreamy Italian beaches on both coasts, around a 15-minute drive in either direction.)
However, all of its €1 homes will require extensive renovation. The mayor of Cinquefrondi estimated between €10,000 and €20,000, but that's coming from a connected local with an agenda. I'd estimate higher. I'd put the number at more like €25,000.
The thing is, there are much better deals in Italy than €1 homes. By the time you are done with restoring them, they're more like €30,000 homes…a good deal, but you can get more bang-for-your-buck if you skip the step of taking on all the renovations yourself.
Look for resales of bigger, more spacious and high-end historic homes in those same towns. In Gangi, for example, I found three tiers of homes: low, mid, and high. The high-tier homes had bigger windows, high and ornate ceilings, and views to the valley. The low-tier were cramped and had doors I had to bend down to get through—the €1 homes typically fall into the "low" category. But I found great renovated mid-level homes for €30,000…and super high-end homes for around €100,000.
My point is, those €1 homes are a good deal, but there are better deals…
Provincial Italy is a treasure trove of bargain properties. From rural villas to medieval homes in hilltop towns. For less than €100,000…sometimes even less than €50,000…you'll find stunning turnkey properties. And there's no better time to start looking than now.
Italy's economy has been fragile and debt-laden since the 2008 crisis. But now, the toll of the COVID-19 crisis has exasperated any hope of a recovery. Already high, unemployment has skyrocketed. Emigration and household consolidation (kids moving back in with parents and vice versa) will increase. This puts downward pressure on real estate prices, particularly in marginal areas of the country.
For instance, not far from Cinquefrondi—where we have the latest €1 home offer—I found a restored, three-story home on the market for just €35,000 ($39,412).
Situated in Santa Domenica Talao's old town, the two-bedroom house comes turnkey, with a cellar and a balcony with panoramic views of the surrounding countryside. On a clear day, you can see all the way to Stromboli, an active volcano 75 miles south.
The village is small and traditional—famed for its medieval window and door arches—and its spectacular view of the Tyrrhenian coast from the main piazza. Stroll the ancient streets and you'll meet friendly locals selling hand-woven baskets, olive oil, and local wine. And you're just five miles from the beachside town of Scalea.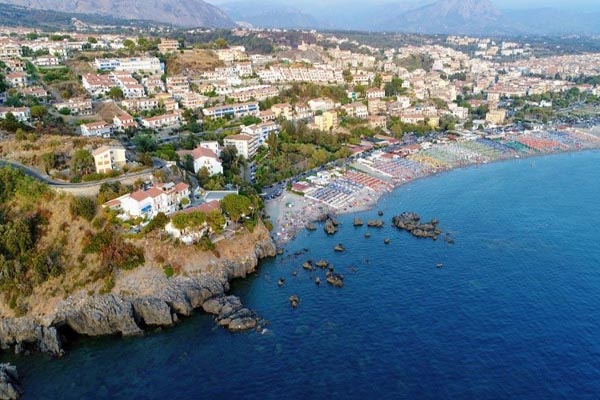 Up your budget…but still staying under $100,000…and you can get something very special.
In the center of the historic town of Lizzanello in Italy's southeast, a two-bedroom, one-bathroom, 1,055-square-foot historic home is on the market for $94,530. Set around a typical Salento courtyard, the rooms have magnificent vaulted ceilings, beautifully restored, a perfect canvas to create your ideal bolthole.
Lizzanello is located less than four miles from the nearest beach and about 30 miles from Brindisi airport, which connects with 24 major European hubs.
I haven't visited these properties in person, nor done any due diligence. And, to be clear, I don't recommend these as properties you can make money from. These are simply little pieces of paradise that you can own for a song.
For Italy's profit-making real estate, you need to look to the blue-chip tourism destinations: Florence, Venice, Rome. These are destinations that draw millions of tourists each year. Florence alone has seen the number of overnight stays grow from 12.2 million in 2012 to roughly 15.8 million in 2019. Yet, the real estate in these major tourist centers is overlooked.
And now, due to the current crisis, it's becoming vastly undervalued too. I'm expecting to see values for best-in-class real estate to drop by as much as 30%, creating an opportunity to lock in profit-making real estate at a bargain price.
The key is to find a dated property within walking distance of the main attractions. Clear the clutter and pretty it up as an Airbnb.
On my last visit to Florence I found a completely renovated, Airbnb-ready apartment for €185,000 ($203,584) close to Fortezza de Basso—the largest historical monument in the city. It was close to the other main Florentine attractions. It had two bedrooms and was 500 square feet.
When tourism returns to Italy, I calculate that you could conservatively rent for 250 nights, just under 70% occupancy. That occupancy is extremely high in a normal market but in a place like Florence it's only okay. Take those 250 nights at an average of $150-a-night for a total of $37,500. That's a gross yield of 18.47%.
Or you could rent for part of the year and use it as your own Italian getaway for the rest of the time. There is nothing quite like sipping an espresso overlooking a piazza in one of the most beautiful cities on earth. That to me is the definition of la dolce vita.
And if you don't like coffee, well, I know a place where you can pick up a home for the same price…
Get Your Free Real Estate Report Now
Sign up for our free daily Postcard e-letter and get a valuable free report on the The 5 Best Places to Buy Real Estate In 2023.
Related Articles
The 10 Best Places to Invest in Real Estate
This 50% Crisis Discount Is Insane
Where to Buy Real Estate in Italy