Cost of Living in Tuscany
The basic cost of living in Tuscany is on a par with most places in Italy, as far as daily staples, dining, and electricity costs are concerned. Housing costs are, of course, the primary expenditure, and in Tuscany they are generally higher. But some places may be more affordable than you might think.
Here's an example of a monthly budget for a couple living in Tuscany (excluding rent or mortgage):
| | |
| --- | --- |
| Expense | U.S. $ |
| Utilities (electric, internet, phone, water, garbage) | $180 |
| Gasoline, maintenance, tax, and insurance for one car | $300 |
| Taxes | $20 |
| Shopping | $90 |
| Dining/Entertainment | $80 |
| Healthcare | $40 |
| Groceries | $230 |
| Total | $940 |
Lifestyle in Tuscany
With its ethereal golden hills, famous art cities, and celebrated hill towns, Tuscany certainly needs no introduction. Italy's most illustrious region has basked in the limelight for centuries and its mere name evokes sighs from just about anybody who has visited—or wants to. Its rolling hills and picture-perfect landscapes are the stuff of dreams and travel posters. Tuscany is also home to some of the world's most famous artwork and architectural jewels. It is, quite simply, Italy's most culturally-rich region, and for many foreigners, an ideal retirement destination.
And why not? The gorgeous countryside striped with vineyards, perfectly kept towns with grandiose buildings and pretty piazzas, and leisurely pace of life are all alluring. Who doesn't want that "under the Tuscan sun" kind of life?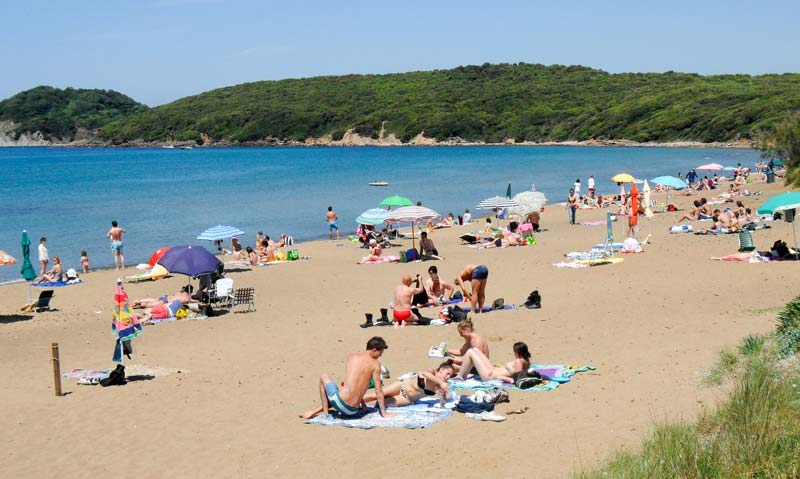 Retire in Tuscany
Whether you're looking for a rustic country retreat or a city-center lifestyle, Tuscany has it all. And it's easy to find an affordable retirement haven without sacrificing style or cultural amenities.
While most people immediately envision manicured hills dotted with castles, Tuscany also has wild mountains, thick woods, river valleys, sculpted canyons, and windswept plains.
It has a healthy stretch of Mediterranean waterfront, and touches the boundaries of five other regions. It has something for everyone. Those looking for rural and traditional will want to consider the northern flank of Tuscany, where towns have more tenaciously clung to their old ways, and tourists haven't yet arrived in droves. The Lunigiana, for example, is a land of ancient legends, mystical rites, and country traditions. It is wedged where Tuscany meets Liguria, and boasts beautiful mountains as well as coastal towns, yet its off-the-radar status means you can still find real estate for affordable prices. This is the perfect locale for people who love the outdoors, as you'll find hiking trails aplenty, as well as water sports on the nearby beaches.
Florence, the heart of Tuscany and the city that gave us the Renaissance, is justifiably the primary draw when it comes to city living in Tuscany, but it is also the priciest place to live. The dreamy hills between Florence and Siena are some of the most expensive pieces of property in the country, populated by finance tycoons, movie stars, and acclaimed musicians. But that doesn't mean that you have to rule out the Tuscan city dream quite yet.
Florence is the undisputed art capital of Italy (if not the world) but the Renaissance didn't stop at the city gates. Other cities in Tuscany are also attractive, and full of glorious architecture and artwork. Lucca, located an hour west of Florence, is a showy city of tall towers, stately palaces, dazzling churches, and an unusual elliptical piazza built along the outline of the ancient Roman amphitheater. The city is completely contained within its old protective walls, with a fabulous parkway on top of them, so you can walk all the way around the city, taking in the views with a healthy dose of exercise. Lucca is lively and livable, and while it draws tourists it's not overwhelmed by them.
Life in Lucca isn't lacking anything, either. There are excellent restaurants, elegant cafés, neighborhood shops, and lots to see and do. Trains run to Florence as well as to the coast, making it a great location for getting out and about.
Arezzo is another charmer. Medieval and Renaissance buildings give the city an elegant air, and it piazzas are perfectly proportioned to be gathering spaces for events, the famous monthly antique market, and just hanging out. It has an excellent weekly mercato (market), churches filled with art by the likes of Piero della Francesca, and a vivacious sense of life that makes it enjoyable. It has been a center of goldsmiths for centuries, making it one of Tuscany's wealthiest cities. If it looks familiar to you, that's because Roberto Benigni, a hometown hero, filmed his Academy Award winning film Life is Beautiful in Arezzo.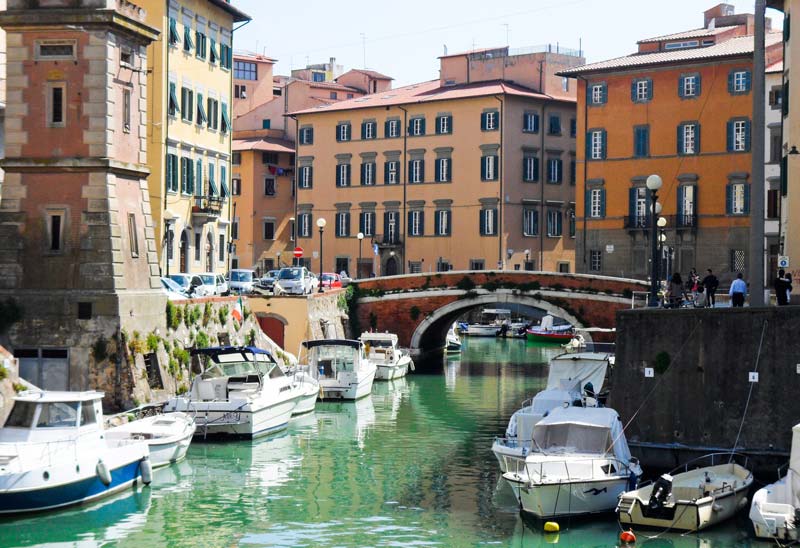 Renting costs in Tuscany
If you yearn to spend more than vacation time in Tuscany, one-bedroom apartments in Pistoia are mostly around $900.
But here's the thing about Italy. The cost of living in its main cities—particularly Rome and Milan—are considerably more expensive than in provincial cities, towns and villages. Much of this is down to high rents—which are matched by high real estate prices. The same applies to well-known places such as Florence that draw the tourist crowds.
For example, for a 645-square-foot apartment in Milan, you'll be hard-pressed to find anything for less than $1,120 per month. And that will be unfurnished. But look to Latina, a town south of Rome with beaches on the doorstep, and you could rent a furnished apartment of the same size for $700 monthly.
Want more living space? On Italy's Adriatic coast, Pescara is a seaside city in the Abruzzo region. Here you'll find furnished 752 square foot apartments for $770 monthly.
Go into Italy's deep south and monthly rents for large apartments get cheaper still. A monthly rent of $700 nets a 120-square-foot furnished apartment in the modern quarter of Matera, a small city in the Basilicata region.
The cost of eating out can also vary wildly. You won't find it offered very often in Italy's tourist centers, but the pranzo di lavoro (working lunch) is always good value. Two courses—usually with wine—rarely cost more than $14.
How much for a wood-oven fired pizza in Florence? It can be as little as $5.60. But that will be in a trattoria in Novoli, one of the city's residential suburbs. In the historic center, prices are aimed at visitors, not locals.
Another thing to be aware of is that the general cost of living in southern Italy is less than in the country's northern half. For one thing, summer in the deep south lasts longer, so heating bills aren't as high.
But even in Italy's northern half, you can cut down fuel costs by "living like a local". In winter, many people use wood-burning stoves—and it's increasingly common to see eco-friendly properties with solar panels.
Typically, the annual utility costs (electric, internet, phone, water, garbage) for a couple in this area will come to around $2,160.
If you run a car, the cost of gas will likely come as something of a shock, with the average price coming in at $1.64 per liter.
But do you need a car? There are few places you can't get to in Italy by bus or train, and all cities have an extensive public transport network. The price of a train ticket from Pisa to Florence is currently $8.12.
Obviously how much you spend on groceries, etc., is down to you and your lifestyle. If you smoke, most brands of cigarettes cost $5.80 for a pack of 20.
Slow Down and Enjoy the Moment in Tuscany
Forty years ago, long before Under the Tuscan Sun was a twinkle in Frances Mayes' eye, my parents-in-law bought a 14th-century stone house on a woodsy Tuscan hillside just outside the city of Florence. The foundation of the house dates back to the Roman period and the jagged bits of stone wall found on the lower terrace, underlining a stretch of silver-hued olive trees, is Etruscan. To become owners of all this ancient history, they paid just $15,000—a steal even in 1972.
Now, each summer, my husband and I perch ourselves on the house's upper terrace and gaze out at the valley below. Shimmering there in the heat is Florence.
It thrills us that beneath the haze lies a trove of Renaissance treasures: Michelangelo's David… Brunelleschi's magnificent dome… Botticelli's Venus, standing tall and tranquil on her scalloped sea shell.
In just 20 minutes we can be down there, wandering Florence's delicious tangle of cobblestone streets, perhaps slipping into a trattoria for some pumpkin-porcini ravioli, or maybe knocking back an espresso Italian-style, standing up in a bar, before visiting these masterpieces.
Sometimes we do exactly that. But truth be told, we usually stay on the hillside. There's something about Italy that compels us to distill life to its barest essence: good food, fresh air, and pleasurable company.
As glorious as the Uffizi's works of art are, it is equally glorious to spend the day tramping through the olive groves, eating sweet, sun-warmed figs straight from the tree, or reading under the shade of a grapevine-entwined pergola.
This is the true beauty of Tuscany—almost everything about it, from its golden landscape to its melodious language, begs you to slow down and enjoy the moment. If you're rushing around, trying to cram in visits to its most beautiful towns—Siena, Lucca, Cortona—as if stuffing priceless treasures into a sack, you're missing the point. Part of la dolce vita in Italy comes from la dolce far niente, "the sweetness of doing nothing." The details of life are to be lingered over and savored, like a superb wine or meal.
As an American who grew up believing that productivity was next to godliness, sometimes I have a difficult time holding onto the sweetness of doing nothing. Thankfully, our Italian friends are quick to remind me. Last summer, while enjoying a glass of wine with our neighbor Jacopo, I remarked guiltily that I hadn't gone further than the local supermarket for days. Jacopo laughed and swept his arm around the terrace, taking in the panoramic view of the valley, our kids splashing in the pool, the hot-pink sun sinking fast into a streak of wispy, purplish clouds. He asked, "Why would you?" Why, indeed.
We're lucky, of course, that we can embrace the sweetness of doing nothing in Italy every year. And if you, too, want a permanent connection to this part of Tuscany, a few good-value properties still exist. I found a divine two-bedroom apartment in a stone farmhouse with a swimming pool, 180-square-meter (1,937-square-foot) private garden, and panoramic views of the countryside near San Gimignano. It is going for $353,000.
In the former Medici town of Fiesole, I found a 70-square-meter (753-square-foot), two-bedroom apartment with a gorgeous, unobstructed view of the Florentine hills for $377,000.
If this is an investment you can afford to make—trust me—the rewards will resonate for generations to come.
Get Your Free Italy Report Here:
Learn more about Italy and other countries in our daily postcard e-letter.
Simply enter your email address below and we'll send you a FREE report – Italy: Europe's Most Seductive Country.
This special guide covers real estate, retirement and more in Italy and is yours free when you sign up for our postcards below.
Get Your Free Report Here