Have you taken the public ferry that calls into the flower-bedecked lakeside villages around Lake Como? Spent a day shopping for the perfect turquoise leather purse in Milan? Bathed in the thermal pools of Saturnia? Wandered pilgrim paths through the chestnut woods of northern Tuscany? Eaten pumpkin tortellini in Bologna or cuttlefish risotto in Genoa?
Lolled under a shady ombrellone on Lido di Metaponto's golden beach? Enjoyed opera under the stars at Verona? Seen glow-worms lighting the fields at night as you walk back from San Gimignano of the medieval towers? Swooned over Bernini's Ecstasy of St. Teresa? Shivered among the skulls in the eerie Catacombs of Palermo? Asked to see "the secret room" in Naples' Archaeological Museum? Wandered among the old cave dwellings of Matera?
I have. And I could go on and on about the reasons why it's impossible to get bored with Italy. As most people come as visitors, they only see a tiny fraction of what the country offers. If you're on a whistle-stop tour, you probably don't have time to devote a day to the painted Etruscan tombs of Tarquinia or clambering to the volcanic summit of Vulcano, one of the tiny Aeolian Islands. But if you live in Italy, you'll soon realise just how many new places and new treasures there are to discover—even within one single region.
No matter what you're passionate about—fabulous food and wines…stunning landscapes, seascapes and townscapes…art, history, opera, fashion…even world-class soccer…you'll find them all in this most seductive of European countries.
Here are three reasons—and they're certainly not the only three—why you should consider living in Italy.
1. Italian Food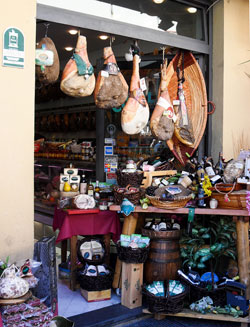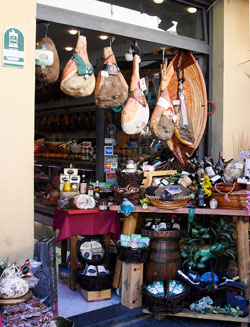 One of the joys of living overseas is discovering new taste sensations. At least it should be. But ideas can soon change when your first fish head curry arrives—for breakfast. No fear of that happening in Italy. If you're only familiar with fast food pizzas, authentic Italian food is a revelation. Mixed seafood (fritto misto di mare)…red mullet…fresh calamari; wild boar…parma ham…veal escalopes in Marsala wine. Real espresso coffee. Gelato. Tradition still triumphs over pretentiousness. Some of the best meals you'll have will be in a simple trattoria where mama and nonna (grandma) are in the kitchen preparing feasts that it's easy to linger over for two hours or more.
Take pasta. In Italy, it's normally eaten as a starter, not a main dish. And it's not all lasagne or spaghetti, though nothing beats watching a Mediterranean sunset while you're enjoying a dish of freshly-made spaghetti with clams in white wine. Ravioli gets stuffed with spinach and ricotta cheese…with artichokes and onions…with zucchini and shrimp. Fresh egg tagliatelle and fettucine can come with a ragu sauce, or sausage, mushrooms and truffle shavings…and much else besides. Liguria's trenette pasta is served with fagiolini beans and a basil-laden pesto sauce.
The best risotto comes from Italy's more northerly regions, so don't seek the perfect risotto in the deep south when you should be scouting out orecchiete (little ears) pasta with sausage and cime di rapa—a green vegetable akin to broccoli. Recipes are often regional, but wherever you go, even the street food is a treat. Try arancini—deep-fried balls of leftover rice, mozzarella cheese and ragù that do almost resemble oranges. And don't miss porchetta—roast pork, Italian style—often sold from roadside vans.
 2. Cultural Riches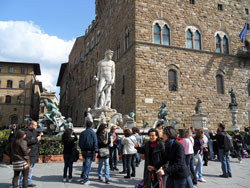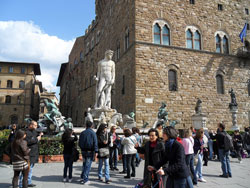 If data is right, Italy has more than half of the world's entire stock of art treasures. I can well believe it. But what often comes to mind whenever Italy is mentioned are the historic sites such as Pompeii and the cultural heavyweight cities: Rome, Florence, Venice. All are worth spending time in—lots of time—for sure.
But from its alpine north to the sun-blessed south, Italy has numerous small towns crammed with centuries of art and history. Often topped with a castle, many are medieval hill towns. The Middle Ages were probably more violent than romantic, but it's the romance of the ages that you feel when you're sitting having an espresso or a glass of wine on a cobbled piazza that looks straight from a film set.
Go to Ravenna of the mosaics…Volterra of the Etruscans…Ferrara of the stripy churches, bicycles and ties with Lucrezia Borgia…Lucca of the massively thick walls and the music of Puccini. In Le Marche, got to Urbino, Raphael's birthplace, and also Ascoli Piceno. It has palaces, towers and one of Italy's most beautiful marble squares.
No space to mention everywhere, but one of my favorite art towns is Pietrasanta. Under the foothills of the marbled Apuan Alps near the Tuscan coast, Michelangelo lived and worked here for a while. Walking through the town is like being in an open air sculpture museum.
Some people say southern Italy is culturally poorer than its north and central regions, but presumably they're never been to Lecce, an exuberance of baroque architecture in Puglia. Or in the same region, Alberobello of the curious trulli houses with their conical roofs, often painted with magical pagan symbols.
But there's even more to Italy than its Renaissance, Medieval, Roman and Etruscan pasts. Southern Italy was once part of Graecia Magna (Greater Greece), and the temples at Paestum are better preserved than anything I've seen in Greece itself. The island of Sicily has more stunning temples—the town of Siracusa takes you right back to the ancient world.
3. A Four-Season Climate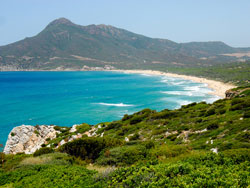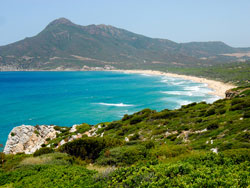 If you prefer four seasons to a tropical climate, Italy is for you. If you enjoy skiing as well as days lazing at the beach, Italy is for you, too. Around early May, in the central region of Abruzzo which has mountains and an Adriatic coast, it's often possible to ski and sunbathe on the same day.
February and the almond trees are already in blossom. May and the meadows are an artist's palette of wildflowers. On both the Mediterranean and Adriatic coasts, the hot dry summers are when beach life comes into its own. September and October—the vineyards are turning from green to gold, wine festivals and truffle fairs are on the agenda, but it's still warm enough for swimming. In December you'll find snow on rooftops in the north and Christmas cribs everywhere. And think of this. Without winter, there would be no reason to buy a soft woollen scarf and learn to tie it in a sophisticated Italian fashion
The further north you go, the colder it gets in winter…but unless you choose to live in the Alps, you're unlikely to feel frozen-half-to-death anywhere. Daytime temperatures rarely fall below freezing. One year I spent Christmas and New Year on the island of Sicily. I wore a coat at night, but during the day it was warm enough for jeans and a T-shirt. I love Italian winters, especially if planning a break in a major city such as Rome or Florence. Few tourists are around, there are no queues for museums or galleries, and it's easy to get a table in a classy restaurant without booking.