Tuscany certainly needs no introduction. You see evidence of its popularity everywhere. Its name is used to sell everything from ceramics to sofas, suburban homes to sandwiches, and even packaged food products like "Tuscan" flavored dog food! It is, without a doubt, Italy's most famous and favored region. It has names that ring familiar to everyone: Florence, Pisa, Siena, and Chianti. And who hasn't heard of Under the Tuscan Sun?
But just what defines Tuscany, anyway? And where is it?
Where Exactly is Tuscany?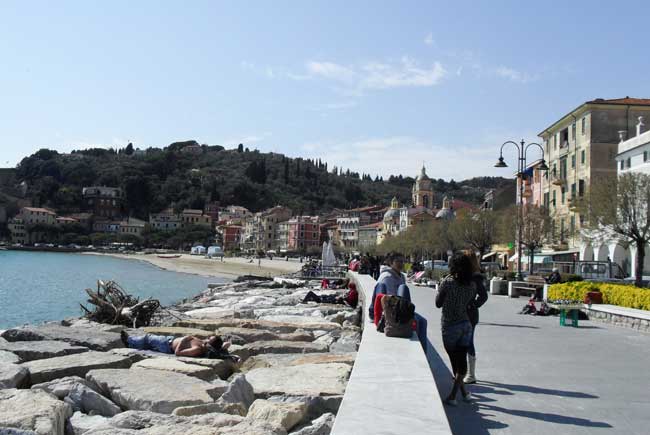 Tuscany is the fifth largest of Italy's 20 regions, located slightly north of the center of the peninsula, with a long stretch of Mediterranean coast. It encompasses 8,800 square miles and has a population of 3.7 million inhabitants. It borders Lazio, Umbria, Le Marche, Emilia Romagna, and Liguria. The region is broken down into ten provinces, more than any other region: Massa Carrara, Lucca, Pisa, Livorno, Grosseto, Pistoia, Prato, Firenze, Arezzo, and Siena.
How Easy is it to Get Around?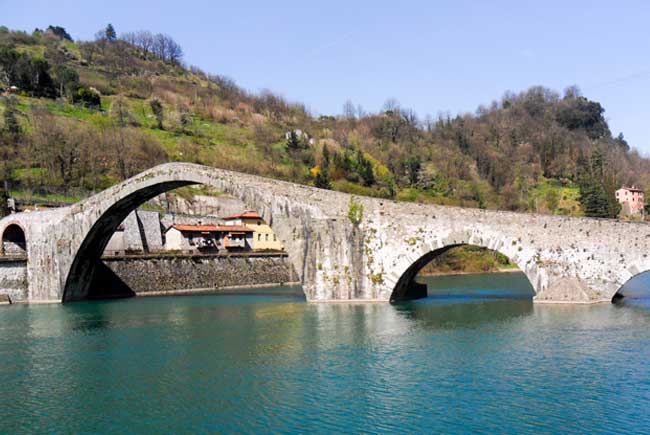 Tuscany has two airports—Florence and Pisa. Because the region is so large, though, the airports of Bologna or Perugia may better serve the area you're visiting. Rail connections are good throughout the region, with the primary rail hub in Florence. From here trains reach Milan in less than two hours and Rome in an hour and a half. There are regional bus companies that reach smaller towns throughout Tuscany.
The port cities of Livorno and Piombino provide ferry service. Piombino serves the Tuscan islands, including Elba, while Livorno's lines go farther afield to Corsica, Sardinia, and Barcelona.
What is the Landscape like in Tuscany?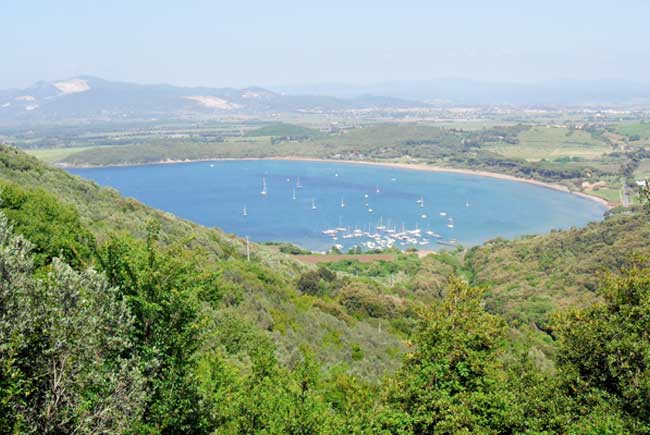 Tuscany's borders encompass landscapes that include rolling hills, lunar-like clay canyons, rocky mountains, and coastal plains, along with an archipelago of islands. It even has a 'desert' of arid chalk and clay hills near Siena. The highest point is Mt. Prado in the Apennines, at 2,054 meters above sea level (6,738 feet).
About 25% of Tuscany is mountainous. The Apennine mountain range rambles through the region and the Apuan Alps crowd the northwest part of Tuscany in the areas known as the Garfagnana and Lunigiana, which are rugged and more isolated than the rest of the region.
With nearly 250 miles of coastline, there are loads of beaches, many of them undeveloped and in protected parks, with coastal dunes and undisturbed nature along with miles of beach umbrellas in parts. The hills of Monte Argentario and Punta Ala are some of the prettiest seaside areas. Much of the coast is highly seasonal, though cities like Massa, Carrara, Livorno, and Viareggio do have a year-round economy and life apart from the beach. Massa and Carrara are at the Liguria border, close to the famous Cinque Terre villages. Pisa sits slightly inland and was one of Italy's mighty maritime republics in the Middle Ages.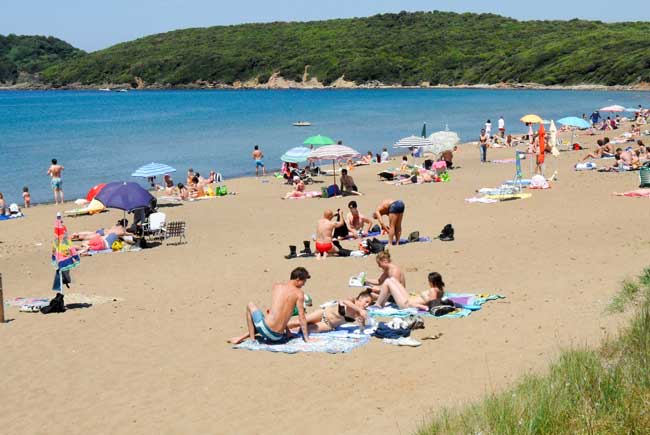 Much of the region—about 67% of it—is comprised of those bucolic hills and picture-perfect landscapes. The central swath between Florence and Siena and beyond are tended, cultivated, time-worn hills with olive groves, grapevines, and cypress-line lanes punctuated by castles and well-kept hilltop towns. Acclaimed wines are produced here.
Around Grosseto, in the area known as the Maremma, the low hills and wind-swept prairies are still frequented by Tuscan cowboys who raise the region's famed Chianina cattle.
What Cities and Towns Should I Visit?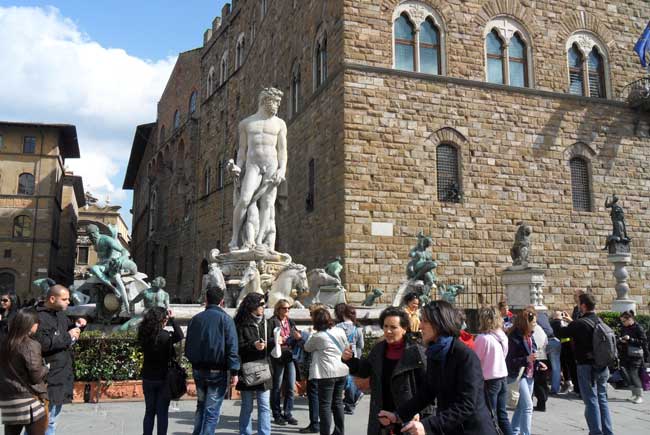 Tuscany's most famous city is Florence, the heart of the Renaissance, and the city that holds an estimated 10% of the world's most renowned art treasures. Siena, famous for its slanted, shell-shaped main square, its medieval monuments, and its high-energy annual horse race called Il Palio, is another well-known jewel.
Pisa, with its infamous leaning tower and Campo dei Miracoli, is a day-trippers' destination but has much more to it than the handful of sights most people see. Lucca is still encased within its walls and is an elegant, easy-going city. Arezzo is an art-filled place that was featured in the film, Life is Beautiful, whose antique fairs, festivals, and lively ambiance make it a great destination. Cortona was a sleepy hill town that is now a major tourist destination thanks to a book and movie (Under the Tuscan Sun) that put it on the world-wide tourism map.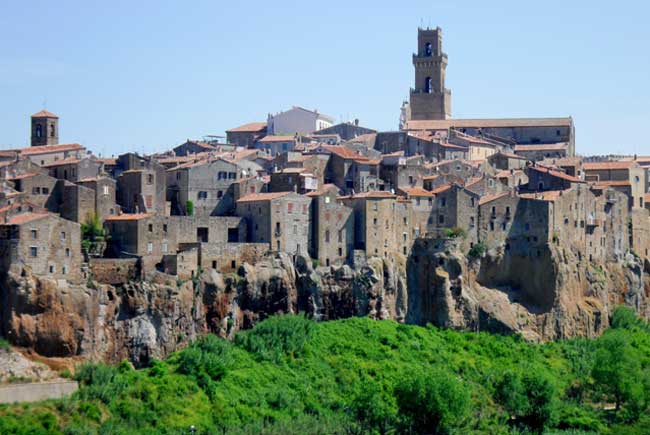 If you're looking for lesser-known towns, go around the periphery of Tuscany and try Pistoia, Massa, Lucca, Manciano, Pitigliano, and Sansepolcro. The region holds hundreds of charming small towns. Some are well-trod, like Montalcino, the Chianti towns, Pienza, and Montepulciano, while others have stayed off the radar but have historic appeal and lovely landscapes. There is an expat presence in even the smallest hamlets, though, as the region has long been a favored spot for foreigners.
Tuscany has a high concentration of historic sights and is a culturally-rich region, holding seven UNESCO World Heritage Sites, renowned events, and celebrated landscapes.
Related Articles
Tuscany Italy: Retiring, Cost of Living and Lifestyle Information 
Italy Visa and Residency Information
Fun and Interesting Facts About Italy