The aroma of freshly-brewed cappuccino is an essential ingredient of the Italian morning. While this morning delicacy can be enjoyed anywhere in Italy, a quiet café in a small Umbrian town provides an opportunity to truly savor la dolce vita—the sweet life. Tucked away in the southwest corner of Umbria and exuding the same Italian charm of nearby Tuscan towns, Orvieto is a wonderful alternative to its more famous and sometimes overly pretentious neighbors.
Perched on a rocky mesa 640 feet above the valley floor, Orvieto is a small town in a spectacular setting. Life in Orvieto feels Italian. Dominated by a spectacularly ornate cathedral and home to interesting archeological sites, Orvieto has much to attract visitors and provide interesting diversions for residents. Friendly locals still outnumber the tourists drifting along the cobbled lanes that wind past medieval homes. It is a wonderful location with easy access to the best that Italy has to offer without the throngs of tourists that plague the popular Italian cities.
There is plenty to do in and around Orvieto. The local countryside is ideal for cycling among the vineyards and olive groves. The nearby Lake Bolsena is popular among local residents for a rich variety of water activities. The historic theater in the center of town, Teatro Mancinelli, hosts a variety of performing arts throughout the year. The evening passeggiata (stroll) is a nightly ritual in towns across Italy and Orvieto is no exception. Local residents gather on the streets to stroll along Via del Duomo and Corso Cavour, visit with neighbors, enjoy gelato at La Musa Gelateria, relish a glass of the region's famous Orvieto Classico wine at the Enoteca al Duomo, or simply wander under the lamplights.
Orvieto is home to the headquarters of the International Association Cittaslow and the town embodies the spirit of the Association. This organization promotes the development of communities based on the concepts of the Slow Food movement. Tenets of the movement include respect for residents' health and wellbeing, serving high-quality local foods, promoting authentic local products, and providing places and activities that foster the spirit. Restaurants offering wonderful seasonal dishes and the famous local wines, public spaces designed for people to enjoy, and strong support for local artists and craftsmen make living in Orvieto a special experience.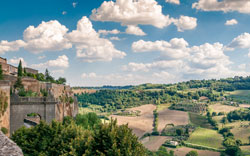 Orvieto is ideally located along the railroad line that joins Rome and Florence. Trains run hourly between the two cities and each is only a 90-minute ride from Orvieto. The easy access makes it possible to enjoy the attractions, art, and cuisine of Italy's most famous cities while avoiding the high cost of living in either city.
Often overlooked in favor of more famous Italian regions, Orvieto and the surrounding area is an ideal spot to enjoy the Italian lifestyle. The history, location, opportunity for arts and recreation, and prices that are more reasonable than much of Italy make this an attractive town to call home.
That's reflected in the pricing of real estate. For example, currently, you can purchase a ground-floor, one-bedroom, 807-square-foot apartment in a restored historic building for less than $181,000. The apartment overlooks the town square and the valley below.
Alternatively, spend a little more—$295,000—right now and you can get a 2,260-square-foot, four-story home right in the historic center of town.
Free Italy Report:
Learn more about Italy and other countries in our daily postcard e-letter.
Simply enter your email address below and we'll send you a FREE report – Italy: Europe's Most Seductive Country.
This special guide covers real estate, retirement and more in Italy and is yours free when you sign up for our postcards below.
Get Your Free Report Here