Have you ever wondered what you are going to do in retirement? Where you might want to live? What your days will be like?
We began our "Retirement Journey" in 2015 at the IL Conference in Cancun, Mexico. My wife, Shonna, and I had been reading International Living for over four years by then, and the IL conference not only spurred our desire to move overseas, it gave us a method of researching the countries we had in mind.
But, where did we want to live? What kind of a lifestyle, health system, legal system, culture, education, history, and food did we want to include? The conference left us with a lot of questions and a path to follow. We researched nine different countries for the answers. We narrowed the countries to three, bought big maps to hang on the wall and began reading everything we could about moving overseas.
We researched the cost of living and realized it would cost significantly less to live in a small Italian community. Finally, we visited Italy and the Italian friends we had made earlier. In the end we decided to move to Rieti, the hometown of our friends. Not only because of them, but also because it is right in the geographic center of the country and just the right size for us.
Why Italy you ask? We love Italy. The romance of the country caused my wife and I to fall in love all over again. We love history and this 3,000-year-old culture is fascinating. Did you know Italy has more World Heritage sites than any other country in the in the world?
The Italian people are outgoing, accepting, helpful, fun, and love making you a part of their family. Within a week of moving to Rieti, we had a social schedule that at times caused us to beg off just to recover.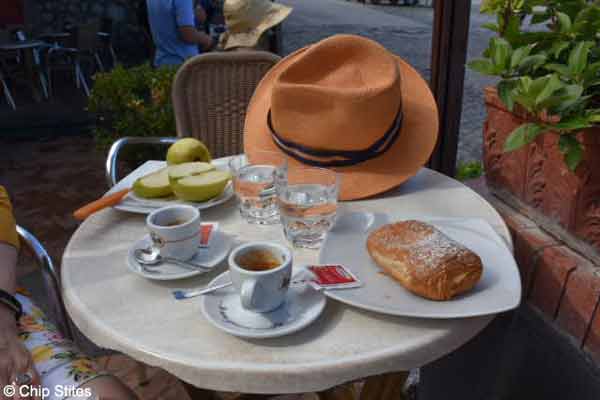 Chip enjoys the leisurely Italian way of life in Rieti.
Italians entertain and get together all the time. They enjoy hosting delicious dinners after which we take a passeggiata (long walk) together. They also enjoy dancing, singing, playing the accordion, and eating into the wee hours of the morning. We've even been invited to tango lessons in the community hall.
A typical day includes a simple breakfast, keeping up with friends and family in the states, and managing our finances by computer. We'll spend time running errands in the morning and accomplishing household tasks. We might go the open-air market or meet a friend for coffee around 10 a.m., or walk with the dog in the park or on one of the walking trails. We eat lunch from 1 p.m. to 3 p.m. as do the Italians, then we take an Italian lesson.
Businesses re-open at 4 p.m., so we can shop then or meet friends. Maybe we go to the old city, populated before Hannibal. Some evenings my wife teaches English classes. We eat at 8 p.m. or later, and relax, ending another wonderful day.
On weekends we load up the dog and a picnic lunch, and head out to another amazingly beautiful place. We have even entered our photos in a local photography contest.
So, if you want to live for a lot less, enjoy a more humane pace of life, have more time for friends and family, and travel to beautiful historic places, you should consider Italy. Not only might you find the most fantastic retirement you could ever have imagined, you just may end up living a whole new life.

Related Articles
Affordable Italy: 3 Best Retirement Regions
A Part-Time European Retirement in Historic Italy