As I walk across the sunny piazza I think how easy it is to feel at home in Ascoli Piceno.
I'm still blurry-eyed when I arrive at the coffee bar, but without my having to say a word, a frothy cappuccino is placed before me, followed by a cornetto filled with a dab of sweet almond paste. The barista, Giuliano, smiles broadly and then chats about the happenings in the neighborhood.
I called this small city home for almost three years before moving to the southern end of Italy. Returning now, it's as if I never left. Giuliano remembers my morning ritual, the shoe vendor at the mercato greets me as though he saw me just last week, and I easily slide back into my comfortable routine.
Ascoli is the southernmost city in Le Marche, just across the border from Abruzzo. With 60,000 proud residents, it's a lively place, with gorgeous travertine buildings and a large but lived-in historic center.
Ascoli is just one corner of Le Marche, a hidden region that offers the classic Italian lifestyle of good food, great wine, and cultural attractions for around $1,845 a month for a couple, and that's including rent.
If you dream of life among rolling hills dotted with stone farmhouses and patchwork views of cultivated fields, sunflowers, olives groves, and grapevines, Le Marche is the place. There are no large cities; the biggest is Ancona, the regional capital, with about 100,000 people.
Towns here are on a human scale, often small enough to get around on foot, by bike, or scooter. Most are large enough to have shops, restaurants, cultural attractions, and services, yet remain small enough to be personal and engaging. Cafes and restaurants offer great value, serving excellent wines and great regional cuisine, but without breaking the budget. A fabulously fresh three-course seafood lunch at a great little place in Ascoli Piceno set me back just $24 including wine.
While it often resembles its neighbors, Umbria and Tuscany, with its hills and golden sunlight, Le Marche is still distinct.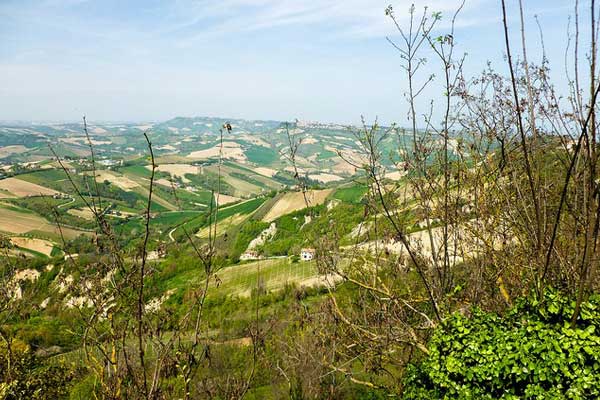 Le Marche rests between the Adriatic Sea to the east and the soaring Sibillini Mountains to the west, part of the central Apennine range. These mountains mean that invaders (and tourists) have had little impact here. Between the mountains and the sea you'll find honey-colored towns hugging the tops of hills and overlooking fertile and bucolic river valleys.
Miles of palm-lined sandy beaches march up the Adriatic Coast, making it the "palm Riviera." Most of the seaside towns are modern-built resorts popular with locals, vacationing Italians, and northern Europeans. Unfortunately, the major A-3 motorway and the railway line front the sea, making it a noisy place to live and marring the views. But the beaches are easily accessible and the water is inviting during the summer heat.
Le Marche is still rural at heart and farming is still a respected profession; the use of GMOs is banned and organic farming methods are the norm. Fishing is also an important trade and San Benedetto del Tronto is one of Italy's most important centers for freezing and packing fish.
But Le Marche isn't "backwoods." It was the birthplace of the noted Renaissance figures Raphael and Bramante (Urbino), the opera composer Gioachino Rossini (Pesaro), and Italy's beloved poet, Giacomo Leopardi (Recanati). There is a renowned opera festival in Macerata and glorious art galleries in all the larger towns. Cultural events, exhibitions, and grand historic festivals are part of the joy of living here. The Republic of San Marino, the world's oldest sovereign city-state, sits partially within the confines of Le Marche.
From the limestone cliffs on the Conero peninsula to the canyons, gorges, and waterfalls of the mountains, there is much to enjoy in the great outdoors. You'll find underground thrills, too—the Frasassi caves are an exceptionally well-maintained cavern system, with otherworldly looking formations in its depths.
With many attractive towns to choose from, you can live in the hills in sight of a castle, or along the Palm Riviera. Rent is affordable just about everywhere, so you can enjoy a relaxed lifestyle, Le Marche-style. You can find furnished rentals in most hill towns for €400 ($490) per month, while provincial cities, such as Ascoli Piceno, Fermo and Macerata, run around €600 ($735) per month for a nice, furnished apartment. Even swanky seaside Pesaro, with its museums, art and music as well as coveted coastline, has rentals between €650 to €800 per month ($796 to $980).
Factoring in all the costs of life, including rent, utilities, cell phones, internet, groceries and dining out, a couple can live comfortably here for $1,845 per month.
If you decide to make Le Marche your new home you have an abundance of bases to choose from, and with good food, great wine, and affordability, it is the perfect place to experience the classic Italian lifestyle.
Related Articles
Move to Italy and Enjoy La Dolce Vita (the Sweet Life)
Fun and Interesting Facts About Italy