I'm in an SUV in La Paz, in Mexico's Baja California Sur. The sun is hot and we've rolled down the windows as we drive through town. We go at a leisurely pace, stopping at street corners to obey the four-way stop signs; La Paz is too low-key to need many stop lights.
Here, two hours from the tip of the Baja Peninsula, I feel as though I'm on the frontier…the end of the line. It's probably due to the laidback, away-from-it-all air that La Paz has—helped by its location, between rugged, deserted mountains and the unspoiled Sea of Cortez.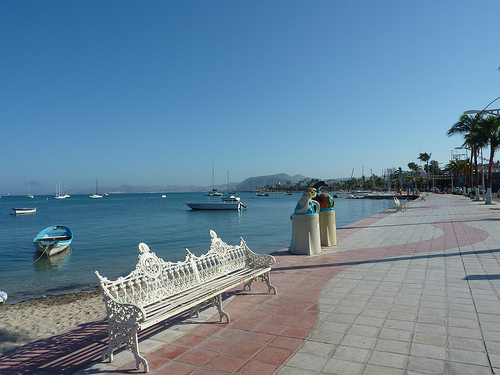 I certainly don't feel as though I'm roughing it. La Paz has modern shops, comfortable restaurants, and a malecón (boardwalk) running right along the sea that just begs you to come for a seaside stroll.
Or a swim—when I was there last month, I saw several locals swimming leisurely in the sea right off the malecón, their clothes and towels piled in a tidy heap on the sand.
Not surprisingly, this part of Baja is popular with Californians, who drive straight down the Peninsula to La Paz—about a 900-mile trip. It also gets a lot of sailing types, who sail into La Paz's harbor and decide to stay. In the high season, I'm told, several thousand expats live here full- or part-time, so you hear a fair amount of English—yet the city feels Mexican.
And there's a lot to like. In addition to its neighborly, easy-going atmosphere, La Paz is affordable. Eating out in the many casual restaurants, for instance, is inexpensive. I pay about $5 for a filling breakfast, and about the same for a lunch special. For shopping, La Paz already has a small shopping mall inland…and a 100-acre mall, with supermarkets, department stores, and another Cineplex, is due to open soon.
Right now, due to the recession, property prices are way down. Looking to rent for a while? Sea-view homes, of the two-bedroom, two-bathroom type that U.S. expats prefer here, rent for about $1,000 a month—down from about $1,500 a month before the recession. If you don't mind being inland, you can drop your rent to about $500 a month.
If you're looking to buy, you'll find a selection of sea-view condos, and even houses a little inalnd, for about $150,000.
And if you ever feel you want a bit of big-city action, Los Cabos is just two hours down the road.
Related Articles
5 Places to Live in Mexico…and 3 to Avoid
---
The Countdown Is On! Discount Ends June 15
Right Now Is the Best Time in History to Start Earning as a Freelancer
If you crave the freedom and flexibility of a side income that allows you to earn when you want and play when you feel like it...we have a solution for you.
"Remote work" is here to stay, and we can show you how to capitalize on this trend and turn what you already know how to do into a side income online that can help fund a retirement that looks the way you want it to. Can you really afford to miss this?
Online Portable Income Masterclass
June 26-27, 2021
---